Promo code ecryptonews
OVERVIEW
It is no surprise that Cryptocurrency is considered to be one of the most convenient and safest places to store money while investing. It is the world's fastest rapid exchange, and it has already developed its own value in being created. Many people believe that online wallets, such as Crypto, will be the way of the future since it is convenient and safe to use.
Crypto.com has made numerous adjustments, upgrades, and additions to the website throughout the past few years. The majority of this information points to high-end credit card programs that are really advantageous. Obsidian, Icy White, Frosted Rose Gold, Jade Green, Royal Indigo, Ruby Steel, and Midnight Blue are just a few card programs available.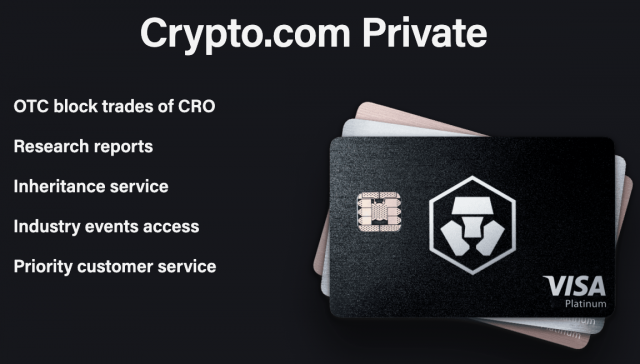 Staking demand for Obsidian is worth $400,000 USD, making it the most costly credit card program with the most significant number of advantages available. Among all cards, the cheapest option is Midnight Blue, which is available for free ($0 USD) but still provides good CRO incentives. If you can purchase a premium card, you will get access to premium accounts, airport lounge access, and possibly a private jet partnership if you meet the requirements.
Credit card programs have become increasingly popular with investors and practically everyone due to these advantages. This page highlights the primary descriptions of the top-tier cards and the advantages of having them. This also seeks to provide a clear indication of the benefits and drawbacks of receiving software.
INTRODUCTION
Crypto.com [http://crypto.com/] is the main website of the leading cryptocurrency exchange application. It currently accommodates 3000 employees and has over 10 million users all over the world. The website is built with a strong foundation of privacy, security, and compliance, so many people trust it with their money exchanges.
The Crypto coin called CRO has also been competitive in the market with a continuing 1400% increase since 2021. Experienced investors see a huge potential in Cryptocurrency and consider it a good investment. On top of that, Crypto.com  is now also offering a credit card program that is gaining lots of demand from the public.
Today, we'll get to know those credit card programs offered by Crypto and discuss why many are availing of them.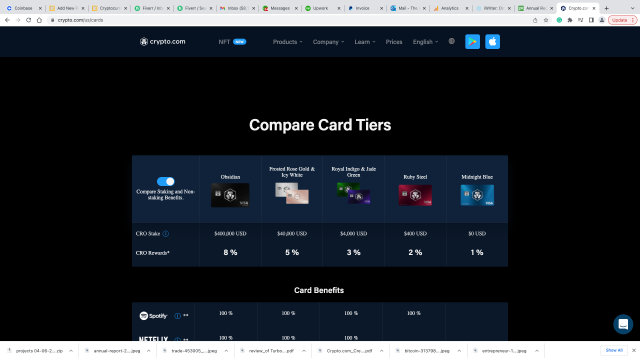 CRYPTO CREDIT CARD PROGRAMS AND BENEFITS 500
1. OBSIDIAN
Obsidian is the top-tier and most luxurious credit card program offered by Crypto. It weighs a massive staking demand of $400,000 USD, which is ten times higher than the second leading program. Moreover, the card earns as much as 8% CRO rewards through spending. It is the best choice of a program that you can get as it gives free ATM withdrawal of as much as $1000 USD/month.
This credit card program has loads of benefits to offer. It gives 100% premium access to different subscribable applications like Spotify, Netflix, and Prime. It also provides 10% access to Airbnb and Expedia. It offers free airport lounge access for one guest and crypto.com [http://crypto.com/] private. There are bonus rewards, a private jet partnership, and an exclusive merchandise welcome pack.
2. ICY WHITE & FROSTED ROSE GOLD
Icy White & Frosted Rose Gold are the following choices for Crypto credit card programs with a staking demand of $40,000 USD. The card earns 5% of CRO rewards with considerable benefits provided. Like Obsidian, these credit card programs give 100% premium access to different platforms like Spotify, Prime, and Netflix while 10% to Expedia.
The Icy White & Frosted Rose Gold also offers a bonus airport lounge access for one guest and crypto.com [http://crypto.com/] Private as well. These also offer bonus rewards and exclusive merchandise welcome packs. However, it does not have a private jet partnership. The free ATM withdrawal you can get for these cards is $1000 USD/month.
3. JADE GREEN & ROYAL INDIGO
Jade Green & Royal Indigo are multiple credit card options offered by Cryptocurrency. It is valued with a CRO stake demand of $4,000 USD – ten times lower than the Icy White. These cards are obtainable with a 3% CRO reward. It gives 100% premium access to both Spotify and Netflix, but other platforms are not included. It also offers airport lounge access but only for the user. The free ATM withdrawal you can get for these cards is $800 USD/month.
4. RUBY STEEL
Ruby Steel is the most convenient option for credit card programs available at Crypto. It is worth a CRO stake demand of $400 USD with obtainable 2% CRO rewards. Ruby Steel only offers 100% premium access to Spotify, and the rest are not available. However, considering the fair price, it still allows a free ATM withdrawal of $400 USD/ month.
5. MIDNIGHT BLUE
Lastly, Midnight Blue is the most affordable credit card program available in Crypto as it actually costs $0 USD of CRO stake demand. It reasonably offers 1% of CRO rewards with no benefits included. It also gives a free ATM with $200 USD every month. This card is the most recommended for those who are simply testing out the platform or those who are new in the field.
THE ADVANTAGES AND DISADVANTAGES OF GETTING CRYPTO CREDIT CARD PROGRAM 200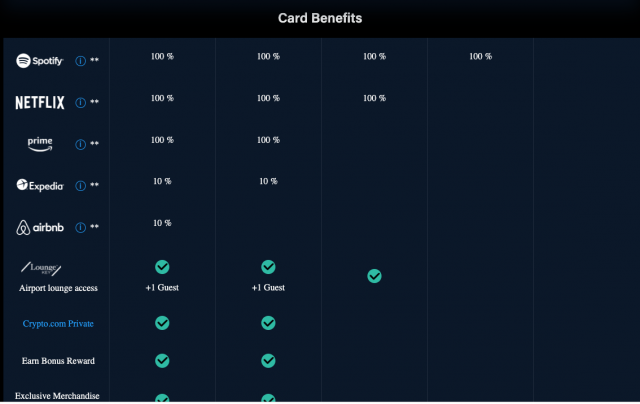 _ADVANTAGES_
* When registering for a standard credit card program, you must share your personal details and consent to the card company conducting a credit check and retrieving your credit card information. Without a strong credit rating, you may be unable to apply for the most accepted credit cards offering the most valuable incentives or privileges.
* One of the primary benefits of crypto card programs is that you can fill up your balance using your crypto holdings. Given the difficulty associated with transferring funds from an exchange to a financial institution, this enables crypto traders to use their holdings more simply.
* Earning rewards for everyday purchases is a primary reason people have signed up for credit and debit cards programs. Credit cards, on the other hand, might come with yearly fees and the pressure to spend lots of money that may cause a vast debt.
_DISADVANTAGES_
* As you apply for a credit card program, you typically receive a slew of extra fraud and purchasing security. While it's simple to neglect and take them for granted, prepaid bank cards may not always provide the same benefits.
* Numerous cards supplied by crypto exchange are Visa credit card programs that supposedly work anywhere Visa is accepted. However, other testimonials imply that other channels continue to contain inaccuracies.
* Using a standard credit card may help you establish a solid credit record, which results in a high credit rating. Making on-time transactions demonstrates your ability to manage personal credit and is significant in determining your credit score.
E-cryptonews.com may receive an affiliate payment through this article