Following a volatile September, the crypto market rebounded to an all-time high in October, with DeFi's TVL exceeding $250 billion and BTC pushing past $66K.
DeFi TVL Change
Data source: Footprint Analytics
But with all eyes on rising token prices, it was easy to miss some trends and announcements that look likely to impact the market in Q4 significantly.
– DeFi will be getting more regulated as countries announce sweeping cryptocurrency policies
– Bitcoin ETFs attract global attention, creating positive outlook as institutional investors buy in
– Lending market lacks clear leader as Curve and MakerDAO vie for top spot
– Numerous new public chains see big growth shortly after launching
Read how these developments and others will affect the crypto market in Footprint's October Monthly Report.
Bitcoin futures ETF triggers new high for BTC
With Grayscale announcing a series of plans to convert bitcoin funds into spot ETFs and digital asset investment firm Valkyrie listing its bitcoin futures ETF on NASDAQ, the price of BTC climbed from $48,000 to around $60,000. On Oct.20, BTC even reached a record high of $66,000.
Investors now have very strong support for the thesis that institutions will gradually purchase crypto assets. This means we can imagine a world where banks make massive whale purchases of BTC and other tokens.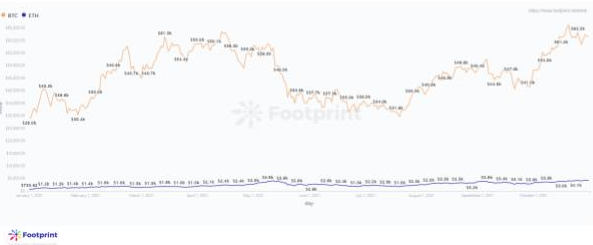 BTC and ETH Price Change
Two aspects bolsters the DeFi TVL's growth in October :
Lending market sees neck and neck competition among dominant platforms
The TVL ranking from Footprint Data shows that Aave and MakerDAO once surpassed Curve in the middle of the month to become the projects with the highest DeFi TVL, but quickly fell back behind.
As of Oct. 31, Curve was still ranked number one on the network with $19.2 billion TVL. Curve's TVL grew by 34% for the month of October and its token price reached $4.7, the highest in almost a year. MakerDAO also had a 37.68% TVL growth rate.
The data indicates that the lending market is highly competitive—with picking a favorite for market leader nigh impossible. In other words, now is not the time to put all your eggs in one basket in your DeFi lending play.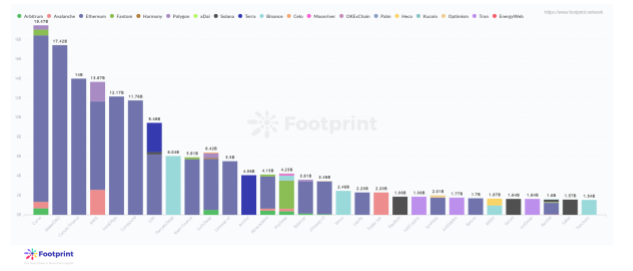 Protocol TVL Ranking(2021/10/31)
Curve Token CRV Price and Volume Trends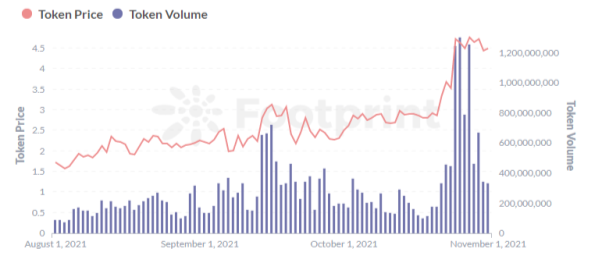 Small but numerous chains eat away at Ethereum's monopoly
Since its inception, Ethereum held a near monopoly in the public chain space until Binance came onto the scene in February 2021, followed by Terra and Polygon.
Data from the past month indicate a clear trend towards further fragmentation rather than consolidation.
Footprint Data shows there are 11 public chains with a TVL growth of more than 100% in the past 30 days. Among them, Tron's growth rate was 1119%, bridging its TVL to $7.6 billion, making it the seventh chain. Other public chains such as Fantom, Arbitrum and Avalanche grew by more than 100%.
The result is that Ethereum's market share went from 73% in August to 65% in October—and 8% drop in just 2 months.

Change of Market Share by Public Chain
Data source: Footprint Analytics
New kids on the crypto block in October
Newly launched chains beat expectations in October.
The TVL of Secret grew 222% as tightening regulations around public chains make blockchain users refocus on privacy. PriFi—as it's now called—will soon become the preferred choice for crypto, and Secret, the first Chain with privacy protection, will explode. (At least, so goes the reasoning of the chain's supporters.)
Another chain that shouldn't be ignored is NEAR. While its 86% growth is slow compared to the month's other breakouts, the chain's team recently announced a huge $800 million ecosystem development fund to support NEAR-based development projects, institutions and individuals. Aurora, a NEAR-based solution to scale Ethereum dApp projects, also completed a $12 million funding round in October.
Other public chains such as Sifchain, Harmony, and Celo each had over 200% growth in October and are also noteworthy. Although the new public chains are still nowhere near as popular as the Etherchain, market share continues to divide as they present new use cases and solve problems developers and users face with Ethereum.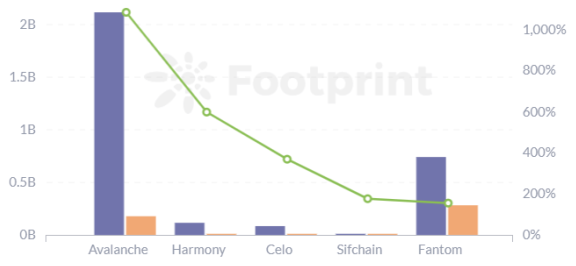 TVL Growth Rate of Top5 Public Chains
Summary
With the introduction of national policies around crypto in the US, China, Australia and others in September, the market briefly became volatile but a record-breaking October demonstrated we're still riding the bull for now.
On a more long-term trajectory, the token price drop and regulations were followed by institutional support and buy-in for blockchain. While controversial amongst blockchain enthusiasts, this has created a perception of reduced market risk among established financial players. Is this the news that banks and investment firms, tired of seeing their returns blown out of the water by crypto traders, were waiting on as their signal to jump in?
October Key Events Review:
Policy and News:
● Fed Chairman: The Fed has no plans to ban cryptocurrencies.
● U.S. Justice Department to set up a cryptocurrency enforcement team.
● China National Development and Reform Commission." Virtual currency 'mining' activities" will be included in the phase-out of production industries.
● Valkyrie Bitcoin Futures ETF first-day trading volume was US$78 million, the second-highest first-day trading volume ever.
● Grayscale plans to apply to Convert Bitcoin Funds to Spot ETFs.
● Facebook changed the company name to Meta.
● Facebook plans to hire 10,000 people in Europe to build a Meta-Universe
● Coinbase called on U.S. to pass new legislation and create new regulator to oversee cryptocurrencies
Public Chain:
● Fantom surpasses a record high of 1 million unique addresses on the chain.
● NFT public chain Unique Network raises $11.3 million.
● NEAR launches $800M eco-development fund to focus on the DeFi space.
● Polygon has about 3,000 DApps on it, 62% of which are deployed on Polygon only.
NFT:
● Coinbase to Launch NFT marketplace by Year-End.
● Sotheby's and Future Perfect Ventures invest $20 million in NFT technology company Mojito.
● NFT studio Candy Digital closes $100 million Series A funding round, valued at $1.5 billion.
● OpenSea website traffic has reached the top 500 worldwide.
● CryptoPunks' derivative NFT project PUNKS Comics surpassed $500 million in total trading volume.
DeFi:
● SHIB market cap overtakes Polkadot and ranks 8th in cryptocurrency.
● Ether destroyed over 700,000 pieces with a total value close to $3 billion.
● Ethernet DeFi protocol Cream Finance suffered an attack and lost $115 million.
● Ethereum market cap ranking rose to the 15th place among global assets, overtaking Alibaba.
● Uniswap's total transaction volume exceeds $500 billion.
What is Footprint
Footprint Analytics is an all-in-one analysis platform to visualize blockchain data and discover insights. It cleans and integrates on-chain data so users of any experience level can quickly start researching tokens, projects and protocols. With over a thousand dashboard templates plus a drag-and-drop interface, anyone can build their own customized charts in minutes. Uncover blockchain data and invest smarter with Footprint.
Footprint Website: https://www.footprint.network/ Discord: https://discord.gg/3HYaR6USM7
Twitter: https://twitter.com/Footprint_DeFi