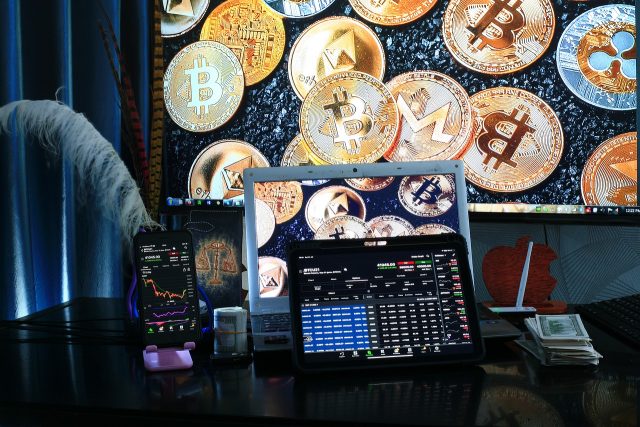 Remember the days before the first major crypto bull market of 2017 when the overwhelming majority of people, and even many reputable experts in finance, were convinced that blockchain-based digital currencies are nothing but the antics of geeky cryptographers who have found yet another way to fight the "oppressive governments" and the broken global financial system?
These sentiments were exacerbated by the infamous Crypto Winter that followed the said bullish phase, but even at times of tribulations, the industry kept chugging and producing blockchain-enabled solutions that really hold the potential to make a significant contribution to global welfare, both social and economic.
After some pondering, I decided to outline key factors and areas which show that crypto has grown from being "flukish" to a force to be reckoned with now and in years to come. 
Crypto is a gateway to financial independence, but only if you master the art of trading 
Perhaps there is no need to reiterate that volatility is crypto's main point of attraction for most retail investors who are looking for ways to improve their financial situation. Indeed, crypto provides a breadth of opportunities for profit-making, though, in my experience, chasing the rabbit, which means trying to catch a "pumper" altcoin and make 300x or more in one take, is a perilous endeavor.
Instead, I would suggest focusing on top coins with a substantial market capitalization that is backed by technologically sound blockchain solutions. The profits might come slower, but it's definitely a more risk-averse approach. 
The cryptocurrency market has long passed the phase of being a financial Wild West, unregulated and unpredictable. With the entrance of big institutional players like Galaxy Digital, MicroStrategy, and even Tesla, crypto has taken a deserved place among traditional tradable assets like gold, stocks, and commodities.
In doing so, it has shaken off the stigma of frangibility and forever defied the fears of "tanking to zero." 
Becoming an alternative way for developing countries 
A few years ago, the notion of Bitcoin becoming a legal tender in a real, not some virtual, country seemed like some kind of cryptographic utopia. But as it turns out, turning utopia into reality only requires political will and non-resistance from financial superpowers like the IMF. I am referring to El Salvador and the historic decision of its president and parliament to make BTC their second national currency.  
This sensational decision created a precedent for other developing and outright struggling countries to adopt Bitcoin and other prominent cryptocurrencies on a national level to stave off the cruel consequences of soaring inflation. Countries like Panama, Ukraine, Paraguay, and Argentina are deemed to adopt cryptocurrencies in the near future.
Add to that the definitive plans of superpowers like China to introduce the central bank digital currency (CBDC) on a national level and the doubts that crypto is a fluke evaporates like water under the blazing sun. It's certain that with governmental adoption, cryptocurrencies will firmly establish themselves in our lives.     
Blockchain solutions have taken crypto beyond the area of finance 
Over the past couple of years, the crypto industry offered a plethora of solutions that take digital money outside the scope of banking and finance, though it also made some waves with the introduction of the concept of decentralized finance (DeFi) also holds great promise.
In its strive to permeate as many areas as possible, blockchain and crypto achieved great success with professional sports associations, gaming communities, developers of artificial intelligence, and even modern artists. 
A larger part of this tremendous progress is attributed to non-fungible tokens (NFTs), each of which possesses unique value, and the virtual space dubbed "metaverse" that is set to accommodate most of these tokens as well as top cryptocurrencies that are associated with them.
Projects like NBA Top Shot, Axie Infinity, OpenSea, and Socios will continue to flourish and contribute to the entrenchment of cryptocurrencies in those sectors. Therefore, if you still think that crypto is a fluke, then perhaps you should check the date and the year because you are obviously stuck in the past.