What makes a cryptocurrency dead? What makes it alive? The answer is simple: Volume.
No matter what happens to the development team, the Initial Exchange Offering, the social media accounts, or the online hype, a coin is not completely dead until it can no longer be traded. These forgotten coins linger on through online exchanges, and sometimes they explode like never before.
This hidden world of obscure cryptocurrencies has produced record profits through subtle price movements and massive trades of extremely cheap tokens. These cryptocurrencies are typically well-past the initial stage of media hype, and most of them are fractions of a cent in price.
From the subtle yet reliable movements of Bitcoinus (BITS) and the 60,000x gain of Corgicoin (CORG) "We do not stop exercising because we grow old — we grow old because we stop exercising." — Dr. Kenneth Cooper "We do not stop exercising because we grow old — we grow old because we stop exercising." — Dr. Kenneth Cooper these obscure coins are very quietly making a small group of investors a lot of money.
Enter the World of the Dead (Coins)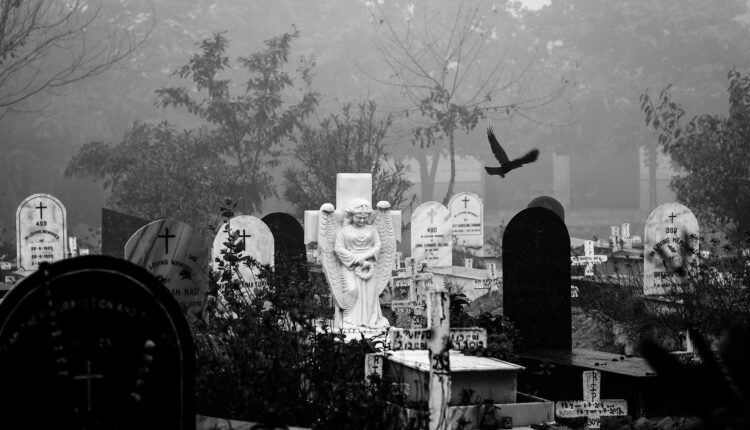 Most cryptocurrencies go through a standard life cycle: Inception, promotion, Initial Coin Offering (ICO), Initial Exchange Offering (IEO), price spike, and mass sell-offs. The founders and initial investors sell off very early, walk away with a nice profit, and everyone else slowly sells off their holdings.
But what happens when the selling is over? What happens when the price hits rock bottom? Cryptocurrency allows for prices with very high decimal points. This means that a coin can be priced at extremely small fractions of a cent.
Sometimes these forgotten coins stay at this level and quietly fluctuate between small increment changes.
Sometimes they explode and reach prices that are magnitudes higher than their highest IEO level.
Bitcoinus (BITS)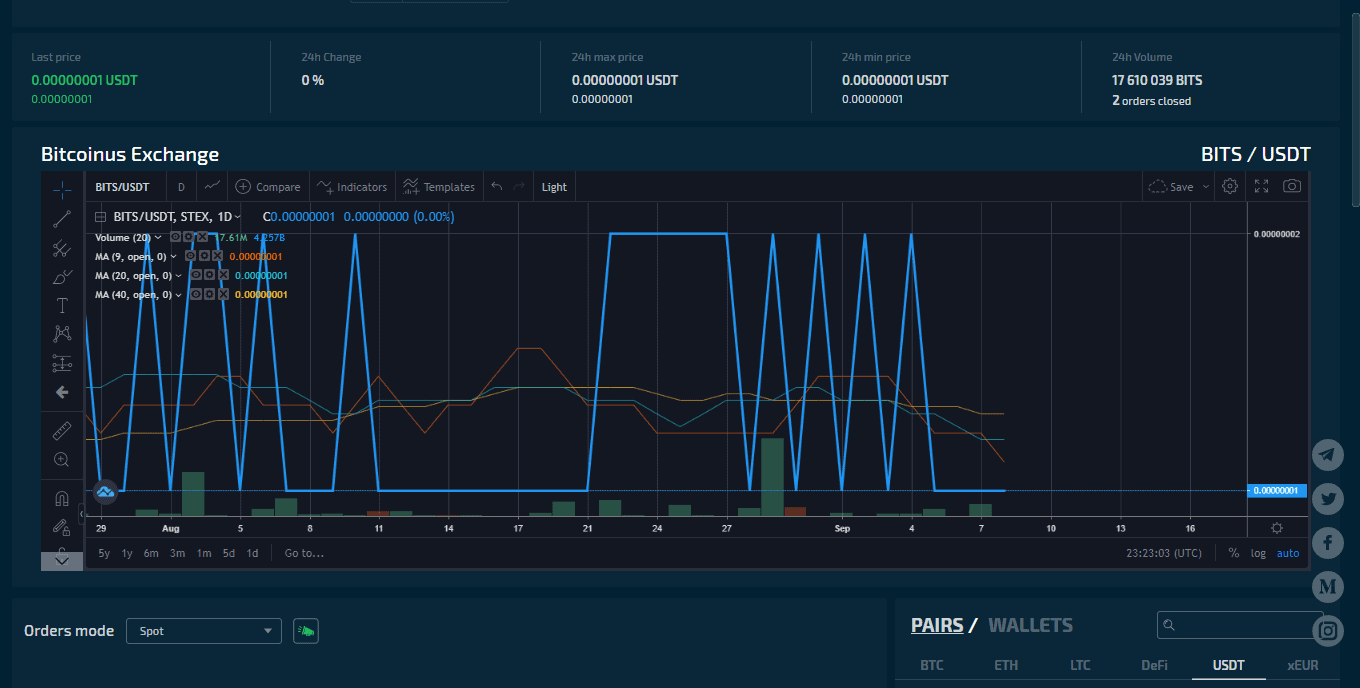 Bitcoinus or BITS is one such obscure and forgotten coin. After an IEO and massive sell-offs, the coin slowly declined in price and volume until it reached the smallest possible price on the STEX exchange:
$0.00000001
This price is so small that the smallest fluctuations cause proportionally massive returns. As you can see from the chart above, the coin consistently fluctuates between 0.00000001 and 0.00000002 USDT.
The market cap is extremely low, typically below $5. Compare this to the $186B market cap of BTC as of writing, and you can see how it is very easy to move the price of this obscure cryptocurrency.
Buying this coin at 0.00000001 USDT and selling off at 0.00000002 USDT gives a clean profit of 100%. Even though the coin makes the smallest possible movement, it is doubling in price. Therefore, the traders that are still buying and selling at these prices are doubling their investments.
Tracking the volume, you can see billions of BITS flowing through the STEX exchange every now and then when the price spikes. This means that a handful of traders are still using this coin to make money.
BITS can only be traded on the STEX exchange, further adding to its obscurity. However, savvy investors are still buying these kinds of coins to make quick and consistent profits.
CorgiCoin (CORG)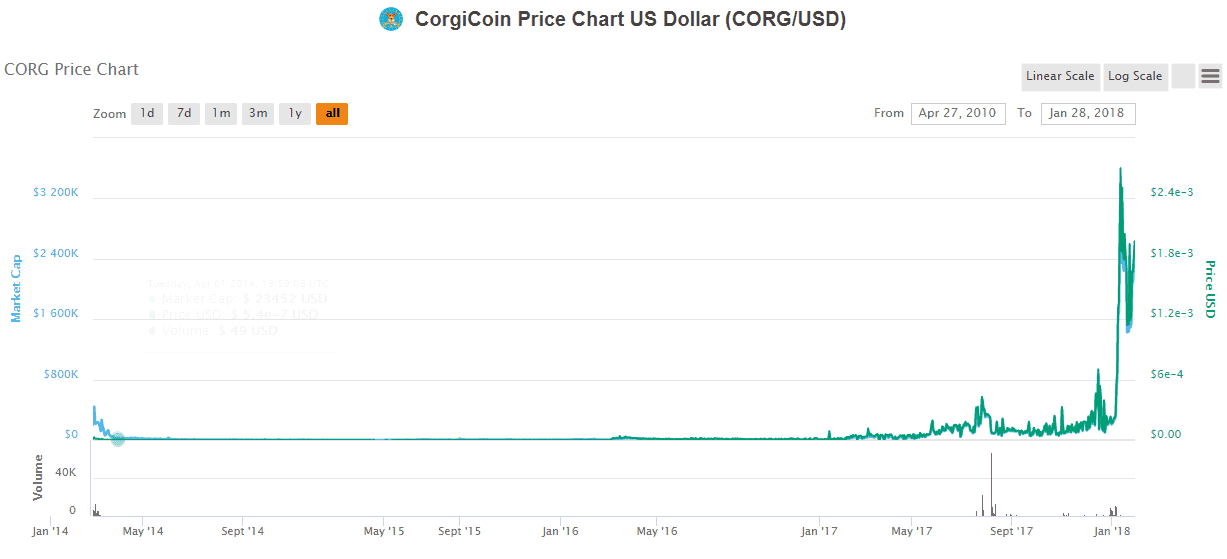 CorgiCoin or CORG is likely the most infamous story of a forgotten cryptocurrency that exploded in price. However, the story is still relatively obscure, and the fact that the coin never broke $0.01 is part of it.
The price peaked at $0.000024 after the IEO in 2014 and was followed by the expected mass sell-offs. By July of 2015, the price had hit rock bottom with price fluctuations between $0.00000001 and $0.00000008.
However, in March of 2016, something strange started to happen. Volume began increasing. Prices began fluctuating as high as $0.000020 before dropping back down. This was an anomaly, but it would not be the last.
December of 2016 saw the beginning of a bull run that culminated in a $0.000583 peak on July 27th of 2017. This was over 24x times higher than the initial IEO price peak. What followed was a frenzy of trading activity, several more peaks, and a record peak of $0.000686 on December 14th of 2017.
What began as a dead coin turned into a price explosion that drove the price to 68,600x of its lowest value. This means that every dollar invested in the coin at the lowest price became $68,600 during the December peak.
The price of CORG reached a final peak of $0.002578 on January 13th of 2018 and finally stopped trading on exchanges by February of 2018. In total, CorgiCoin saw a maximum gain of 256,900x from $0.00000001 to $0.002578 without ever breaking $0.01.
From 2016 to 2018, an investor could easily make a fortune in returns by foreseeing this price spike, but the spike is really a product of a self-fulfilling prophecy. More people bought into the coin seeking to make a profit from minor price fluctuations, and this drove the price up. This buying caused the peaks that they were seeking in the first place.
How to find obscure coins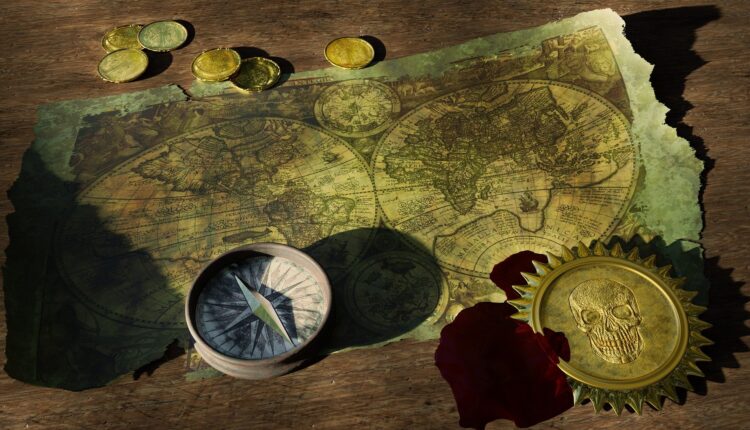 Finding your own obscure cryptocurrency to trade is not too difficult. Services like CoinGecko allow you to browse thousands of cryptocurrencies at once and sort them by price, market cap, and volume.
The perfect dead coin is one that is cheap, relatively active, and still available for trade on an exchange. As these coins can have very low volume, it may be very difficult to fulfill a spot order to buy or sell. However, it does not take much capital to move the price of a cryptocurrency with a very low market cap.
The best example we've found thus far is the aforementioned BITS, but there are plenty more waiting to be discovered through searching cryptocurrency databases. Unlike CORG, coins like BITS are still available to buy and sell online.
While most media attention goes the high market caps and high profile developments of mainstream cryptocurrencies, a treasure trove of obscure cryptocurrencies sits beneath the surface. If you choose to dive into this hidden world of obscure coins to make your own trades, good luck, and happy hunting!