As of 1 Feb 2023, BitKeep NFT Market has taken the number 2 spot on the top NFT marketplaces on Polygon, according to data from DappRadar, a platform that allows users to track and analyze the performance of decentralized applications.
BitKeep NFT Market registered a 21.21% increase in unique active wallets (UAW) that interacted with the platform, and saw an impressive $161,000 of total incoming value within the past 7 days at the time of ranking, second only to OpenSea. This indicates a surge in popularity of BitKeep NFT Market, and echoes the positive shift towards decentralized applications in general over the past few months.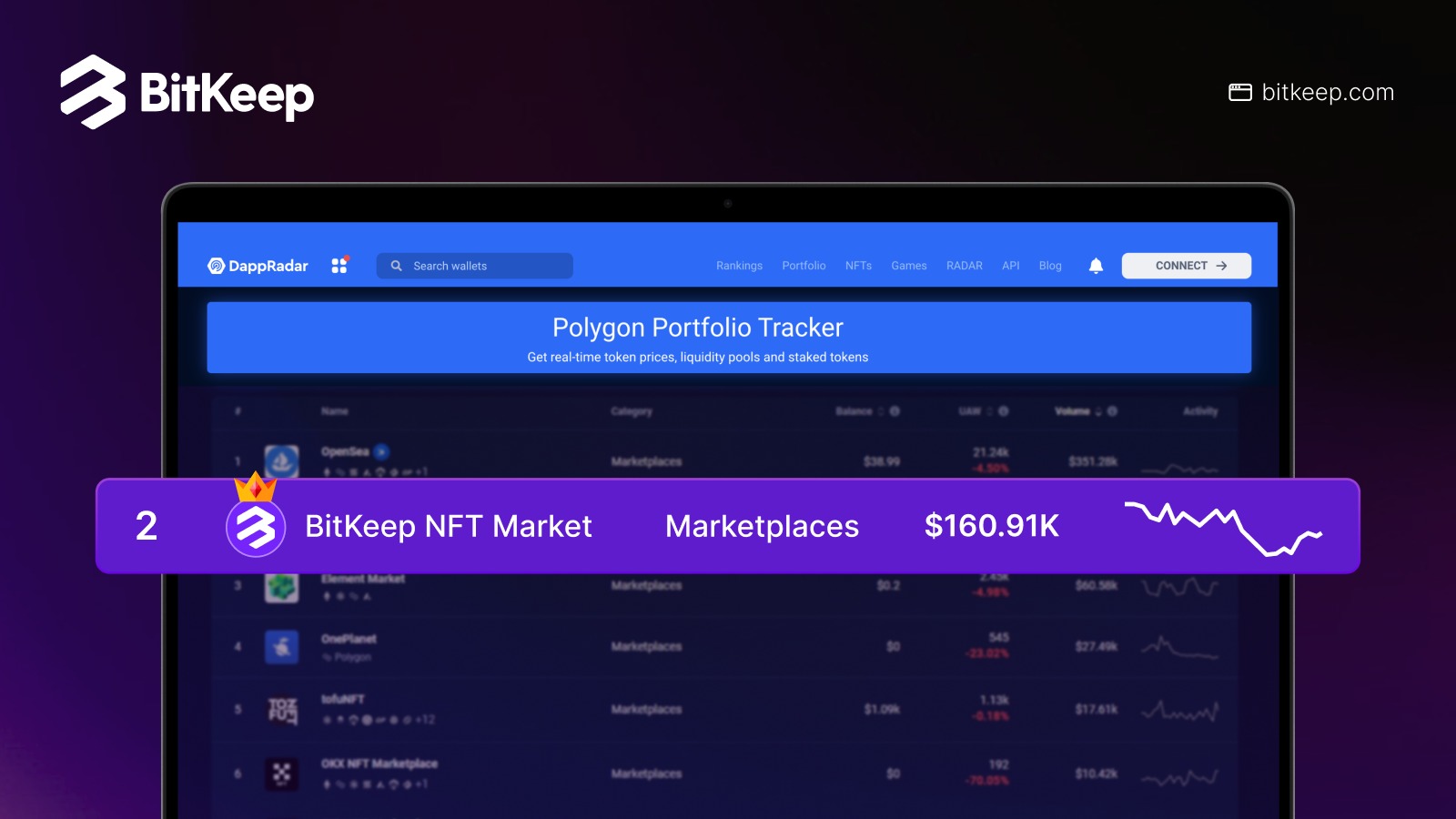 BitKeep NFT Market ranks second on top NFT marketplaces on Polygon, according to DappRadar
Get Ready to Take the NFT World by Storm!
BitKeep NFT Market is also the best rated mobile NFT marketplace application on Google Play globally, and is ranked 6th amongst all multi-chain NFT marketplaces by volume. With a staggering 320,000 NFTs listed for sale, more than 51,000 monthly active users, and a remarkable $31.6 million in total trading volume since its launch in March 2022, BitKeep NFT Market is one of the largest NFT trading platforms on the BNB chain, on top of its number two placing on Polygon.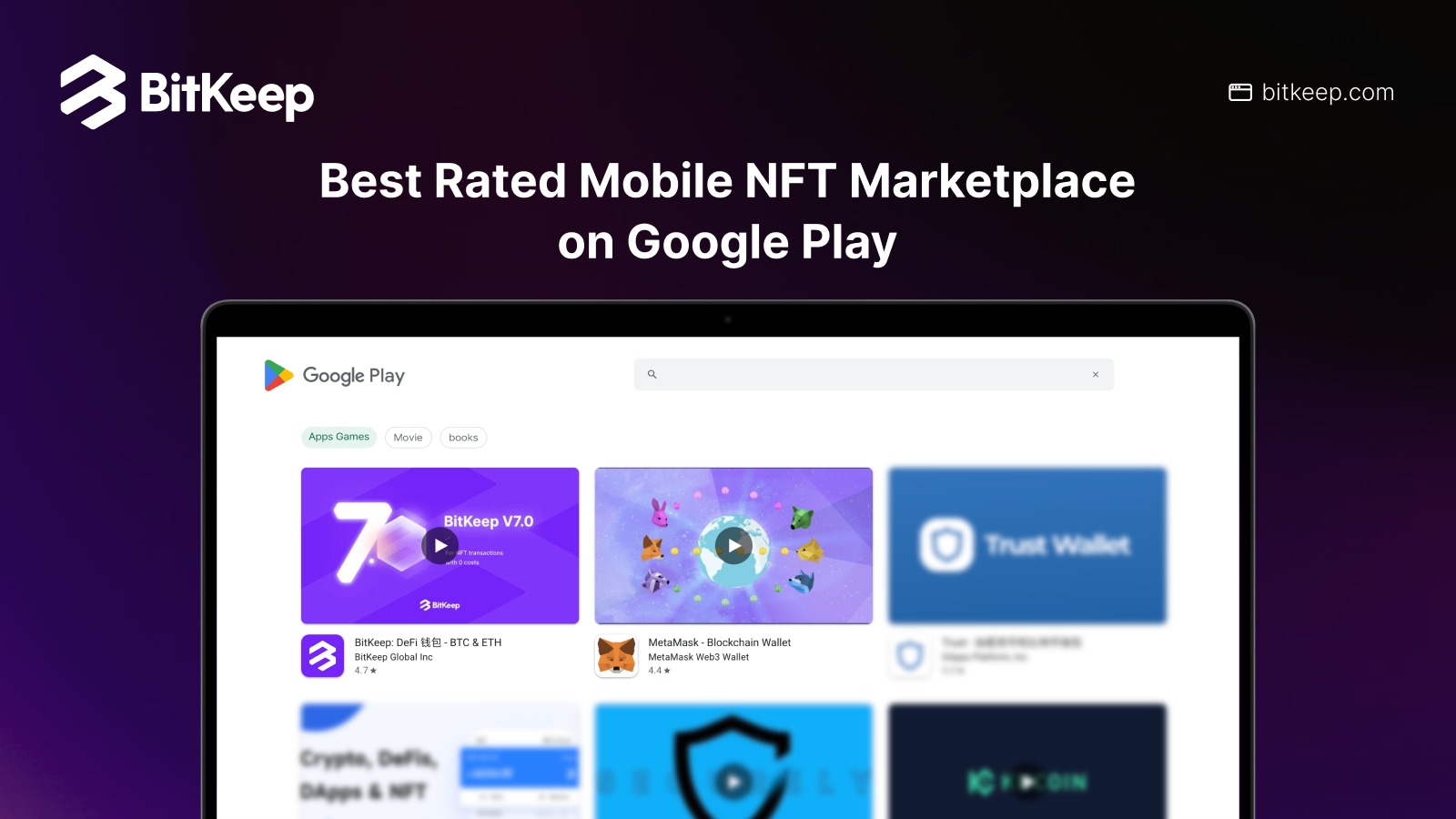 BitKeep is the best rated mobile NFT marketplace on Google Play Globally at 4.7
Discover the Most Seamless NFT Trading Experience with BitKeep NFT Market!
First launched on BitKeep's wallet application in March 2022, the platform has partnered up with major blockchains with the likes of Ethereum, Polygon, BNB Chain, and Arbitrum, being the first NFT marketplace to allow the purchase of NFTs on the platform with tokens from any partnered blockchain. BitKeep NFT Market also boasts a bulk transfer function for users to easily transfer multiple NFTs instantaneously and will support bulk listing and purchasing in the future.
Acknowledging that some users, particularly the most ardent of NFT hunters, are also looking to mint NFTs directly from projects, the BitKeep NFT Market incorporates a unique "Mint" section that features potential blue-chip Freemint and whitelist projects for users that are carefully selected by the BitKeep team. BitKeep is also committed to pushing for growth in the wider NFT space, supporting initial NFT offerings (INO) of popular NFT projects.
About BitKeep
BitKeep is a decentralized multi-chain digital wallet that provides an all-in-one solution for a comprehensive portfolio of services, including an integrated NFT Marketplace, wallet function, swap services, DApp Browser, Launchpad, and Daily Column – which features regular insights into promising DeFi projects. It offers reliable and secure asset management and trading services to more than 8 million users worldwide, covering 168 countries in North America, Europe, and Asia and is the top-rated wallet on Google Play globally, surpassing even Metamask. BitKeep currently supports over 250,000 types of cryptocurrencies across over 80 chains, including major ones such as Bitcoin, Ethereum, Polygon, BNB Chain, Fantom, and Solana.
BitKeep places a strong emphasis on user security, incorporating DESM encryption for the storage of users' private keys to ensure an additional layer of security to safeguard user funds.
Follow BitKeep on Twitter to stay updated on the latest developments, and let BitKeep be your premier gateway into the web3 space.