One of the most interesting things that you can do with your cryptocurrencies is to trade with them. Of course, acquiring cryptocurrencies and buying whatever your heart desires is a great thing to do.
But indulging in crypto trading can be a lucrative thing to do with your digital currencies and can get you brilliant returns.
Think of crypto trading as an investment. If done right, the ROI or return on your investment can be massive. However, more often than not, crypto traders, and even the seasoned ones, end up making some rookie mistakes that could have been avoided easily.
Therefore, what is required is an understanding of these cryptocurrencies and the right awareness about crypto trading.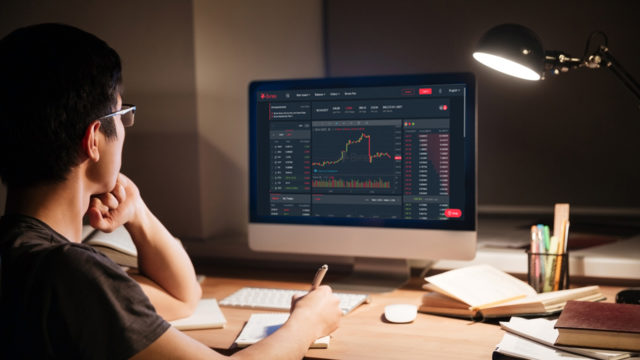 In the article that we have here, we shall discuss some of the tips of crypto trading and also look into the rookie mistakes that can be avoided while trading in cryptocurrencies.
Calculate Your Risks before Investing:
You must not take a plunge into the world of cryptocurrencies before working out the risks. Always remember that investments, of any sort, has innate risks. And that is what makes the domain volatile and impregnated with challenges. New traders may find the best crypto trading bot for avoiding the risks.
Therefore, if you dive right in without figuring out what you stand to lose, you might end up making the biggest mistake. Know your risks and understand your tolerance for risks before you invest. That is how you can make the most out of crypto trading.
Do Not Put All Your Eggs in the Same Basket:
The second mistake to avoid and a wonderful tip that can help you make the most of your crypto trading is that of not putting all your eggs in the same basket.
This means that you must not invest all your money or trade-in just one cryptocurrency. You need to spread out your investments to avoid taking up high risks.
Trading different kinds of cryptocurrencies will keep you cushioned against volatilities. Therefore, if you happen to suffer from losses from one coin, the other coins shall help you absorb the shock.
Always Remember that Every Trade Cannot Earn You Guaranteed Profits:
One crucial mistake that most crypto traders do is to harbor the thought that crypto trading shall come with guaranteed profits. However, this is just a big lie, and you must know better than just
this. Crypto trading alone does not ensure profits. It is good to have hope and pin your hopes down on your trades.
But do not become too complacent or smug in your beliefs. Crypto trading is a volatile field and has risks, as we had mentioned in the earlier section of the article. Therefore, you must be prepared to brace the losses coming your way as much as you hope for profits.
Do Not Be Emotionally Swayed while Trading in Cryptos:
While entering the domain of crypto trading, you must keep your emotions at the door. You cannot afford to sway emotionally and lose a sense of self.
Emotions interfere with our decision-making process. Therefore, you might not be able to make the right decisions while trading your currencies. Tend to your emotional stability before entering the world of crypto trading, or you might end up incurring significant losses.
Always Do Your Research on Various Crypto Platforms:
It is incredibly important that you research various crypto trading platforms before you take the plunge into this world. Crypto trading platforms are places, as the name suggests, where you engage in buying and selling
of cryptocurrencies. However, it is important that you choose the right platform for your trade. Not all platforms that you come across are genuine, and many of these platforms might even lead you to legal and financial troubles.
Therefore, it is important that you put in some effort into researching these platforms and choose only a genuine platform like Aurox for trading.
Wrapping Up:
No matter what you do while going about trading in cryptocurrencies, it is essential to remember that this space is a highly volatile area.
You might or might not secure profits out of your crypto trading endeavors. Therefore, it is important to stay patient, emotionally stable, and check every aspect of trading before venturing into this field.
In a nutshell, remember to spread out your investments, calculate your risks, and remember that not every investment or trade shall ensure you a profit. With these and a little bit of patience, you might be able to reap the benefits of your crypto trading endeavors.