Continuing from the previous week's deviation from the bullish momentum, the past week has led to the illumination of red candlesticks across the market. Following this suit is a majority of the top 20 assets, with a majority having declined by up to 10% across the past week. This subdued market activity appears to be indicative that any bullish sentiment or momentum has been diminished for the time being as a correction appears to be occurring. The total market cap has fallen to $1.015B this week.
Bitcoin (BTC)
Opening the week at $23.06k, Bitcoin continued to fall beneath its 7-day SMA, before briefly fighting to remain in the $23k territory on the 8th, where it pushed towards $23.4k for 24 hours consecutively before sharply tumbling once again. This led Bitcoin price to a weekly high of $23,351.4 which shows on the Gate.io crypto exchange.
Following this, BTC began a sharp downward trend, appearing to reach a bottom and beginning to rebound before quickly resuming the trend, forcing it through the $22k region and into the upper boundaries of the $21k region. On the 11th, BTC reached a weekly low of $21,542.09, however, it began to trade horizontally across the remainder of the week, trading hands at an average of $21.75k.
In spite of the impressive performance demonstrated by Bitcoin throughout January, February appears to be forcing BTC into a correction and pushing it back to its former trading average of between $20k-22k. Providing BTC continues to follow this trading pattern, it is likely that BTC will continue to trade horizontally, with this likely ephemerally disrupted by brief, sharp declines. In total, Bitcoin decreased by 5.3% this week.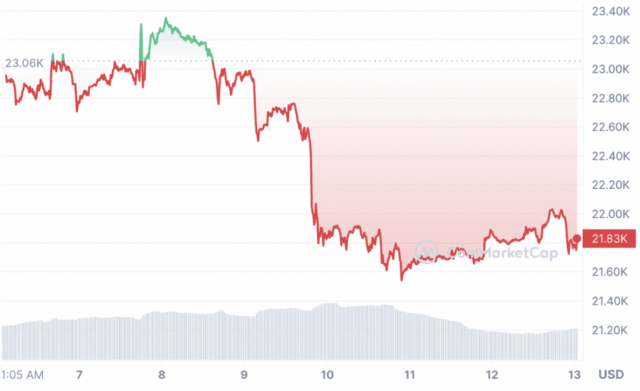 Ethereum (ETH)
Having started the week on the cusp of its 7-day SMA at $1,640, Ethereum slowly hovered below this threshold before fighting to rise and remain above it. The data from the Gate.io crypto exchange on the 8th, ETH price appeared to test the $1,700 region, reaching a weekly high of $1,685.66, before it progressively began to shed value and move towards $1,620. However, on the 10th, ETH was privy to a sharp decline, forcing it into the lower region of $1,520 and eventually to a weekly low of $1,509. Ethereum then began to trade relatively horizontally between $1,510 and $1,537.
Having deviated from its recent trend of shedding value at the start of the week before accelerating upwards in the latter portion of the week, Ethereum appears to be entering a correctional period and is once again finding a trading average nearer to $1,500. It is likely in the coming week that ETH will continue to perform similarly, with the potential for another volatile spike to cause a drastic negative price fluctuation. In total, Ethereum declined by 7.28% this past week.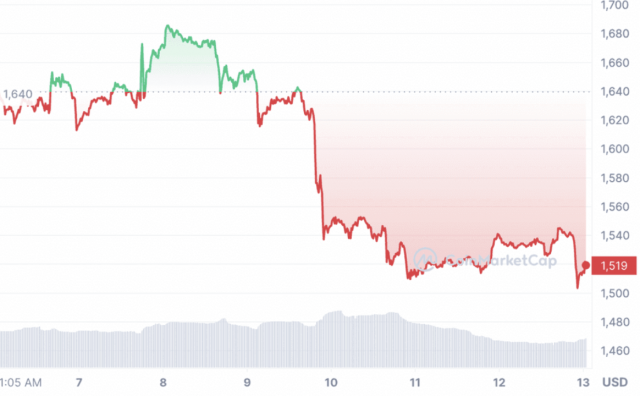 XRP (XRP)
Entering the week at $0.40, XRP was subject to immense volatility throughout this week, which led it to continuously test $0.405 throughout the earlier portion of the week. XRP finally managed to push through its 7-day SMA and reached a weekly high of $0.4068 before sharply falling and rebounding above this threshold momentarily before plummeting below $0.38 in the late evening of the 9th. XRP then reached a weekly low of $0.379, from which it was thrown between $0.39 and $0.79 until the end of the week, leading it to form a horizontal trading pattern.
With this immense volatility, it is likely that XRP will continue to experience this in the coming months, with this likely influenced by the mixed sentiment surrounding the imminent SEC vs Ripple verdict. It is likely across the coming week this volatility will ensue and lead XRP to trade closer to $0.37. Across the past week, XRP fell by 6.28%.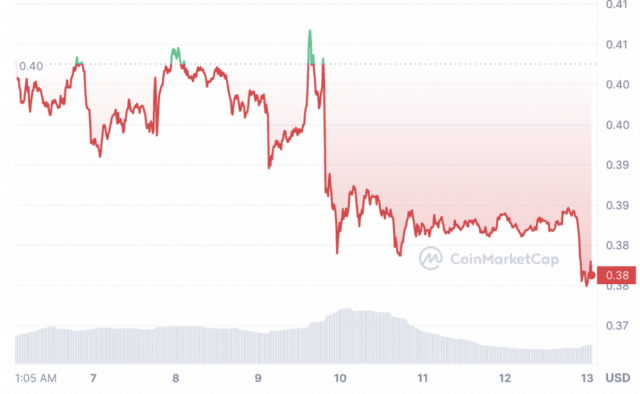 Cardano (ADA)
In spite of Cardano's price acceleration throughout January and early February, this momentum appears to have slowed and forced ADA into a correction. Entering the week at $0.40, Cardano continued to trade beneath its 7-day SMA, before it progressively inclined throughout the 7th and 8th to a weekly high of $0.403. Despite appearing to be demonstrating signs of price stability momentarily, ADA began to progressively shed value, eventually resulting in steep declines broken by brief rebounds or moments of horizontal price activity. As a result, ADA reached a weekly low of $0.3559.
With its bullish momentum appearing to have ceased, it is likely that ADA will continue its correction, potentially leading it to decline further toward $0.35 in the coming week. Across the past week, Cardano lost 8.85% of its value.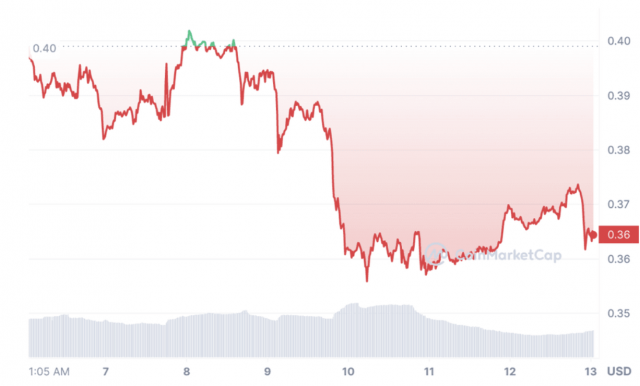 BNB (BNB)
Across the past week, BNB has been subject to substantial volatility. Entering the week at $330, BNB began to trade just below its 7-day SMA threshold before pushing toward $335, leading it to a weekly high of $334.01. Trading hands in the low $330 region, BNB appeared poised for a positive movement, however, these hopes were dAmpened as it began to progressively move below its 7-day SMA. From the 9th onwards, BNB witnessed immense volatility, with its valuation thrust towards $300, leading it to reach a weekly low of $303.36.
The negative price trajectory formed by BNB this week signals that it may begin to follow this pattern in the coming week, potentially forcing it below $300 once again and into a correctional period. Across the past week, BNB has decreased by 5.08%.