When talking about cryptocurrencies, chances are the first one that comes to your mind is Bitcoin. After all, it was the first one in the market and it has gained a dominant position. But despite being one of the most valuable cryptocurrencies available,
Bitcoin is not the only choice available out there for investors. The blockchain technology has evolved and new coins have emerged and are currently gaining more traction. But what is the difference between Bitcoin and the so-called "Altcoin", referring to alternative coins?
Today, Altcoins can count on improved functionalities and faster transactions compared to those of bitcoin. Some are even wondering if the expansion of the Altcoin market will eventually lead to the failure of Bitcoin.
Before choosing a cryptocurrency to invest in, you should be aware of the differences and the pros and cons of the options available to you. To make things easier for you, we've put together an essential guide on the differences between Altcoin and Bitcoin.
With this information, you'll be able to have a clearer picture of the market of cryptocurrencies and you'll be able to make a better decision about your investment.
Similarities of Altcoin and Bitcoin
Both Bitcoin and Altcoins are developed around the idea of a decentralized currency that might replace current money. They are made for simple transactions on a peer to peer mechanism. Each transaction is added to the chain, collected in batches called "blocks".
One of the biggest drawbacks of using cryptocurrencies is that both bitcoin and altcoin. do fall short in terms of payment mechanisms such as credit cards and other digital payment tools.
Bitcoin
Bitcoin has the benefit of being able to count on one of the most advanced networks in the market. It also offers the most supporting infrastructure and it is one of the most liquid cryptocurrencies.
One of the main advantages is that Bitcoin is one of the most accepted forms of payment. Also, it relies on a vast community of users, dedicated to its long term development.
However, contrary to new types of cryptocurrencies, bitcoin was not built with a vision for the multiple use cases of blockchain technology, meaning that its uses might be more limited.
Also, a major drawback is that Bitcoin comes with higher transaction fees. Also, it seems that its price will not return to the same heights of December 2017, when it rose to $20,000.
Altcoins
Alternative coins tend to be more volatile and risky. Many traders, however, like the volatility as it has the potential to result in higher profits. The biggest and most popular Bitcoin is Ethereum, which has a similar infrastructure network as Bitcoin. But other popular coins include Ripple and Dash.
The first one aimed at facilitating transactions between large corporations and institutions. Dash, on the other hand, is known for its extremely fast transaction speed and superior security, as well as the improved usability for individuals to manage their money.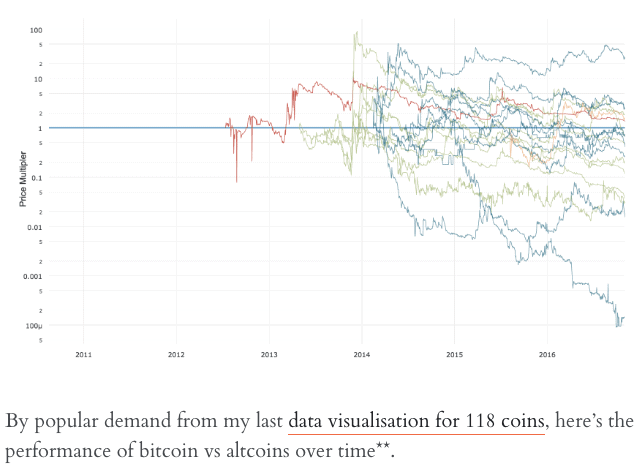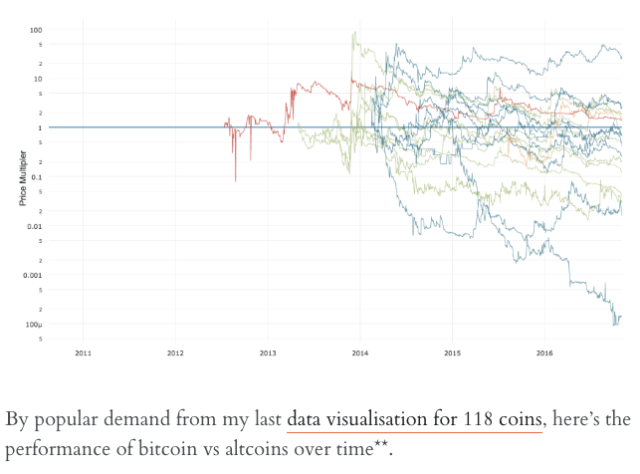 There are different types of altcoins available, each one offering something slightly different. Some offer unique functions as well as different systems and processes.
A big benefit of alternative coins is that they are based on different mechanisms of verification (or mining), and can process many more transactions per second as compared to bitcoin. Additionally, the majority of altcoins are based on new technologies such as smart contracts, that allow them to build innovative applications on the blockchain.
Also, altcoins have created on the existing bitcoin architecture, to which they have added new features that make them better usable in different situations where bitcoin is still no available. For example, some altcoins now open doors for app developments and allow users to take their transactions off-chain.
The main disadvantage is the relative lack of acceptance and exposure as compared to Bitcoin. Indeed, these new cryptocurrencies are not as well-known as their biggest competitor and therefore still not widely accepted as a form of payment.
The Bottomline
Even if it is fair to claim that Bitcoin offers the best support, being the largest cryptocurrency in the market, that does not mean that alternative coins are not worth investing in. A good strategy to follow might be to purchase some Bitcoin as well as some of the major altcoins in an attempt to diversify your portfolio and minimize the risk of your investment.