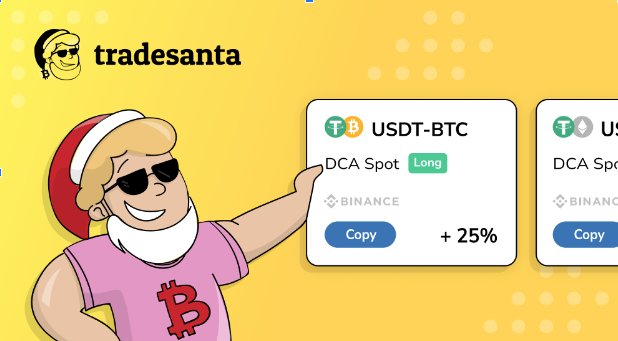 Learn all about crypto trading from this article and start earning on the most profitable crypto trading strategies today. 
What is copy trading?
Copy trading, also known as mirror trading, or social trading, is a type of strategy allowing you to take a chance on the best trading opportunities without trading skills, time, and analysis needed to keep track of the market and manage the risks. In short, you can simply copy a certain trader's strategy/bot or a portfolio that returns impressive profits, pay the fee, and make a proper passive income. 
How does copy trading work?
The first thing you should probably get aware of is that, in all honesty, you don't even need to know how copy trading works and how all the technicalities work under the hood. If you have already connected the account of the Marketplace with the exchange of your choice where you have some crypto assets, all you need to do is to go to the Marketplace again, filter all the bots based on the parameters important for you (exchange, type of market, pair, bot's age, profitability) and click Copy. Right, that is that easy. 
Copy trading pros
As you've probably figured that out already, copy trading is a great strategy for beginners who enter the market for the first time and don't know how technical analysis works – and, honestly, don't even want to know.
It's hard to find something more automated in the crypto trading niche than the bots copying other traders' strategies. Do you only want to check up on your digital soldiers once a week, once in two weeks, or even once a month – that's an option for you. 
But what if the bot has stopped bringing you profits? Just turn it off, and start copying a new one, it's not a big deal and very simple.  
Copy trading cons
No crypto trading strategy, including copy trading, will ever guarantee you a profit. Even experts lose money on the market fluctuations. Remember, every automated strategy you copy is just a strategy that was tailored some time ago by another trader. No wonder, it might need regular updates in accordance with the changing market situation.
Copy trading platform TradeSanta 

                                                                                                    TradeSanta copy trading screen 2022
A good place to start doing copy trading is TradeSanta, an automated crypto trading bot for everyone. It's simple, it's fun, and it provides you with an exact amount of information that you need. Are you a trading professional? Go for a powerful terminal, trading signals, bots and various trading strategies. Are you only beginning? Just click the Marketplace tab with a number of bots to copy (or follow) in one click.   
Founded in 2017 by a team of financial and software engineers passionate about developing better and simpler digital asset trading software, TradeSanta welcomes new users to try their services for free. Futures and spot instruments are available. The price depends on your subscription plan and starts at as little as $15 per month for an unlimited number of pairs all strategies, Telegram notifications and 49 bots.
Interested? Start making money today! 
Facebook, Telegram, Discord, Twitter!