Bitcoin price dropped to lows of $9,100 as widespread sell-off on Wall Street plunged US stock markets
The price of Bitcoin fell nearly 9% on Thursday, with the decline mirrored on Wall Street as major US indexes – S&P 500, the Dow and Nasdaq – all experienced their worst one-day sell-offs since mid-March.
After touching intraday highs of $9,963, violent rejections near $10k sent the world's largest cryptocurrency to lows of $9,100. The price of the leading cryptocurrency against the US dollar has since recovered about $200 in intraday trades.
From a technical perspective, Bitcoin has faced strong resistance at $10k and the latest decline confirms this.
As of press time, the BTC/USD pair is exchanging hands at prices above $9,350 but remains in the red with losses now at around 5.1% in the past 24 hours.
Crypto market sees red across the board
As well as Bitcoin, all the top cryptocurrencies are seeing red. At the time of writing, all of the top 10 altcoins have lost between 6% and 9% so far today.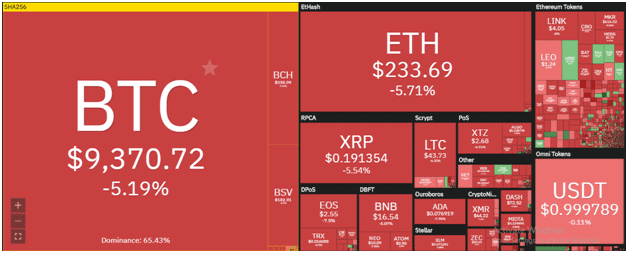 In the past 24 hours, Ethereum has lost 5.71% and is trading at $233.69, XRP has lost 5.54% and is down to $0.1913 and Bitcoin Cash has dropped over 7% to exchange hands for $238.
Other top cryptocurrencies are also posting major losses, such as EOS, Tezos, Litecoin and Cardano. All have dropped more than 6% in the past 24 hours.
According to CoinMarketCap, all major digital assets are down 4-12% over the week. Cardano, which had surged over 60% in May and early June, is now 12% down over the past seven days.
Crypto markets losses are also seen in stocks
According to Reuters, the US stock market plummeted to see it post its worst one-day losses in close to two months. The decline comes as investors continue to react to news of a possible resurgence in the COVID-19 pandemic.
The Dow Jones Industrial Average slid 6.9%, the S&P 500 fell 5.89% and the Nasdaq Composite plunged 5.27%.
The last time all the major indexes lost more than 5% was in mid-March as markets crashed amid the global spread of Coronavirus.
Yesterday's Bitcoin price drop follows a spike in the cryptocurrency's correlation to traditional assets. Per data, the top cryptocurrency correlates more to Gold and stocks now than it did in January.
Co-efficient data shows correlation rising from 0.0 to 0.35 and 0.45 respectively. Higher figures indicate the likelihood for the Bitcoin to crash in tandem with stocks, as was seen in March.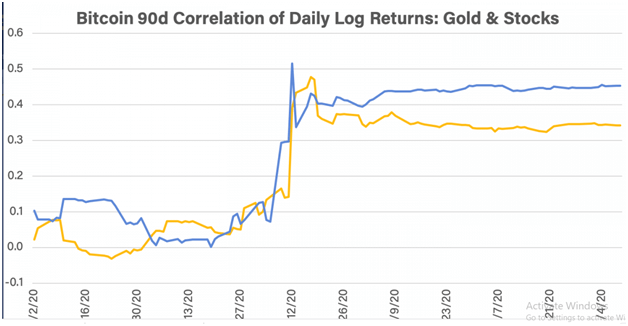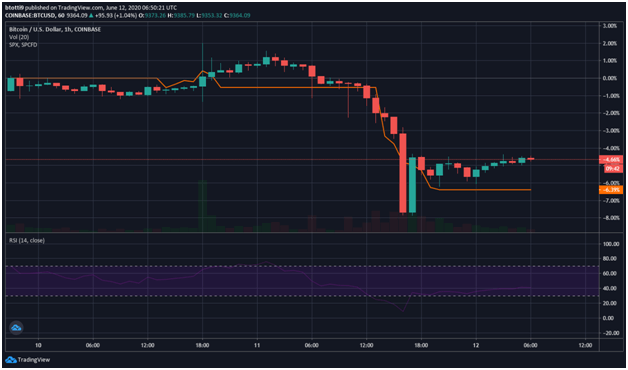 Avi Felman, an analyst at BlockTower Capital, has told Forbes that the widespread sell-off on Wall Street could rattle Bitcoin investors. According to him, an "equity bear market" could trigger flight into cash, including from digital assets.