Right now if you are a person that trades options on the stock market,  you are probably making a boatload of money. I have friends and family who trade Options and all of them are making money with the American stock market steadily going down day after day. Today we talk to Options trader – Sun-Yong a grandmother who patiently learned to trade options and now teaches this skill to students all over the world.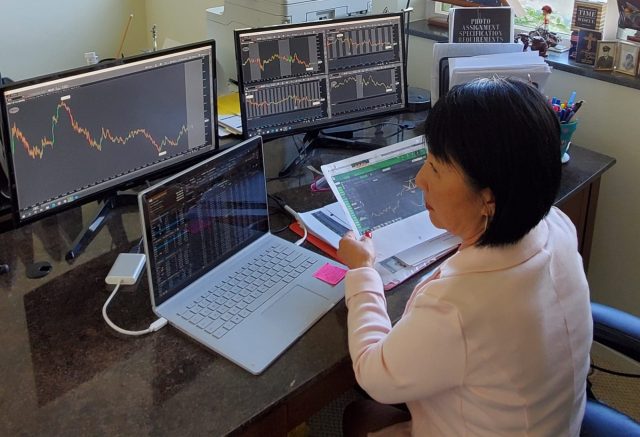 Sun Yong isn't your average grandma. The Korean immigrant has worn many different hats over the past six decades, from working as a nurse to opening up a restaurant, however, her latest venture buying and selling stock options as a 61-year-old is truly unique.
Like many older Americans, Sun Yong didn't grow up with a computer or the internet in her house, so she had to learn how to properly use one in her later years. After mastering the computer she dove head first into learning how to buy and sell stock options and within her first year earned $178,000, well above her initial goal of $35,000, which was what she was making as a nurse.
She credits her success to hard work and self-discipline. For a year straight she practiced and studied how to trade options with a virtual account from 9:30 a.m. to 4 p.m. every day the market was open. The following year she decided to begin using real money and in the process created a unique system that she now teaches other people. Below we talk to Sun about how she learned to trade options.
E-Crypto News
Do you think your success in Options Trading comes 'more' from- Discipline or from Studying the market?I think both are equally important.  If you only study how the market is moving, but don't have self-discipline then you won't succeed and vice versa.
How hard was it to trade for a solid year, without using real money?It wasn't too hard because it allowed me to learn and make mistakes without risking my future.  It also allowed me to learn how to properly use a computer and proved that I wasn't too old to learn new skills.
Is your success in Options trading teachable to other people?Yes, very easy, even a 61-year-old like me can learn it. Due to my age and the challenges associated with learning about computers I had to come up with very simple steps for me to understand, which makes it easy for others to learn.
Do you plan to release a course on how to trade Options?Maybe in the future. One day I might put together a simple guidebook for others to use so they can follow step-by-step how to do options trading.
Why did you decide to trade Options and not just general stocks or FX?I didn't have a lot of money to spare. It was very cheap to trade options versus buying stocks. I also didn't want to stay in front of the computer all day to watch the market because that would stress me out and FX and equity trading don't align with my lifestyle.
Is trading Options easy for you now?Yes, very simple, because I had a hard time learning how to use a computer so I came up with simple strategies that anyone can use.
With our current downturn in the market, is this a good time to be trading options?Yes, it's a great opportunity to make a lot of profits in the current downturn in the market. A lot of people are nervous to do any trading or even buy stocks, most of them get out of their trades or sell their stocks, which is the wrong way to go about it.
What are some of the key things to know about when trading options?Timing is critical as to when to get in and out of trades. It's also important to stay focused and not get distracted by huge profits, and to stay within your goals. Take small steps and be consistent.
What is the no.1 thing you would warn a new options trader before they start?You have to take a risk to succeed and find a personal mentor to save you time and money in the long run.
Does the strategy that you use work 'most' of the time?Yes, I make money 8 out of 10 trades consistently.
Have you ever lost a large sum of money while trading options (over 10K)?Yes. In 2017 I lost 50k in a very short period of time but managed to still make 178K by the end of the year.
Are Options trading in your opinion easier to execute than regular stock trading?In my opinion options, trading and stock trading are equally challenging, however, with options trading, you work with strike prices either single or vertical.
Is having the right 'MIND SET' important to what you are doing?Yes, it's very important to have the 'RIGHT MINDSET' when options trading because it requires dedication and perseverance to achieve your goals.