UEFA Champions League 2022 Winner, Real Madrid, and España superstar Dani Carvajal, has formed a partnership with MetaSoccer, the world's first soccer metaverse. After Real Madrid's 14th European title against English giants Liverpool FC on 28th May 2022, MetaSoccer and Dani Carvajal are proud to announce Dani's exclusive and licensed NFT collection, which will give players and users the ability to participate in Metasoccer's football manager game and the metaverse.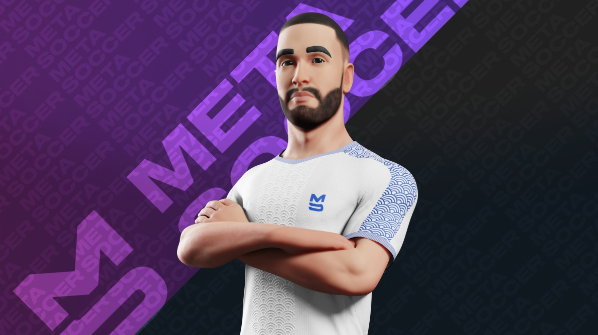 Metasoccer has also launched its beta version of the game, where NFT holders can participate in the game and win $MSC tokens. Having already introduced legends such as Ronaldinho, Arsenal midfielder Thomas Partey and Aston Villa's goalkeeper Emiliano Martinez, Dani Carvajal is the latest addition to the Metasoccer enterprise. 
As the world's first soccer metaverse, players of the game can not only manage their club but earn while they play the football manager. Players can compete against computers or other players with their "starting 11"  NFTs – in Metasoccer's Player vs. Environment. As a manager, players are able to join and compete in as many friendly matches as they wish, receiving rewards in $MSC upon winning games. The project's long term goal is to create an ecosystem where players generate the same income as a professional team in the real world through sponsorships, streaming, betting events and scholarships. 
Hala Madrid, Arriba españa – whichever is your cheer of choice, both are likely to see Dani Carvajal as your first choice right back. The Real Madrid number two will also be giving away a lot of merchandise and a rare NFT of himself to celebrate the partnership – as well as Real Madrid's great success and milestones in 2022.
"The idea of having my own NFT is crazy, and I'm excited to be a part of the Metasoccer metaverse. Football lovers around the world can be closer to the stars they love, play a real-life like football manager, and earn income while doing the same. What brings us together is our love, passion and devotion to our club, favourite players and of course football itself" says the Real Madrid right back, Dani Carvajal. 
MetaSoccer will be releasing a total of 100 Dani Carvajal NFTs, split into four categories based on the rarity of each NFT subset. These can be used to build a squad within the MetaSoccer game, and take on opponents. 
The first set of NFTs from the youth years on when Carvajal was 19 (baby icon) 

The second set of NFTs from the mid-years of his career focusing on when Carvajal was 24 (Mid-icon) 

The third set, which will focus on when Carvajal was 29, and in his prime years (Prime-Icon)

A final set of NFTs focusing on Carvajal as a global superstar and an icon (Immortal) 
Metasoccer COO and Founder, Patxi Barrios said, "We are excited to bring Dani Carvajal to our community and the game, another global superstar and a serial winner, with an exclusive and licensed NFT collection that our community can look forward to. " In addition, the partnership will hold the benefit of Metasoccer's publicity worldwide amongst millions of football fans as well as cryptocurrency enthusiasts. 
A recent FIFA report – The Football Landscape – echos what both Dani Carvajal and Patxi Barrios have said: "Football's global appeal extends beyond attracting the interest of fans around the world: from sponsorship to broadcasting, from club ownership to the origin of its main stars, the game's reach is universal. There are five billion football fans around the world". 
With a global population of 7.8billion, these five billion global football fans represent just under 65% or two-thirds of the global population. This sets the MetaSoccer project on a trajectory that has the potential to reach heights never seen before.
About MetaSoccer
MetaSoccer is the first blockchain-based soccer metaverse where users can create their own club and generate income while simply playing the game.
A whole soccer ecosystem where users can participate full-time as club owners or managers while having fun and generating income. MetaSoccer embraces multiple revenue streams such as: NFT asset drops, fees from different transactions across the ecosystem such as marketplace sales, betting, token swap,, sponsorships and broadcasting.
MetaSoccer has already released its beta version, readers can find a sneak peak at the gameplay here: MetaSoccer Gameplay Sneak Peek
For more information on Metasoccer please select the links below: Website | Twitter | Instagram | Discord | Telegram | | Medium
About Dani Carvajal Ramos
Daniel "Dani" Carvajal Ramos is a Spanish professional footballer playing at right back for both Real Madrid and the Spanish  national team. 
Having joined the Real Madrid youth ranks in 2002, he spent 10 years working his way through the youth system before spending a season with Bayer Leverkusen. After this he returned to Real Madrid, where he broke into the first team (in 2013). 
Since joining Real Madrid's first team, Dani Carvajal, has become a serial winner, winning 17 major trophies including five Champions League trophies, two La Liga titles and a Copa del Rey
For more information on Dani Carvajal please select the links below: