The appearance of a new token or coin on the market today surprises no one anymore. The number of cryptocurrencies is constantly growing, and sometimes it's impossible to guess which one will be a scam and which one will be the future. Today, the attention of experts and crypto investors is riveted to the PLC Ultima coin from Alex Reinhardt, which officially entered the market only in December 2021 and was worth only $0.10 at that time. Still, today, just five months later, it costs 95,000 USDT! That is twice as much as bitcoin. Why is it growing so fast, and what is PLCU? Is it worth investing in it now, and what is its future?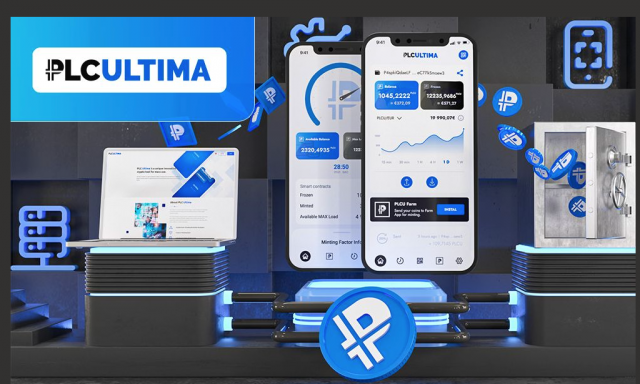 The whole truth about the PLCU coin and Alex Reinhardt
Most coins take only a few months to develop and launch in the shortest possible time because such coins are focused on "pumping" and speculative audience. However, in the case of PLC Ultima, things are different – this project has its origins in Switzerland back in 2016 when its first concept appeared. Over the years, the cryptocurrency has developed its ecosystem, including more than ten products that will make it an everyday means of payment. For example, today, one can buy goods from clothes to cars with PLCU, and thanks to their crypto debit cards, one can also purchase goods with BTC, USDT, and several other currencies.
PLC Ultima is aimed at both ordinary people and businesses. For the former, the system offers minting technologies that can create a source of passive income, and for the latter, it provides a set of innovative solutions to integrate cryptocurrencies into various business processes. For example, according to PLCU creator Alex Reinhardt, the coin aims to connect the modern crypto world with the traditional market so that cryptocurrency ceases to be detached from reality and becomes a reality for everyone.
Alex Reinhardt is a venture capitalist and serial entrepreneur, ranked among the top ten leaders in the crypto industry in 2020 by the US business magazine Entrepreneur. Alex Reinhardt is also the founder of over twenty successful IT and FinTech start-ups, often speaks at Blockchain Life events, and teaches investing and leadership as a business coach.
What is the infrastructure of Alex Reinhardt's PLC Ultima? A proprietary blockchain-based on Litecoin blockchain with Segregated Witness protocol update, a crowdfunding platform based on Platin Hero minting, a crypto marketplace Platin Deal, a private placement platform PlatinSale, a payment system Platin Pay, various mobile applications, and many more.
A cryptosystem that managed to provide 100% security and liquidity
In addition to using the Litecoin blockchain with the Segregated Witness update, the developers also use the CryptoNight hashing algorithm used by Bitcoin and Monero. Thanks to the consensus method, a minimum of 51% of nodes must agree to carry out any transactions – this maximizes system transparency and realizes equality between all participants in the network. Rewards earned through minting (and minting available for any users is a key benefit of PLC Ultima) get captured in a smart contract, which is responsible
for fulfilling all conditions and cannot be changed. The network is also resistant to every type of hacking attack known today, from DDoS to blockchain tampering attempts.
Each user's wallet is protected by a private key with a 6-digit PIN. All information resides solely on the user's device with no servers connected, so the risk of unauthorized access to the wallet is minimised. An advanced user of the PLC Ultima blockchain can also locally install the node on their computer.
In turn, deflation gets enforced through a variety of measures. For example, PLC Ultima destroys 100% of its coins to avoid competing with users. Furthermore, 30% of the coins are always kept in users' wallets and do not participate in farming. What's more, 50% are frozen annually for holding. Also, 1% of PLCU coins get burnt during each transaction. The rate and volume of production of new coins, on the other hand, are gradually reduced. Due to all these measures, the stable growth of the price of PLCU and the preservation of demand in the market and the system's stability are ensured.
A cryptocurrency that you can make money with: is it possible?
Having its own blockchain has allowed the PLCU coin to do away with mining altogether. In contrast, the minting that underpins PLCU allows new coins generation (minting) without special equipment and high electricity costs. Also, the user does not need special training or technical knowledge regarding coin mining – all you need is a smartphone and access to the Internet.
We have tested how it works in practice, and it is very easy to use. The first thing you need to do is download PLC Ultima Wallet from the official App Store or Google Play marketplace. All the coins you buy are stored in this wallet, and the generated ones will be kept there, too.
You need to install another free app, which starts the minting – PLC Ultima Farm. That is a kind of "farm" where new coins get minted at the touch of a button. The only thing you need to make Farm work is to purchase a digital Ultima Minter certificate, which acts as a holding permit. With this, the PLCU system controls the number of participants in the network and the number of new coins to prevent consensus breaking and negative volatility. This certificate also has several categories – the higher the category, the greater the number of new coins that you can generate per holding process. To increase the size of the "farm", you can purchase multiple certificates simultaneously.
Once the applications get installed, and the certificate purchased, the holding in the Ultima Farm application is started. At launch, a smart contract gets signed between the user and the PLCU. At this point, all the terms and conditions get fixed – for instance, you can freeze coins for one to three years. At the end of this period, the coins are unfrozen, and the user receives them back into the wallet along with the new coins minted. The number of coins you mine at the end is also immediately displayed in the smart contract. In short, no surprises!
Why PLC Ultima is an ecosystem
As we mentioned above, Alex Reinhardt has built an entire infrastructure around this cryptocurrency, with many products to support its stability and active distribution worldwide. That also contributed to the fast growth of the PLCU community – now, it already has more than a million users from 120 countries globally. All thanks to the fact that with PLC Ultima, you can:
· Invest in and make money from innovative start-ups. With the crowdfunding platform PLC Ultima, where you can support charitable projects and medical technology or art exhibitions, all investors do not spend money but only freeze it for a certain period in PLCU coins. At the end of the crowdfunding campaign, the investor gets all the coins back and the reward earned through that very minting. The project also gets its money's worth – Alex Reinhardt has ensured that everyone stays in the black.
· Buy and sell goods for cryptocurrency. After proper moderation, the Platin Deal Marketplace allows any online shop to become a merchant and sell products with one of the 17 most popular cryptocurrencies (from BTC to Dogecoin).
· You can pay with PLCU and seven other cryptocurrencies in offline and online shops worldwide and effect international transfers without any fees. That is possible thanks to Platin Pay and PLCU debit cards.
PLCU price on Coinsbit and other exchanges
PLCU price rose to 92,000 USDT in mid-April. The coin is trading in PLCU/USDT and PLCU/BTC pairs, and you can find it on major cryptocurrency exchanges, including:
· Coinsbit, the most prominent global platform with its IEO platform, fiat currency support, exchanges and unique payment codes.
· HitBTC, the platform with one of the largest trading volumes in the world. Over 150 currency pairs are traded here, including fiat currency pairs.
· Bibox, a Chinese platform that has been in existence since late 2017 but is already well established with a huge selection of currency pairs and opportunities for passive income, among others.
To view the current PLC Ultima price and rate, visit the exchanges' official websites.