Neo-banks are the popular choice among the young generation throughout the world. The convenience, ease of use, and responsiveness encourage more and more people to rely on banks that operate solely digitally or through mobile apps. You can come across many new-generation banks nowadays.
What about OnJuno?
Is it a banking company of the future that offers quality financial solutions? Let us analyze the services of this neo-bank to find convincing answers to these questions.
OnJuno – An Introduction OnJuno is a well-known neo-bank headquartered in Singapore with branches in the USA and India. This digital banking platform was launched in 2019 by an expert team of engineers, designers, and product thinkers.
The goal of this company is to increase financial freedom and offer access to transparent and fair financial services. This neo-bank puts forward a lean, tech-forward approach to banking. It offers a wide range of products to meet the varying needs of different people. If you are looking for a crypto banking account for the youth or the next generation, you can definitely consider OnJuno.
OnJuno Products –
An overview The financial product of OnJuno is an interest-bearing checking account with two variations, known as Basic and Metal. This account is a digital, all-in-one bank account that focuses on serving your day-to-day financial requirements.
Basic Account
OnJuno Basic account is a free version without any minimum balance requirements. That is to say, you do not have to pay any monthly fees for maintaining the Basic account. By performing the role of checking and savings, this account does not make you worry about maximum withdrawal limits. Cash can be withdrawn for free at MoneyPass and Allpoint ATMs. If you rely on out-of-network ATMs, you will qualify for one reimbursement every month. If you are a Basic account holder, this digital bank will offer a bonus rate of 1.20%. It applies to all deposits up to $5,000. All deposits above $5,000 will qualify for a bonus rate of 0.25%. You can also expect attractive cashback rewards of up to $500 for your purchase transactions with select merchants, including Airbnb, Walmart, Doordash, Amazon, and Netflix.
Metal Account
The premium account of OnJuno is known as Metal. If you make monthly direct deposits of $250, you can maintain the Metal account. It makes you eligible for all the benefits of a Basic account. Further, the earning potential of this account type is higher than the Basic version. There is nothing to choose between the interest rates of these accounts. However, a Metal account holder will receive a 1.2% rate for balances up to $50,000.
The annual interest you earn from a 1.00% APY high-yield savings account can be achieved by maintaining a Metal account for only 6 months. It also offers excellent cashback offers for account holders. Like the Basic account, you can earn rewards when performing transactions with many leading merchants and brands. You will receive 5% cash back on up to $3,000 in spending. Compared to the Basic account, you can enjoy improved flexibility on ATM use. As mentioned above, OnJuno Basic account holders qualify only for one monthly reimbursement.
The Metal account holders will receive three reimbursements in a month for out-of-network ATM use. You will also receive a unique black metal debit card when you open this premium account.
Crypto Banking Solutions
If you want to get paid in crypto, you can use this digital banking platform. When you set up your first direct deposit, you can enjoy a $50 bonus and a sleek Metal card. OnJuno helps you manage your cash and cryptocurrency in one place seamlessly. Banking meets crypto perfectly to deliver a rewarding customer experience. OnJuno lets you store, purchase, and sell cryptocurrencies directly. There are no restrictions on the minimum deposit amount. You can even start with $1. This crypto banking platform offers 4% yearly savings on your deposits. You can take maximum advantage of digital dollars such as USDC without worrying about lockups or fees.
A Crypto Banking Account for the Youth
Do you want to receive your paycheck in crypto? You can set up a direct deposit OnJuno account to get part of your paycheck in crypto. There are no restrictions on wallets. You can choose a wallet of your preference. With seamless payroll integration, OnJuno offers a crypto banking account for the youth or the next generation. You do not have to pay any transaction fees. The money can be withdrawn to any wallet you prefer. Employees of many leading cryptos, finance, and technology companies have been associating with OnJuno to take their paycheck in crypto.
The most notable names include Microsoft, Apple, Amazon, Google, Polygon, KPMG, Uber, Messari, and Polychain. When it comes to cashing out your cryptocurrency, you do not need to wait for a long time. You can find many popular platforms taking 3 to 7 days to make the cash available in the account. OnJuno performs this task in 30 seconds.
That is to say, whenever you sell crypto, the traditional currency will be deposited in your checking account immediately. Several exchanges charge around 4% fees when you buy and sell crypto. This crypto banking platform does not charge any fee for these transactions. You can buy and sell Bitcoin, Ethereum, and USD Coin without paying any commission with this digital banking provider. It requires only a few seconds to convert your cash into crypto and vice versa.
Fast and Efficient International Transfers
You can create an OnJuno checking account within 5 minutes. Once you create an account, you can make immediate international transfers at cheaper rates than PayPal and banks. This platform lets you transfer money to more than 30 countries with lightning speed. The real-time tracking feature keeps you informed of the progress of your transaction until the money hits the bank account of the receiver.
Popular OnJuno Promotions
1. Personal Checking Referral Bonus You can earn a $50 bonus with the personal checking referral. That is to say, you can refer a friend to create a new checking account and set up a direct deposit. When it is materialized, you will get a $50 referral bonus. The new account holder will also get $50.
Requirements for Earning this Bonus –
You should have an OnJuno account – Recommend a friend or family member using the referral link provided – The new member must make a direct deposit of $250.
Users can refer to as many people as they want and the maximum referral reward, they can earn is $500 (10 unique users).
2. Welcome Bonus OnJuno offers a welcome bonus of $50 to all new members. All new Metal checking account holders don't have to pay any fees for the first 6 months. You can save around $60 with the help of this special offer.
Requirements for Earing this Bonus –
You must open a new OnJuno account – Make a direct deposit of $250 or more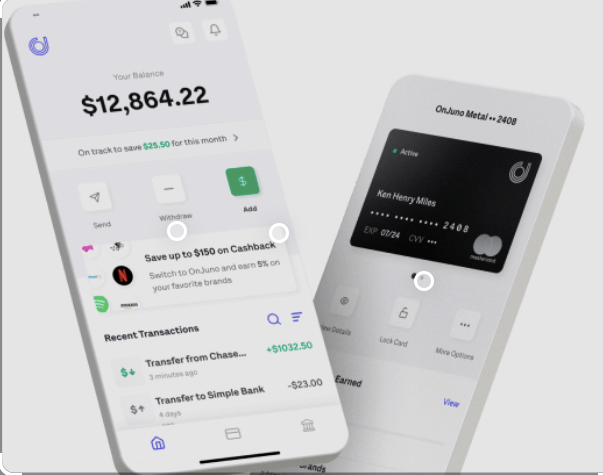 Is OnJuno a Safe and Reliable Platform?
OnJuno lets you enjoy the advantages of crypto with the best safety and security of a bank account. It offers FDIC-insured solutions to safeguard the interests of customers. The FDIC insurance covers USD cash balances up to $250,000 with the help of the partner bank, Evolve Bank & Trust. This neo-bank offers secure custody of cryptocurrencies.
The reliable and licensed custodians keep the digital currencies in cold storage to ensure optimal safety. There is no need to worry about tax-related issues when you choose OnJuno. It offers transparent and simple automated tax reporting methods for cash and cryptocurrency earnings. Unauthorized card transactions make financial dealings highly insecure.
OnJuno eliminates these risk factors efficiently. Thanks to Mastercard's Zero Liability policy. It offers the best protection against unauthorized card transactions. As a trusted mobile banking application, OnJuno follows the most advanced security protocols to ensure faultless safety for users. This company is associating with MoneyPass and Allpoint to provide free access to more than 85,000 ATMs in the USA.
Customer Support Service
You might have some doubts when opening a new account with Onjuno.com. The doubts can be clarified by visiting the FAQ section of the online Help Center. It contains everything you need to address your general doubts. If you need further assistance, you can talk to the customer service executive.
The customer support number is 415-969-5775. You can make calls between 9 am to 6 pm (Pacific Standard Time). This Crypto banking platform also offers a web chat feature for its customers. You can chat with a friendly, expert support team between 5 am to 6 pm (Pacific Standard Time). Overall, OnJuno offers the best customer support solutions to take the service quality to the next level.
Final Thoughts
If you want to manage your cash and crypto using a simple account, look no further than Onjuno.com. It offers the most reliable checking account with excellent benefits. You can open an OnJuno account without making any payment. This digital platform comes with attractive cashback offers to keep customers satisfied.
The metal card makes your physical cash transactions effortless and enjoyable. The customer support team responds to your queries immediately. Overall, this neo-banking platform is the best source to create a crypto banking account for the youth or the next generation.