The identity of the Bitcoin creator, Satoshi Nakamoto, might be revealed in a Florida court case that has been underway for the first two weeks of November. A lot was said but a concrete solution is yet to be determined. The family of the deceased computer scientist David Kleiman insists that he created Bitcoin along with Craig Wright using the pseudonym Satoshi Nakamoto.
In this court case, Kleiman's heirs are suing to acquire half of a Bitcoin fund that is worth over $65 billion based on the current market prices. A Wall Street Journal report published that the two parties are entangled in what seems to be an endless battle.
51-year-old Wright is an Australian-born tech entrepreneur who lives in London. He alleges that he created Bitcoin alone. This allegation has already drawn massive doubts in the whole crypto community.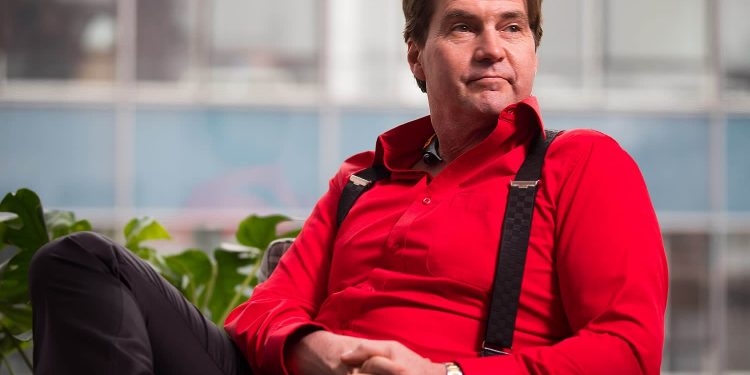 However, the Kleiman heirs insist that Wright developed Bitcoin alongside Kleiman who died in 2013. They say that they have evidence to prove their allegations. A lawyer for the Kleiman family, Vel Freedman, said:
"We believe the evidence will show there was a partnership to create and mine over one million bitcoin."
On the other hand, Andrés Rivero, a lawyer for Wright, responded:
"We believe the court will find there's nothing to indicate or record that they were in a partnership."
Who is the real Satoshi Nakamoto? Whether they were partners or not, most Bitcoin enthusiasts want tangible proof that they created the flagship cryptocurrency. The only proof that any of them has a genuine claim of what they say is by producing a private key or password for the digital wallet in Satoshi Nakamoto's name.
The digital wallet in question holds around 1.1 million bitcoins. These coins have never been touched. So far, since neither Kleiman's family nor Wright has produced the private key, most people are now skeptical about both of their claims.
Since the digital currency's inception in October 2003, the real identity of the Bitcoin founder has been a dominant question, one which nobody is yet to answer. It might be a person or a group who released a 9-page white paper. That white paper introduced the new crypto under the Satoshi Nakamoto identity.
Kleiman's family says that he helped Wright author that paper and then they launched Bitcoin together. Thus, Kleiman is entitled to over half a million bitcoins based on the suit filed in a Florida court.
The Satoshi Nakamoto Court Case
This is by far the most significant legal case that has come up in the entire history of bitcoin and the cryptocurrency sector in general. Kleiman Estate v. Dr. Craig Wright who is now the US and UK Copyright holder of the Bitcoin Whitepaper.
Wright insists that he was compelled to reveal himself as the Bitcoin Creator coordinated doxing. After that decision to come forward, Ira Kleiman claimed that his brother David Kleiman was the co-creator of Bitcoin. He made these allegations despite the fact that Ira and David were estranged.
Ira Kleiman is believed to have distorted and misrepresented David and Wright's relationship. That misrepresentation forced Craig Wright to reveal personal and private information about the creation of Bitcoin to help him defend himself and his claim of being the real Nakamoto.
At stake is 1.1 million bitcoins worth more than $65 billion, which only the creator of the cryptocurrency could have mined. Wright intends to prove that he is the exclusive owner of these bitcoins and then wants to send the funds to charitable use. This move would lift many people in developing nations out of poverty.
Wright previously said that he developed bitcoin and then made it available to the public for all to benefit from using it. His primary intention of granting public access was to enable it to gain mass adoption and to be used publicly. His intention was never to have people change the original vision and mechanics of the bitcoin protocol.
Since Bitcoin's inception, Wright never wished to come out to prove that he is Satoshi Nakamoto. Also, he never wanted any public recognition for his creation of the crypto. But after several people started coming out with false allegations aiming to take the title Satoshi Nakamoto, he had to come out strongly to defend his position and the original vision that inspired the creation of bitcoin.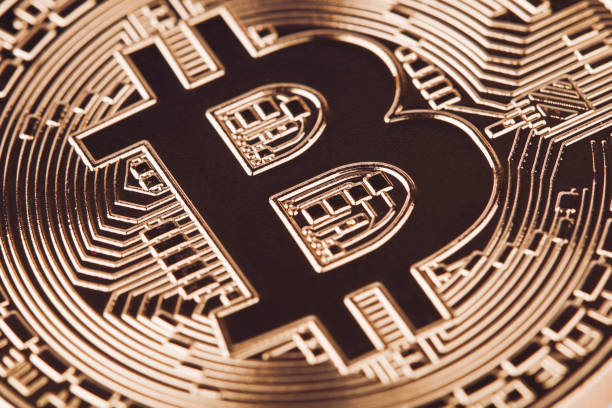 Dr. Wright authored the Bitcoin white paper and has the US and UK copyright that was upheld by a UK court in the Cobra case.
Related: BCH "is Dead" and BSV is a "Worthless Shitcoin," Bitcoin.org Founder Says
What Is The Significance Of The Case?
Craig Wright said that he was left with no other option but to reveal his identity to ensure that Bitcoin's legacy is not subverted for any purpose that is not in agreement with the original vision. The current case is one of the largest IP cases globally pitting David Kleiman's heirs against Craig Wright.
Kleiman and Wright were good friends who worked together and had known each other since 2003. Craig said that David was a close friend as proven by his own words after the death of David.
Medical reports indicate that Wright has autism spectrum disorder (ASD). This condition is believed to affect the manner in which he communicates information which may also inform his conduct. His lawyers were keen to have that information taken into consideration during the trial.
David Kleiman And Craig Wright History
Up to today, there is no defined evidence that proves the two men had engaged in any official partnership. They just worked together as close friends. Although Wright called Kleiman his partner, there is nothing tangible to show or record that they had engaged in any partnership on bitcoin in business laws.
Partnership and inventorship are different legal concepts and the latter is exhaustively defined in patent law. Craig Wright has never denied that he got help from others in coding, implementing, advancing, and perfecting bitcoin. He requested most of his family and friends to mine coins to help in trying out the system. David never mined the coins.
Craig has filed expenses (ATO case) on all of the hardware and setup that he used to develop bitcoin. The filing appeared to have been done in a time that corroborates with the creation of bitcoin. He has remained consistent in that context and all evidence shows and underpins his allegation that he invented bitcoin alone.
None of the court documents and public statements contradict his allegations. On the other hand, David Kleiman only spoke highly of Craig and they had worked closely at least since early 2009.
There is no theft that has happened which makes such statements just unproven rumors. The 1.1 million coins have never moved which means that they can be recovered by the rightful owner. Ira says that Wright and David are the true owners of the coins and want just 50% of the stash.
But, Wright says that W&K was just a vehicle that was used for post-invention activities like promoting, programming, and mining bitcoin. That collaboration did not have anything to do with inventing cryptocurrency. David was not the original inventor of bitcoin as highlighted by Wright.
Before his death, David had never implied that he was the inventor of bitcoin. He never mentioned such a thing even in private where no pretense was needed. Bitcoin is just a product of a polymath who understands computer sciences, accounting, economics, law, and several other related disciplines. Craig is a polymath while David was not.
The registration and correspondence of W&K were controlled by David Kleiman out of his convenience. Due to that factor, his untimely death resulted in uncertainty that has resulted in this mega lawsuit by his brother Ira.
Ira Kleiman did not have any understanding or interest in Bitcoin. He also did not care about his brother or what he was doing. As a result of that, he reformatted David's hard drives for his personal use.
But, Kleiman's estate insists that the two men worked together and they are both the true owners of the Satoshi Nakamoto coins. The estate asks for 50% since they also acknowledge that Craig Wright also played a role in investing in bitcoin.
Since the beginning, Bitcoin was designed to be a frictionless and sound form of money that can never be debased. Wright never created Bitcoin as a speculative 'currency'. Instead, it was developed as a peer-to-peer cash network meant to make finance more accessible. Wright insists that holding the Bitcoin private key does not prove ownership.
The Court Proceedings
On most days of the case, there were short hearings in the morning with the judge before the court sessions started. The short hearings were meant to resolve issues that might have come up during the proceedings including issues like the 'missing email' where Ira Kleiman referred to an email that was not part of the agreed evidence.
Ira Kleiman was the first to state his case and took the stand for days before Craig Wright could respond comprehensively. Defense attorney Andres Rivero cross-examined the plaintiff and managed to attract the courtroom's attention on the third day of the hearing to the fact that there was no official documentation to show that there was any defined partnership between David Kleiman and Craig Wright. Rivero stated:
"You claim Dave and Craig had a 50/50 partnership to invent Bitcoin."
Ira Kleiman responded:
"I only know what Craig has told me. I believe I have seen email communication where there was a division of assets in W&K."
Nonetheless, Ira failed to provide any solid evidence that there was a partnership. He simply alleged that there was a verbal agreement between Wright and David. Rivero asked Ira whether David had mentioned anything about Bitcoin in his will. Ira told the court:
"He didn't really discuss that kind of stuff with me." That specific exchange raises hard questions of whether Ira is a credible witness.
On the third day of the Kleiman vs. Wright proceedings, all eyes were on Ira Kleiman for a second consecutive day. The plaintiff retook his position at the stand. Defense attorney Andres Rivero pointed that no email exchange between David Kleiman and Craig Wright showed any considerable evidence of a partnership on the creation of Bitcoin.
Rivero said that in the months and weeks leading to the release of the Bitcoin white paper in October 2008, the two men were working on another project, and did not mention Bitcoin at any given time.
Also, W&K, which is the firm that is believed to have housed a purported working relationship between David Kleiman and Craig Wright reported no expenses and filed no tax returns. That further proves that there was no official partnership between these two men.
Even though David was passionate about technology, Ira wiped out 14 computer devices and hard drives that his late brother owned. Rivero said that the carelessness by Ira towards David's legacy, especially since Dave wrote a white paper with Wright about wiping out hard drive data.
Ira Kleiman failed to say whether he did or did not overwrite all of David's data. He never confirmed whether he knew what type of data was contained on another device that he decided to throw out. He told Rivero that he thought those devices were malfunctioning or broken.
On the fifth day of the Kleiman vs. Wright Trial, Ira Kleiman finished his testimony by alleging that David had a verbal agreement with Craig Wright to show that there was some form of partnership on the authorship of the Bitcoin White Paper.
No solid evidence has been produced in that context. Ira claimed that he was in possession of several documents that were not part of the discovery procedure, which was seen to be a direct contrast with proper legal procedures.
On the same day, Rivero reviewed several batches of emails before the court. The emails showed correspondences with Wright and David back in 2011 on a proposal to the Department of Homeland Security for a totally different project.
In all these cases, the correspondences between the two men were direct, straightforward, and they spelled out a mutual partnership on that specific project. David wrote to Craig:
"Maybe we could write a paper together. Why don't we do a partnership?"
Interestingly, no such communication between the two about the Bitcoin White Paper exists. Moreover, no such evidence has ever been produced in any court globally. Rivero drove a strong defense indicating how Ira had disregarded David's legacy. Ira agreed to overwriting hard drives that had sensitive data which he thought was worthless at the time due to his ignorance of the new technology.
During the seventh day of the Kleiman v Wright case, Dr. Craig Wright took to the stand and he expertly thwarted all the premises that were set up by the plaintiff. He was believed to speak from a position of knowledge, strength, and understanding the context of all the evidence presented against him.
The plaintiff kept insisting that Wright had a verbal agreement with David Kleiman despite there being no worthy evidence being presented to the court to support that allegation. Wright took his time to push back massively that claim. He also dismantled all the other correspondences that were leveled against him with little context or skepticism.
Most of the evidence and issues that the plaintiffs presented focused on documents acquired from the Australian Taxation Office. These documents did not serve any purpose except to throw in doubts about Wright's credibility of being Satoshi Nakamoto and to confuse the jury.
While discussing his friendship with David Kleiman, Wright became quite emotional. Analysts say that it showed the strong relationship that he had with David and he still holds him in positive regard even in death. Wright said that he never wanted any media attention that the court cases put on him, and wishes to live as a private person.
One of the four journalists allowed to enter the courtroom to cover this trial, Kurt Wuckert Jr., summarized the defense's arguments and presentations:
"Craig's people are again, standing up tall, 'We're here to work. We're here, to tell the truth, and the truth is aggressive, the truth is may be inconvenient, but it is the truth. And ultimately, there is no evidence of a partnership. W&K was not incorporated until 2011, and that's the end of the story. Nobody ever said anything about W&K before this certain date."
On day 10 of the Kleiman v Wright case, defense attorney Andres Rivero cross-examined Dr. Matthew Edman. Edman was introduced as a computer scientist by the plaintiffs. He said that several of the emails that were introduced by the defense as evidence were forgeries.
Rivero asked whether Edman, as a computer scientist, knew exactly what this scientific method is. The attorney also questioned whether or not Edman applied the scientific method as he was investigating the purportedly faked documents by forging the available documents and then comparing the results of the metadata to the provided evidence.
Rivero insisted that in case the provided documents were forgeries, the court should throw them out and delete them from the viable evidence provided for the case. But if they are genuine, the court should consider them as viable evidence to help in resolving the case.
During the proceedings, Rivero alleged that Edman has no certificates or qualifications to identify any forged documents. The witness confirmed that he never applied the scientific method and that undermined his status as an expert whose knowhow would have greatly benefitted the plaintiffs.
Kevin Madura was called by the Defense to testify as an expert in matters of "cryptography, cryptocurrencies, and the blockchain." He shared his insights with the court.
The Second Week Of Kleiman v Wright Trial
A compelling piece of evidence was introduced by the plaintiff in the short second week of the trial. The evidence came in the form of a document that said that David Kleiman had transferred 573,500 Bitcoins to Wright. The plaintiff believes that the transfer must have been made with fraudulent intentions.
But, there is no concrete evidence to back the claim. In his testimony, Wright said that he transferred the coins with the permission and knowledge of David Kleiman. The transfer was made because David helped Wright to safe-keep the coins when Craig Wright was under investigation by the Australian Taxation Office (ATO).
Wright confessed under oath:
"Dave helped me act as a front, a sham as the ATO called it. So, it looked like he ran all my companies… the Australian Taxation office almost bankrupt me and became the owner of Bitcoin's IP."
It appears like the plaintiff is struggling in all sectors since it has no tangible evidence to back the case. Another issue is also coming up; if David Kleiman was a partner with Wright in the creation of Bitcoin as Satoshi Nakamoto, why did he not claim part of the 1.1 million Satoshi coins while he was still alive?
Medical reports show that David Kleiman was paralyzed in 1995 and by the time of his death he was heavily in debt as a result of a long-term MRSA infection on April 26, 2013. At that time, 50% of the bitcoin that he had supposedly mined with Wright was valued at more than $100 million.
If David believed he had any right to the money, why did he not claim any of it to help improve his situation? Before he died, he left his last will and testament but never mentioned any bitcoin in it. Also, there is no concrete evidence of David owning bitcoin or of anybody else stating that they knew that he owned any coins or was part of the cryptocurrency's creation.
If any evidence existed, then it might have been deleted when Ira Kleiman reformatted and deleted all of David's hard drives and laptop that might have contained some viable computer forensic data.
The plaintiff is now overworked trying to discredit Wright and prove that he is a fraud to get the message out that he is capable of swindling David Kleiman's heir out of their bitcoin. Nonetheless, having the ability to steal does not make one a thief. Hence, the plaintiff's case is weak from a logical point of view.
What Happens If Wright Wins This Satoshi Nakamoto Case?
Besides being one of the richest people globally, Wright winning the 'Kleiman v Wright trial' and proving that he is the real Satoshi Nakamoto will have extensive implications in the crypto world.
First, there is a major possibility for the price of Bitcoin Satoshi Vision (BSV) to increase dramatically. BSV is the digital currency that Wright fully supports due to its commitment to his original vision for Bitcoin. It is not the first time that court cases have made its price increase. The price gained 120% moments after Wright got the copyright for the Bitcoin white paper.
For several years, Wright has alleged that Bitcoin is abusing his invention. He even insists that it has been distorted from his original vision. If he legally proves to be Satoshi Nakamoto, interest in BSV as the real Bitcoin will explode.
Bitcoin proponents and supporters would then be proven to be wrong in their endless smear campaigns against Wright for all these years. Furthermore, if the Satoshi coins move as guaranteed by Wright, markets would move rapidly with them. If all that happens, it would cement BSV's position in the crypto market as the real bitcoin.
No Tangible Evidence Who Satoshi Nakamoto Is
After more than 10 days of witness depositions, testimonies, and presentation of hundreds of evidence pieces, the biggest fact in the Kleiman v Wright trial is that there is no compelling evidence to prove that any of the involved parties is the real Satoshi Nakamoto either separately or together.
The main issue that is powering this case is the question of who is Satoshi Nakamoto. Is Wright the real Nakamoto or did they co-author the Bitcoin white paper with David Kleiman as the plaintiff is claiming? In this Kleiman v Wright trial, Ira Kleiman is trying to prove that David and Craig are the inventors of Bitcoin.
Hypothetically, if Wright and David are Satoshi Nakamoto, did the two men mine bitcoin together? If they did, could it be that Wright stole Bitcoin from his good friend? These are the key issues that need to be answered subject to how this trial goes.
When a computer forensics expert dies, such a case comes up. Where is the evidence? It is obvious that the needed evidence is found in the deceased's laptop, cell phone, and hard drives. But, Ira Kleiman acknowledged and testified that he reformatted David's hard drives and laptop since his wife needed a laptop and he has already given away the cell phone.
All of the 15 external hard and thumb drives that were turned over to Ira after David died, none have any important information since all data was wiped clean in the reformatting process. There are other hard drives that Patrick Paige, David Kleiman's business partner, and best friend, is said to have. However, they were not handed over as evidence in the ongoing case.
Is it convenient that Ira deleted all of David's hard drives yet he knew that his brother's life was focused on computers? Or did he not care about his paralyzed brother who he seems to have had an estranged relationship with? The two never met for two and a half years until David's death yet they lived a few miles apart.
Hundreds of emails have been presented at the court showing personal and professional communications between Wright and David Kleiman. They were great friends that worked on projects together. They even planned to go to Florida together and exchanged cookie recipes and jokes.
The two men co-wrote white papers, and several emails presented before the court has proven that fact. It was not the Bitcoin white paper. However, one was entitled "Overwriting Hard Drive Data: The Great Wiping Controversy" and was published in September 2008. The Bitcoin white paper was published on October 3, 2008.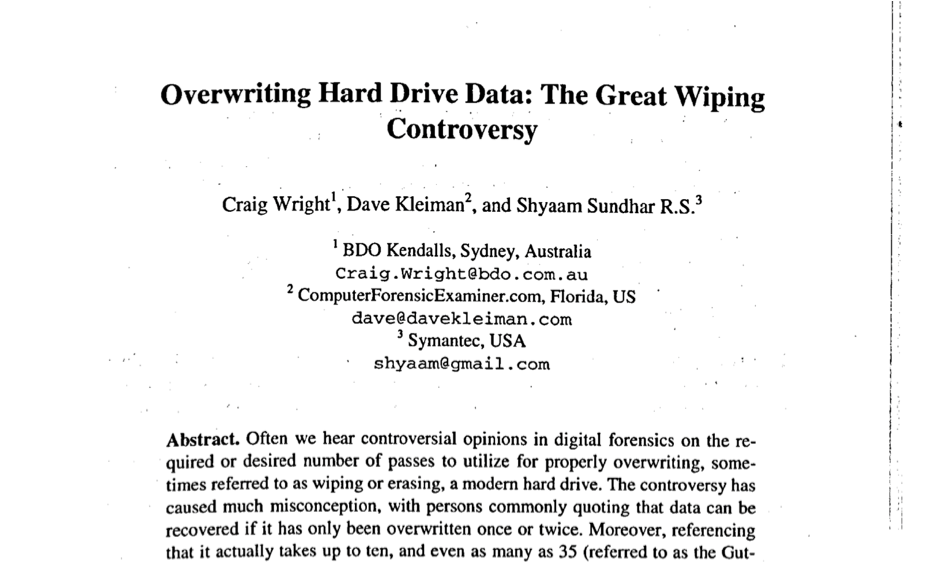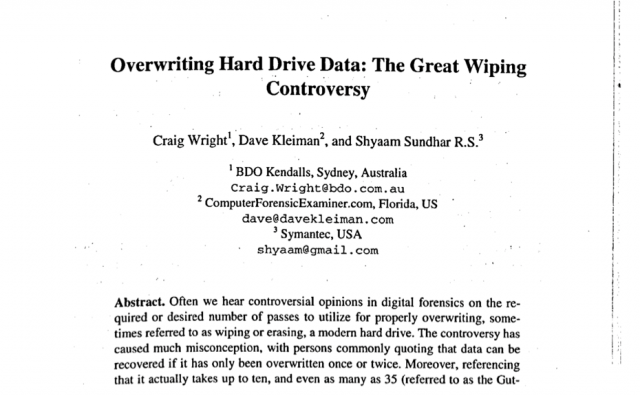 If Wright and Kleiman co-authored the BTC white paper, there might have been an extensive email communication between the two discussing Bitcoin. As is the case when they co-wrote the white paper on overwriting hard drive data.
There was just a single email where Wright requested Kleiman to help him edit something that he termed revolutionary and referred to as "bit cash" and "bit coin." Editing means that the document has been finished. Since Wright had used the terms "bit cash" and "bit coin" shows that the concept was already formed though the white paper might not have been fully written out at the time.
Ira Kleiman said under oath that during Thanksgiving in 2009, David Kleiman told him about the project that he had been working on which was "creating his own money" and believed that it would be "bigger than Facebook." Ira added that David drew a 'B' with two lines going through it as the logo of 'digital money' at the back of his business card. That was the last time they met face to face.
While Wright told his family and friends to mine Bitcoin while it was still cheap to do that, David Kleiman never did the same for his brother. It was only Wright who came to tell Ira Kleiman that his brother could own some of the cryptos after David's death. Craig Wright might have also advised Kleiman to buy bitcoin since he treated him as a dear friend as seen in his emotional eulogy.

What is strange is that the logo that David supposedly drew was not released until three months after the Thanksgiving of 2009. That is the design that was refined by Bitboy and still remains as Bitcoin's logo today.
Ira Kleiman appeared shocked to hear that fact but tried to cover up by saying that David often went to him for advice about logo designs. That excuse is possible if David was "newliberty," who first came up with the design that Bitboy perfected. Could it be that Ira Kleiman came up with the thanksgiving story to legitimize his allegations aiming to get his hands on some of the money?
So far, it seems like the Kleiman v Wright trial has opened up more questions instead of providing answers. So far, it is not clear that Craig Wright and David Kleiman are the partners who invented and mined bitcoin together.
Satoshi Nakamoto Is 15th Richest Person In The World
Satoshi Nakamoto is now the 15th richest person globally. Over the past few years, he has seen his wealth explode, and based on The Independent, their net worth is estimated to be $67 billion. The case comes after bitcoin surged to record its all-time high of around $68,000 after a 300% surge in the past year.
Some experts believe that the crypto will continue to rise and one model predicts that it will exceed $100,000 before the end of this year. If that happens, Nakamoto will break into the top 10 wealthiest people worldwide.
Many have claimed to be Satoshi Nakamoto since its launch in 2009 but nobody is yet to prove that they are the real inventors of bitcoin. That might change soon if the Florida case manages to unmask the real Nakamoto.
David Kleiman's family launched the legal case against Craig Wright aiming to control 50% of the shared assets that including 1.1 million bitcoins that belong to Satoshi Nakamoto. At the end of 2010, the bitcoin inventor vanished from development discussions, and during the asset's first year of operation, he is believed to have collected the one million bitcoins.
A lawyer for the Kleiman family, Vel Freedman, told the Wall Street Journal:
"We believe the evidence will show there was a partnership to create and mine over one million Bitcoin."
Craig Wright argues that he created Bitcoin alone and if he proves it, it will remove the Kleiman family's claim to the fortune. His lawyer, Andrés Rivero, said:
"We believe the court will find there's nothing to indicate or record that they were in a partnership."
Most of the experts say that the code behind the asset is quite complicated for it to have come from only one person; Unless the person was a genius. Some of the people that have spoken with Nakamoto over the years say that the person is of non-Japanese descent.
Related: Bitcoin's creator totally turns 44 today – happy birthday, Satoshi Nakamoto
If that is the case, it would go against earlier allegations that Nakamoto was a 37-year-old male who lived somewhere in Japan.