The Metaverse is About to Get Funnier! $JOKE and TCG World Metaverse Join Forces to Launch "Roasted", A Game-changing Global Comedy Festival in Web 3.0
Prepare for a laughter invasion in the metaverse! The $JOKE community, the world's premier comedy brand in the metaverse, in partnership with TCG World Metaverse, is thrilled to announce "Roasted", the largest comedy festival in the virtual universe.
Operating virtual comedy clubs for over two years, $JOKE's founders, two UK-based entrepreneurs, are committed to showcasing top-tier comedic talent across the globe. Today, their digital curtain rises further with TCG World's CEO and Founder, David Evans, joining the cause as a shareholder in the Roasted Comedy Festival.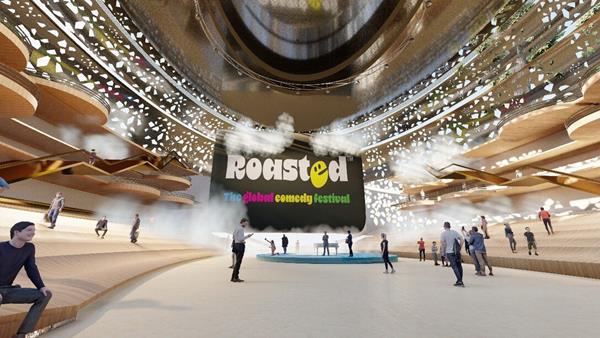 Bolstered by the technological prowess of Unity, the global leader in gaming technology, TCG World Metaverse is poised to catapult this groundbreaking comedy spectacle to unprecedented heights.
Jessica Toomey, Director of the renowned Frog & Bucket comedy club in Manchester, UK, is also onboard as a shareholder, lending her vast experience, contacts, and strategic partnership with influential comedy figures around the world.
Beginning this August, the month-long Roasted Comedy Festival will feature hundreds of comedians entertaining audiences across multiple metaverse platforms, potentially reaching millions of viewers. Music artists will keep the beat between comedy sets, ensuring entertainment throughout the festival.
Following the festival, an exciting array of comedy shows are already lined up, building on the momentum of previous events that have attracted audiences exceeding 20,000 people.
"We're on the cusp of a technology revolution," said David Evans. "Our collaboration with $JOKE brings a fresh and innovative approach to comedy, reaching audiences globally, powered by Key2 technology for ticket access."
Simon Young, founder and CEO of $JOKE, added, "The Roasted Festival will transform how comedy is experienced, transcending beyond traditional VR to present an immersive, high-tech performance space."
Emphasizing the game-changing potential of the collaboration, Andy Price, founder and CCO of $JOKE, noted, "Our partnership with TCG World Metaverse is groundbreaking. It will help elevate our project, pushing comedy into a new era."
In addition to TCG World and The Frog and Bucket, several global partners will champion the $JOKE project, melding web 3.0, crypto, NFTs, and the metaverse into a revolutionary platform for comedians to succeed.
With the metaverse projected to evolve into a multi-trillion-dollar industry by 2030, encompassing millions of active daily users, $JOKE is paving the way for a new era in comedy, one that not only adapts to the changing digital landscape but also pushes its boundaries.
For more information, press enquiries, sponsor/advertiser enquiries, and image requests, please contact [email protected]