A Full-Service Alternative-to-Banking Solution for Raising Financially Empowered Kid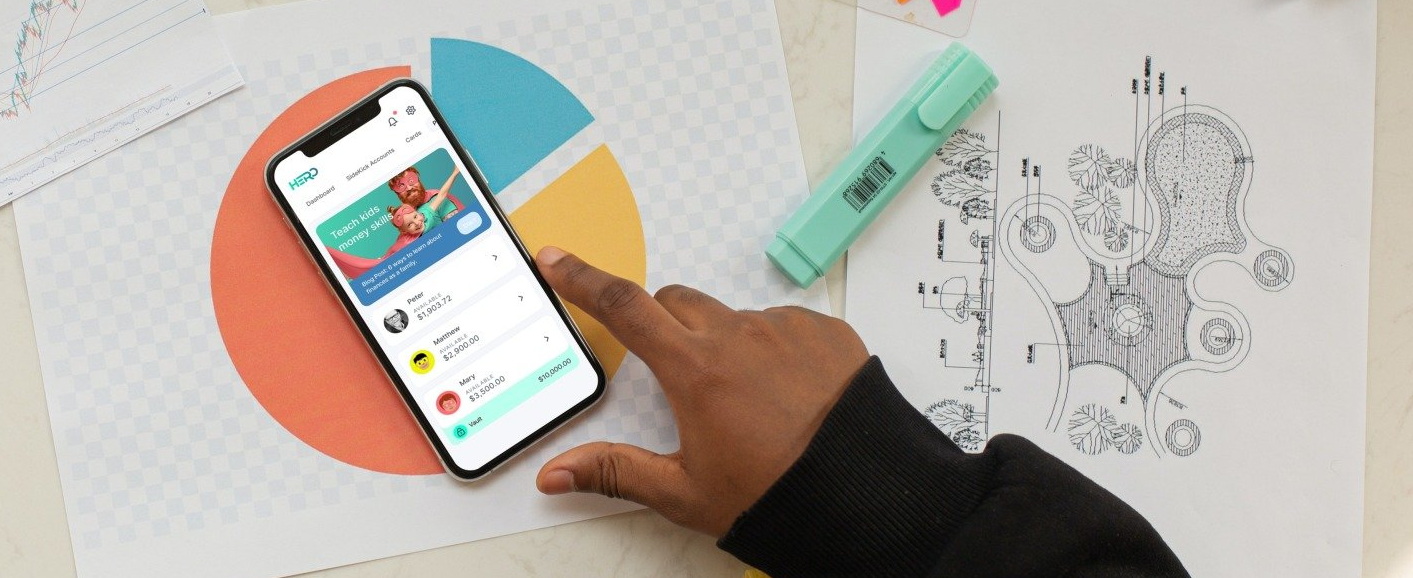 Vancouver, BC – August 10, 2022: Hero Innovation Group Inc. (CSE: HRO) ("Hero Group" or the "Company"), a Vancouver-based fintech solutions provider, is pleased to announce the launch of Hero Financials™ ("Hero"), a full-service alternative-to-banking solution for the Canadian market. Hero is designed specifically for young Canadian consumers, with a total addressable market of up to 6 million users. Its product offerings are highly customizable and are strategically designed to address the unmet financial needs of Canadian kids, teens, GenZers, and their parents.
Hero™ allows kids and teens to make their own financial and spending decisions and set a strong foundation for themselves to make smart money decisions. The solution is paired with SideKick™, a prepaid Mastercard that equips kids with vital financial literacy skills. It is a turnkey solution, supported with a mobile application as well as a built-in budgeting tool, savings function, contactless payments, and security backed by third-party inscription.
Hero™ provides the foundational steps that accompany kids into a financially independent and responsible future, while also building parent-child trust and confidence by eliminating the need to borrow parents' credit or debit cards to access funds. With Hero, transfers are sent in real-time, and funds can be used both in-store and online, via contactless and chip payments wherever a prepaid Mastercard is accepted. It can be used for purchases, savings and to gain essential financial literacy skills, without the limitations and restrictions imposed by traditional consumer banks.
"Being a Canadian company, presence in our home market is crucial for us. We identified a critical gap in the sector's ability to meet the financial goals and needs of Canadian youth and GenZers, a segment that now comprises a fourth of our population," said Peter MacKay, CEO of Hero Group. "Hero Financials™ is the perfect turnkey solution for Canadian youth that compliments their journey towards gaining financial independence, while also helping parents support and pass on those valuable skills to their kids," he added.
As a multi-user product, parents can receive notifications of their child's spending in real-time, restrict and block purchases on items by product category and lock funds in their child's account, which only they can later unlock. Users will soon be able to take advantage of the Round-Up feature, whereby purchases are rounded up to the nearest dollar and the spare change is automatically deposited into a savings account, called Vault, for use later. Hero will also soon support digital payments through a wallet function, whereby users can make payments from their Hero accounts via third-party mobile payment apps such as Google Pay, Apple Pay and Samsung Pay without the need to present a physical card for purchases.
Hero™ is user-friendly, with no hidden fees, and offers a selection of different plans to choose from. Subscribers will also benefit from the platform's ease of use, convenience, and efficacy in maintaining budgeting and financial management needs.
Hero Group's first flagship product, SideKick™, has been met with great acceptance among international education professionals, parents worldwide, and the student community. Recently, 
SideKick™ was named 'Service Provider of the Year' at the 2nd ST Secondary Awards.
 The awards, organized by Study Travel Network, honour outstanding contributions to the high school education sector from schools, service providers, agencies and associations worldwide.
SideKick™ was initially designed as a solution for inbound students coming to Canada, and following the initial success of the international product, many parents in Canada expressed interest in using a product to support their kids' financial management needs locally. As such, the Company decided to enhance its service offerings to the next generation of consumers in both the international and domestic markets. Through Hero Financials™, the Company is aiming to replicate SideKick's success in the domestic Canadian market. Both products offer diverse and innovative features developed by Hero Group's robust proprietary technology, an area that the Company continues to develop and invest in.
About Hero Innovation Group Inc.
Hero Innovation Group Inc. (formerly, Euro Asia Pay Holdings Inc.) is a developer of innovative financial solutions for the next generation of consumers. Through its flagship product, SideKick™, introduced in 2018, the company identified unmet needs in the market within specific demographics, such as international students in Canada, and delivered a product to address those needs. Hero Financials™, the Company's latest product, is targeted at parents, kids and young adults across Canada. With financial literacy at the forefront of the company's values and a plethora of advanced proprietary technology features, Hero Financials prepares kids to become financially smart adults through a variety of financial literacy tools.