The Enterprise Blockchain sector is one sector of the crypto space that hasn't taken off yet. So much So that now and then, a new enterprise blockchain project comes along and receives the same poor response from the crypto space.
E-Crypto News spoke to Tim Kemp, the Director of emerging leaders at Digital Asset about this. Digital Asset recently entered into a new partnership with Chainstack.
Because of this partnership, Digital Asset's DAML will be integrated into Chainstack's framework. Here is what Tim had to say.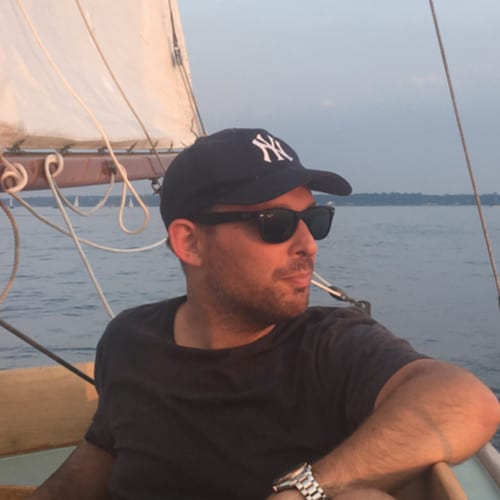 Tim Kemp, the Director of emerging leaders at Digital Asset
E-Crypto News:
1. Why do Enterprise Blockchains Fail?
A major challenge hampering blockchain adoption is the fear of vendor lock-in. There's a fear of getting tied to one specific ledger when what people want is optionality and the ability to change the platform technology to meet the needs of their use case.

Today, each blockchain platform has its own choice of smart contract language and framework for building applications.

This leads to applications that have to be written specifically for each platform, and are not portable or interoperable. This means that if an enterprise realizes three weeks into production that they selected the wrong vendor, the developer team has to completely rewrite the application for the new platform and this costs time, money and effort.

That's great for the original platform vendor, not so helpful for the enterprise. This coupling of framework and platform also means that either the development side of the house (those people building the application) or the operational side, who will run the app and platform in production, has to compromise on their needs.

That always means greater costs – either in development, having to use a suboptimal framework, or in operations, where a platform chosen by developers may prove to be hard to support or have weaknesses in performance.
E-Crypto News:
2. What solutions have Digital Asset developed to ensure that enterprise blockchains succeed?
Digital Asset has a smart contract programming language called DAML, which is a powerful, open source programming language for modeling business logic into distributed applications.

DAML is platform agnostic and portable. It allows developers to focus entirely on the application logic without worrying about the underlying infrastructure, which could be based on blockchain, database or cloud technologies. It breaks that coupling of framework and platform.

DAML solves a few challenges in the blockchain space. The biggest one is that it eliminates the fear of vendor lock-in. With DAML, developers can write the application once and port it to their platform of choice.

If they need or want to change platforms, with DAML the application can be moved without changing a single line of code.

That also means that enterprises can select a platform that has the right operational characteristics in production (privacy, or performance, for example) without having to commit to that platform's default framework.
E-Crypto News:
3. Do you think there could be a universal approach to solving ledger interoperability? Please give us your reasons for your answer.
Yes, but it will take standardizing how applications are developed. Portability is a necessary first step towards ledger interoperability.

We have some very smart people in Zurich who can explain to you mathematically how interoperability can work – projections and mappings and things, stuff I don't understand.

But the point of all this theory is to build something practical, and we're working on it. If you get the abstractions right, you can build something that actually works. We're beginning to see that now – it's an exciting time.
E-Crypto News:
4. Congratulations on your partnership with Chainstack! How does the blockchain space benefit from this?
We are very excited to work with Chainstack. There are a number of benefits. The first is being able to use the Chainstack platform to write DAML applications on Corda without any need to deploy a Corda network.

Anyone with an existing DAML application can deploy it to a Corda network via Chainstack without rewriting a single line of DAML code.

We use our partnerships as a way to grow the DAML user community. With DAML on Chainstack, it's an opportunity to grow our user-base across the different networks.

Chainstack offers a really easy way for developers to get a feel for writing DAML applications on Corda. With Chainstack, there's no need to dive into the complexities of deploying and managing a Corda network just to try out a proof of concept, for example.
E-Crypto News:
5. Which direction do you think blockchain space is going?
We see interoperability as a key part of the blockchain evolution. Blockchain breaks down data silos but we, as an industry, are in danger of creating larger silos of disconnected networks running on different technologies.

A big challenge we see is that interoperability at the network level doesn't exist – networks today are still islands.

Interoperability is a hot topic, everyone wants it, but no one is actually providing it. We get it – networks want to build their user base, so why build a bridge and let your customers leave to go to another island?

I think we'll see more collaboration and partnerships across platforms. I am sure more platforms will pop up. We just need to be cognizant of not creating more data silos.
E-Crypto News:
6. In your opinion, why haven't we had mass adoption of blockchains and distributed ledgers yet?
There are a couple challenges and barriers that remain:

Blockchain technology and smart contracts are still relatively new – the tech is a little more than 10 years old.

So, there's still some education that needs to happen. People are still learning what this technology is capable of and they're waiting for the right tools to build applications using smart contracts, such as SDKs and other technology components.

However, we think as high profile companies go live with a blockchain platform, some we are working with now should go live in the next year, we'll see more adoption.

Building a new platform takes time and coordination across many entities, especially for mission critical functions. However, we think once a platform is live, the business functionality and agility experienced will cause a sudden acceleration in adoption.

To an extent, blockchain in the enterprise has suffered from its timing. Companies these days are much more savvy about the risks of vendor lock-in and premature platform selection – even with all its benefits, cloud computing, for example, only really hit mainstream once cloud migration became a well-understood process.

So that's been a barrier: the lack of an offramp, or a cross-ramp, to other platforms creates a situation that enterprises rightly view as risky today.
E-Crypto News:
8. How did you get involved with distributed ledgers, blockchains, and the decentralized space?
I got peripherally involved in cryptocurrencies as many curious technologists did about 10 years ago, with Bitcoin and Stellar, but my real interest in the space was kindled by Nick Szabo's work on smart contracts and the possibilities of the Ethereum "world computer.

" I knew that'd take a long while to truly realize its potential so I kept one eye on the space and got on with my life. With Hyperledger's introduction of the idea of permissioned distributed ledgers, I made the connection to business use of the technology and decided the time was right to move my career in that direction.

Digital Asset was a clear leader in the field with a mature and pragmatic approach to enterprise technology, and a set of major clients in traditional financial market infrastructure.

The stuff we're doing with DAML now, to my mind, is a really clever twist on the idea of smart contracts and, as I've said, it's a bulldozer for some major barriers to adoption of distributed ledger technology.
E-Crypto News:
9. If you had three wishes for the blockchain space and a Genie who could make those wishes come true what would they be?
Well, biggest wish first. I'll take Charles Schwab-grade retail acceptability for cryptocurrencies – a coherent regulatory regime, safe exchanges, reliable on- and off-ramps, parity with equities in portfolios, some sort of Venmo-ish global payments option I can use in the Souk in Morocco or my local coffee shop, and so on. The space has a reputation for scammers, snake oil, and in some cases really embarrassing Twitter accounts.

Normalize it all, knock that bad stuff back into the shadows. Then we can start having legitimate fun with all kinds of wacky smart contracts and world computer stuff, as well as linking it up to microfinance initiatives which, at scale, could be transformative for millions.

Cryptokitties will look like Atari Pong; I'm excited about Fortnite. Hang on – what if we could use this to make online adverts disappear? I don't know how powerful your genie is… Brave is onto something though.

Then I'd like to see some successful enterprise private DLTs deployed and doing real work. Show me an HBR case study of how a traditional business cut its operational expense in half with smart use of distributed workflows (preferably in DAML of course!) I want to see the promise start to be realized, and the status quo start to crumble.

Finally, any time a business kicks off an internal software project, I want the person who suggests doing it in Java Spring to be the one who gets looked at weirdly by their boss, while the rest of the team says, "hey, we should use smart contracts.

" We have DAML on SQL databases now; the concepts embodied in smart contracts are so generally useful that they should be considered independently of any idea of distributed ledgers.