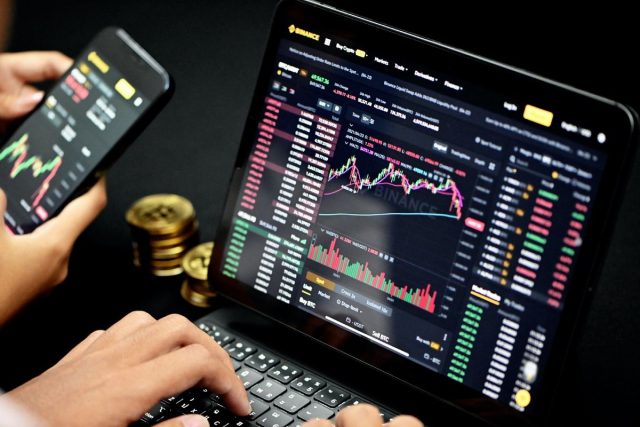 Decentralized exchanges (DEXs), which give users a safe and secure way to exchange digital assets, have grown in popularity with the rise of DeFi. However, taking advantage of DEX offerings can be a difficult process, and users need the appropriate skills and information to do it successfully. 
Setting Up the Defi Wallet
Depending on the type of wallet you choose, you can use them to store and manage your digital assets, check your investment performance, earn interest on your investments or even participate in DeFi Initial Dex Offerings (IDOs). 
Once you've chosen your wallet, setting up the account is fairly simple:
1. Download the wallet app from your chosen provider's website or app store
2. Create an account with your email address and create a secure password
3. Follow any further instructions on-screen to complete setup
4. If required, fund the wallet with cryptocurrency tokens
5. Verify the address generated by your wallet to ensure correct use in IDOs
6. You're now ready to participate in initial DEX offerings!
Understanding Initial DEX Offerings
IDOs give investors the chance to purchase tokens on a DEX before they are listed on a centralized exchange. (CEX). Early access to projects that might not be readily available on CEXs and that could offer high yields or significant amounts of liquidity are made possible by this.
Investors must use a DeFi wallet that supports DEX trading in order to take part in an IDO. These wallets use smart contracts to ensure that your tokens are secure and are much less regulated than their CEX counterparts. You no longer have to rely on anyone else for custody thanks to the security that can never be trusted.
However, because the projects are frequently untested and the regulatory implications can be unclear, there is always some risk involved when investing in IDOs. It's crucial to conduct your own research and understand what you're getting into before taking part in any IDO. 
Take into account elements like the project itself, who is taking part as investors or backers, how much liquidity it will have after launch, and how compliant it is with the rules or laws that already exist in your jurisdiction governing cryptocurrency investments.
Participating in Initial DEX Offerings
This is a process which follows a few basic steps for successful participation in an IDO.
1. Research Potential Investments: Before participating in an IDO it is important to understand the project involved. This involves carefully reading and understanding the terms of each offering, researching the team and investigating their history, doing a technical analysis of the projects' blockchain and codebase, as well as assessing any other mitigating factors such as potential legal issues or compliances related to digital asset offerings.
2. Locate Platforms Offering Projects Fulfilling Your Requirements: There are numerous decentralized exchanges available for contributing funds to it once sufficient data on a potential violation has been gathered. When taking part in Initial DEX Offerings, knowing which DEX platforms offer these kinds of investments can help someone choose the one that best suits their needs.
3. Setup with Preferred Platform: You must create an account after choosing your preferred platform. You must have all the documents needed for identity verification finished when registering your account in order to complete this successfully. Before moving on, it is crucial that this step be completed accurately and properly. Each platform has different requirements for successfully setting up your account.
4. Deposit/Withdraw Funds: It's now possible to deposit or withdraw money from the wallet onto the DEX platform after setting up a verified account. However, users should be aware that waiting times for deposits and withdrawals can vary depending on network congestion, which is sometimes brought on by a high volume of transactions processed during token sales. Different platforms will have different methods for transferring funds.
5. Participate in IDOs & Monitor Progress: Users can participate in token offerings that teams have previously announced on social media sites like Twitter once funds transfers are complete. Investors must here keep track of the development of both their investments and themselves informed of any potential updates or team changes while safeguarding themselves from scams involving certain tokens.
Security Considerations
Before you consider participating in an IDO via a Defi wallet, here are a few key points to remember:
-Is the Platform Secure? Look for features such as multi-factor authentication (MFA) and other measures such as fraud detection and customer data protection.
-Are there any Fees? Some DeFi wallets may charge additional fees for transactions, so be sure to check before purchasing tokens through them.
-Is Multi-Signature Authentication Available? Multi-signature authentication adds an extra layer of security by requiring multiple users or devices to approve transactions before processing them. This can help protect against unauthorized access or misuse of funds.
-Has the Platform Been Audited? It is important that you make sure that the platform has been audited by a reputable third party for vulnerabilities and issues with its codebase prior to using it for IDOs.
Conclusion
After learning the fundamentals of Defi wallets and how to use them to take part in initial DEX Offerings, you should be ready to start using this platform as part of your portfolio.
Through this system, users can take advantage of the increased security that comes with a wallet similar to Xdefi wallet while trading and investing on a decentralized exchange. Before making an investment, make sure to thoroughly research any potential DEX options because there is always a chance of loss when working with cryptocurrency markets.