DotNames puts an end to the need of remembering lengthy wallet addresses by allowing users the option of customizing usernames and using them instead of their addresses.
Despite attaining new and unimaginable heights, there are many hassles in the crypto space that need to be addressed. Not just this, but many of the features and innovations being offered are complex and difficult to adopt. The crypto world needs to make its process simple and more user-oriented. Among the many problems faced by investors, memorization of the 42-character-long Ethereum address is perhaps the most problematic of all. What the sector needs right now is a solution to this hindrance. DotNames is a newbie firm in the crypto sector that caters to this issue.
What is DotNames
Users in the crypto space have been subjected to great anguish since the advent of the Ethereum addresses in 2015. They are an absolute nuisance since remembering them is almost near impossible. Individuals who have more than one wallet do not even bother to try and memorize these long codes anymore.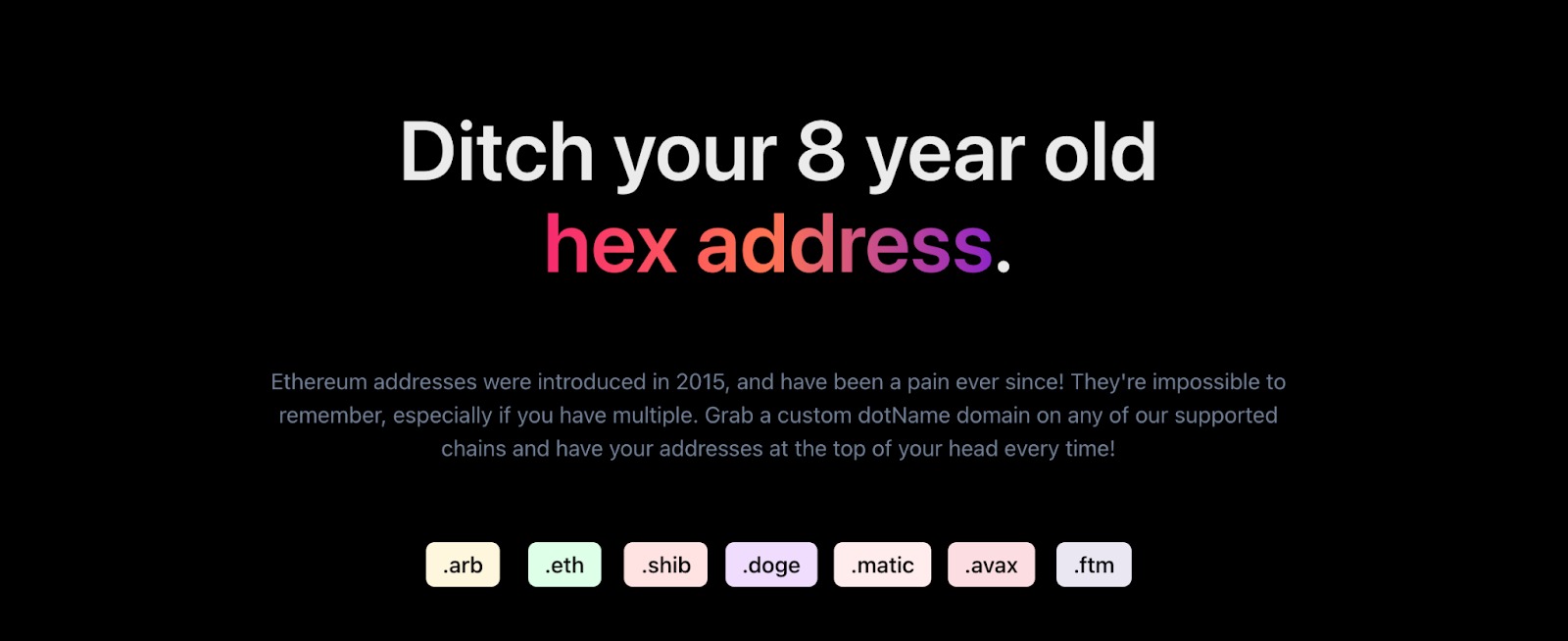 DotNames is a superlative cryptocurrency firm that puts an end to this problem by providing customized domains. Individuals who have trouble remembering their wallet addresses can create a user name of their choice and use it instead of their address. The DotName username can be as short or long as one wishes for and can have any character.
Instant Utility
The firm has launched a mini wallet dApp which gives utility to the DotName domains. Individuals wishing to send tokens to other users simply have to enter that person's DotName domain in the transfer section of the wallet instead of the lengthy 42-character address.
A similar process is followed when receiving tokens. Users simply have to share their DotName domains with the sender to experience a seamless transfer of assets at the rate of knots.
Store Limitless Data
Another great use case of the DotName domain is that it can be utilized for storing almost anything. This can be bios, personal information, and specific information. The information stored is 100% secure and only the domain owner has permission to modify that data.
Decentralized
The world is rapidly adopting the concept of decentralization in all spheres. DotName is no different. It employs blockchain technology to offer a decentralized environment for its users. This means that only domain owners can update or change the name and specifications of the address.
Customizable
Wallet addresses allotted by Ethereum are always too prolix and users have no say in what they want their addresses to be. With DotNames, this is no longer the case. Since DotName domains are a replacement for Ethereum addresses, users can thus give them any name that they want.
Storage
Companies or individuals looking for a place to store important data can also make use of DotNames. The firm allows users to store any type and amount of data. This data is linked to their DotName domains.
Tokenomics
The endurance and longevity of any cryptocurrency firm are highly dependent on how well the company manages its finances. For this reason, DotNames has laid down a well-considered Tokenomics.
The native token of the firm, $DNS has a total supply of 100 million coins. For every transaction, the firm fixes a 6% tax. The tax rates have been kept low to refrain from burdening traders.
DotNames efficiently utilizes the tax collected for the benefit of the community and the firm itself. A 5% tax is used for marketing purposes. Marketing is of utmost importance for alluring new investors. The remaining 1% of the tax is used for development.
The firm uses 50% of the generated revenue for a buyback. $DNS tokens obtained via buyback are burned to reduce the circulating supply. The reduced supply together with an increased demand for the token helps to ameliorate the price of the token.
Roadmap
DotNames has divided its roadmap into three major parts. Ignition, Ascent, and Orbit. Ignition, the first part has been completed. Ascent is still in progress, which will be closely followed by Orbit.
Final Words
DotNames offers its services on leading blockchains such as Ethereum, Arbitrum, and Polygon. The firm and its multi-utility token are bound to have a lasting impact on the crypto sector.
To learn more about the project, visit the official website, read the whitepaper, or follow DotNames on social media to become a part of the DotNames community:
Website | Twitter | Telegram | Medium