Technologies and economies go hand-in-hand with technologies usually enhancing economies and sometimes, creating whole new economies of themselves. But few technologies have had a deep impact on global economics as big as blockchain technology. It has been around for some time now but the last five years saw a tremendous rise in the blockchain industry. Technology solves a lot many problems with our current economic systems, thus it is bound to affect it much more.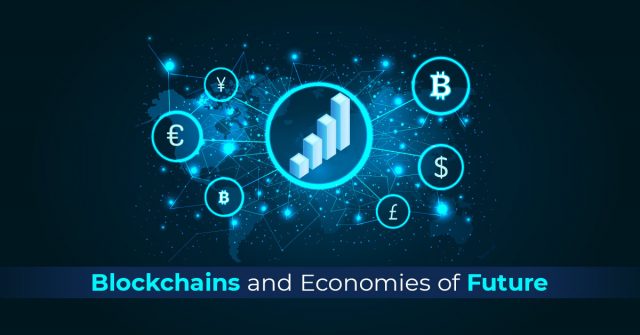 Currently, the world is head over heels for cryptocurrencies. Being the most basic use case of blockchain systems, it is also one of the most controversial with the authorities. World governments are trying to figure out ways to regulate the cryptocurrency markets. However, many such institutions have also studied the technology extensively and found direct uses for it in existing systems. This is the reason why governments are reluctant to deregulate cryptocurrencies.
"The decentralized nature of blockchain saw a global acceptance among the people and we can easily call it the first step to a global economy. The world's economy is not a single system because we have a distribution of commerce among the different countries. However, blockchains are not bound by this and are accessible to all. What's stopping us from becoming a global system is the parity between economies and value systems. This will be one of the major changes that blockchain technology could drive too, but no promises!" said Dev Sharma, CEO and founder of Blockwiz, a global crypto marketing agency.
The economic parity among different countries can be understood by the fact that a low-paying job in one country can fund travel and living in another but not vice versa. This inherent difference between the value system of different economies is the reason for not having an international currency. The lack of homogeneity is also used by many countries to outsource, establishing whole industry around it. It is also the biggest hurdle for blockchain technology against a global adoption, at least for cryptocurrencies.
"But blockchain technology has many other aces up their sleeve. Blockchain technology is expected to penetrate every industry and function of our society. Supply chain sectors have already started using blockchains for tracking and accounting. Governments are looking into the technology for many more applications like identity management, tax collection, ownership records, etc. The concepts for smart cities also propose the use of blockchains for traffic management, process tracking, medical records, and many other automated systems." added Mr. Sharma of the Canadian agency.
It is reasonable to assume that blockchain technology will become an integral part of our economies. Being a technology, its adaptation will be progressive with time. The applications of blockchain, especially secure and tamper-proof record-keeping in itself has the potential to replace a lot of current systems globally. As the industry and the technology develops, it will reach everyone everywhere too.