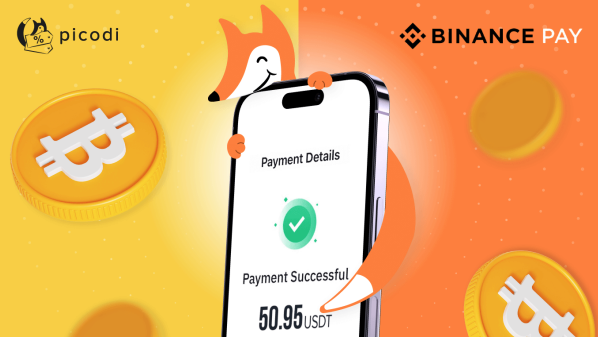 Binance Pay and E-commerce platform Picodi brings crypto cashback to users Picodi, an international cashback platform, today announced its partnership with Binance Pay, a contactless, borderless, and secure user-to-user cryptocurrency payment feature by Binance.
Users from several dozen countries will be able to receive cashback in USDT, BNB, and BTC via Binance Pay during online shopping. So far, Picodi offers its cashback feature in 44 countries worldwide, giving its new users up to 15% of the money spent back, and returning users an average of 5%.
Importantly, cashback requests can be paid to a Binance account almost instantly. Currently, supported merchants are Aliexpress, Adidas, Nike, Booking.com, NordVPN, Samsung, and The North Face.
"At the time of high inflation and major currency fluctuations, the cooperation with Binance Pay will bring a double benefit to online shoppers: they will be able to receive cashback in stablecoins, which will help to avoid the devaluation of money" Szymon Dobosz, CEO of Picodi, said. Jonathan Lim, Binance Global Head of Card and Pay, said:
"Binance Pay keeps providing exceptional payment services and purchasing experiences for consumers, and we're delighted to extend benefits to a wider audience of online shoppers by collaborating with Picodi." ___ About Picodi.com Picodi.com was launched in 2010 in Cracow, Poland. Currently, Picodi's cashback is available in over 5 thousand shops worldwide.
About Binance Pay Binance Pay is a contactless, borderless, and secure cryptocurrency payment technology designed by Binance. It allows users to shop with crypto or send digital assets to friends and family worldwide without the hassle usually seen with manual crypto payments. The service offers zero fees and lightning-fast payments while also supporting over 70 cryptocurrencies