In our series of Best CPU guides, here's the latest update to our recommended Gaming CPUs list. All numbers in the text are updated to reflect pricing at the time of writing. Numbers in graphs reflect MSRP.
Market Overview
August has been somewhat of a lull for desktop gaming processor launches. In July we had the Ryzen 3000XT line come to market, offering some clock bumps against the comparative 3000X designs, and in early August Intel lifted the lid on a new Core i9-10850K Comet Lake processor with 100 MHz less, but seemingly more available to purchase than the i9-10900K that was the lead Intel processor at the launch of the Comet Lake family.
Intel at a Glance
The one big difference this month however is Comet Lake availability, with lots of processors that were previously unavailable in the US market now for purchase. As a result of just having more processors on shelves, eight of Intel's LGA1200 10th Generations processors are now in Amazon's top 50 CPU sales lists, with the highest position being 16th for the 10600K. That being said, there are still eleven of Intel's 9th generation in the top 50, starting at #5. Prices for Intel CPUs seem to have come down as well to go alongside the better availability – this is compared to some of the AMD CPUs, where prices have increased.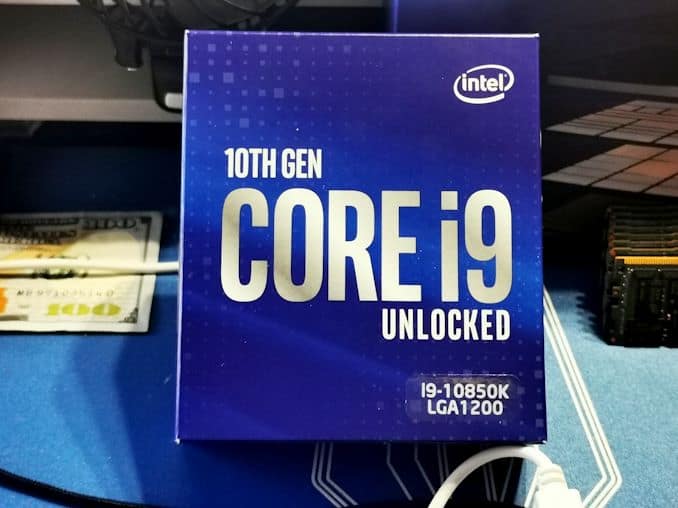 On the Intel side, the Core i9-10850K is the new one in town. It sits just under the 10-core 5.2 GHz halo product of the family, with only 100 MHz lower. As we've been reporting on for a while, the availability of Intel's flagship desktop processor has been sketchy at best, or where it has been available, it has been at such a premium it isn't worth considering. There has been a lot of talk as to whether the frequencies of the 10900K were so high that Intel had trouble supplying the market with enough units. The 10850K is meant to help alleviate that, especially as it is available on shelves at MSRP – perhaps the 100 MHz lower clock speed is easier to achieve, and might help Intel out in some of its supply issues for the top-tier consumer hardware. It is worth noting that while Intel's 9th Gen F and KF processors have sold well, availability of 10th Gen F and KF hasn't really been all there.
Also of note is that Intel is set to launch new 'KA' versions of the 10th Gen family, with the 'A' stands for Avengers. This is nothing more than a movie tie-in, complete with an Avengers themed box, but nothing more than that. The video game these processors are tied in with is due out September 2nd, but if players want a bundle of the CPU with the game attached, it's going to cost extra. So far Intel hasn't been forthcoming about why they're offering movie tie-in parts. However, some retailers do seem to be bundling the new Avengers game with some CPUs. The i9-10850K currently on sale at Newegg seems to be offering the game for free with a CPU purchase in a promotional deal, as well as some 9th Gen processors.
Price Options
[#] is Amazon Best-Seller Position
#
AMD
Price
AnandTech
#
Intel
Price
[15]
Ryzen 9 3950X
$710
$650+
[29]
Core i9-10900K
$700
–
–
–
$500-$650
–
Core i9-10850K
$520
[20]
Ryzen 9 3900XT
$479
$450-$500
[34]
Core i9-10900
$480
[3]
Ryzen 9 3900X
$430
$400-$450
[12]
Core i9-9900K
$415
[19]
Core i7-10700K
$409
[49]
Ryzen 9 3800XT
$393
$350-$400
–
–
–
[11]
Ryzen 9 3800X
$340
$300-$350
[16]
Core i5-10600K
$313
[5]
Core i7-9700K
$300
[1]
Ryzen 7 3700X
$290
$250-$300
[26]
Core i7-9700F
$280
[24]
Ryzen 5 3600XT
$245
$200-$250
–
Core i5-10500
$225
[2]
Ryzen 5 3600X
$209
[4]
Ryzen 5 3600
$202
–
Core i5-10400F
$218
–
–
–
$150-$200
[6]
Core i5-9600K
$193
[9]
Ryzen 5 3400G
$160
[21]
Core i5-10400
$177
[23]
Ryzen 3 3100
$119
$100-$150
[13]
Core i5-9400F
$148
[10]
Ryzen 3 3200G
$110
[21]
Core i3-10100
$126
–
Athlon 3000G
$66
$40-$100
[22]
Core i3-9100F
$72
–
–
–
–
Celeron G4930
$39
Prices are the at the time of writing the best from Amazon
AMD at a Glance
For AMD, as mentioned, prices across the board are, in general, higher than last month. That being said, AMD's Zen 2 family has 14 of the top 50 spots on Amazon, including the top four and most of the top 15. The newest processors from AMD, the Ryzen 3000XT, are now available, and despite being more expensive than the 3000X parts, all three are in the top 50. Overall, the Ryzen 3000XT hardware hasn't set the scene alight. These processors are 'nice to have' compared to the 3000X processors they are based on, both due to clock bumps and supposedly better power/frequency profiles, however having come out strictly at MSRP means they haven't been worth the money, especially when the 3000X processors are often available below MSRP. It might take a few months to square these into a price appropriate segment, especially as AMD intends to continue to sell both 3000X and 3000XT simultaneously.
The favorite CPU from this time last year was the Ryzen 5 1600 AF, and at the time it was being snapped up for low cost builds. Suffice to say the 1600AF isn't really present any more, and is now all the way down in 29th on Amazon's best seller list. The bonanza $85 pricing that made it special is no longer present – now it sits at $150+. This is mostly down to availability, with retailers preferring to phase out the older CPUs. The Zen 2 based Ryzen 3 3100, available at $119, seems to be the stand in. It sits at #23, and is 40% more expensive, so it doesn't fit that niche as perfect as one might have hoped.
Of the top sellers, the Ryzen 7 3700X sits at #1, although the price has gone up to $290. The comparative Intel part, the Core i5-10600K, is $313 and slowly rising the ranks as #16, and is Intel's best-selling Comet Lake processor.
Notably absent from this list is any Ryzen 4000 APUs. While AMD did announce twelve different CPUs in this family back in July, all the variants were listed as 'OEM only', meaning that only the big OEMs (Dell, HP) or smaller system integrators could get them to place inside pre-built systems.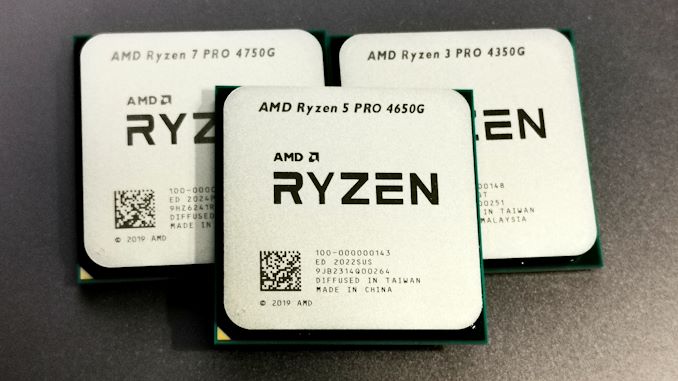 Technically these should not be sold individually at retail – AMD has not created any retail packaging. However, if you can find the right retailer, they might be available. That being said, prices are relatively high, starting at $167 for the cheapest model. We have all three, and will be reviewing them soon.
Best CPUs for Gaming August 2020
Sometimes choosing a CPU is hard. So we've got you covered. In our CPU Guides, we give you our pick of some of the best processors available, supplying data from our reviews. Our Best CPUs for Gaming guide targets most of the common system-build price points that typically pair a beefy graphics card with a capable processor, with the best models being suitable for streaming and encoding on the fly. We consider many factors in our recommendations, focusing mainly on gaming, put also including such considerations as power, future-proofing, and other features like PCIe and motherboard pricing.
AnandTech Gaming CPU Recommendations
August 2020
(Prices correct at time of writing)
Segment
Recommendation
AMD
Intel
The $1500 Gaming PC
Ryzen 5 3600X
$209
Core i5-10400
$177
The $1000 Gaming PC
Ryzen 5 3600X
$209
Core i5-10400
$177
The $700 Gaming PC
Ryzen 3 3100
$115
Core i3-9100F
$72
The $500 Gaming PC
Ryzen 3 Pro 4350G
$167*
–
–
Ryzen 3 3400G
$140
The $300 Gaming Potato
–
–
Pentium G4930
$39
Ones to Watch
AMD Zen 2 Retail APUs
To see our Best CPUs for Workstations Guide, follow this link:
https://www.anandtech.com/show/11891/best-cpus-for-workstations
The majority of our recommendations aim to hit the performance/price curve just right, with a side nod to power consumption as well.
The $1500-$2000 Gaming PC
AMD Ryzen 5 3600X ($209)
Intel Core i5-10400 ($177)
For anyone looking at a strong 4K gaming build, we often look at the mid-to-premium end of the consumer market in order to help drive those high-end graphics cards. Based on our testing at this resolution, the CPU starts to make little difference in frame rates, although as we look at higher refresh rates/lower frequency, getting a high frequency and high IPC does help.
In previous versions of our guides, we've often looked around the $300 mark for appropriate CPUs here, however given the changes in pricing, we feel that the CPUs around $200 actually give a more reasonable offering this time around. For AMD, we've selected the Ryzen 5 3600X ($209, #2 on Amazon best seller), and the Core i5-10400 ($177, #17 on Amazon best seller).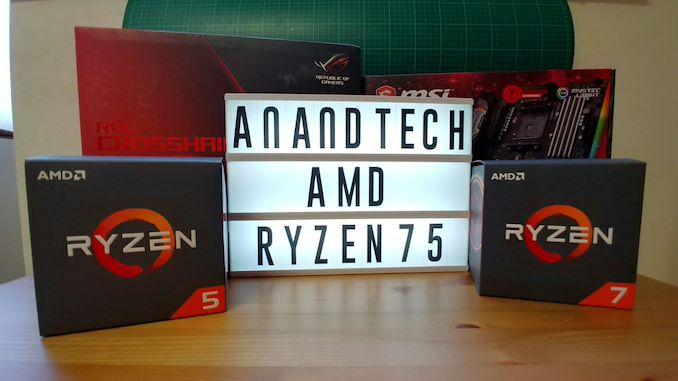 For the Ryzen 5 3600X, we get six Zen 2 cores with SMT, a 95 W TDP, and boost up to 4.4 GHz. The reason we've gone with this is because for most games this will provide peak frame rates when paired with the ultimate graphics cards, and the options above this CPU get very expensive – the 3600XT is +100 MHz but costs another $31, and the 3700X gives another 2 cores but costs $81 more, as well as reducing TDP. The Ryzen 5 3600X sits in that nice bracket that should push 4K games to the limit with any new GPUs coming up to the market, without pushing for minute performance increases for large cost increases.
On the Intel side, now that Comet Lake LGA1200 processors are more widely available, prices have had a chance to align themselves with the market worth. In this instance, we're choosing the Core i5-10400, which is also another six core processor with hyperthreading, offering up to 4.3 GHz turbo and a 65W TDP. At $177, this easily looks more enticing than the 10500 ($240) or 10600K ($313), while still providing a similar performance. Ultimately the i5-10400 fits into a nice slot, so when paired with a RTX graphics card, it should easily push 4K gaming above and beyond.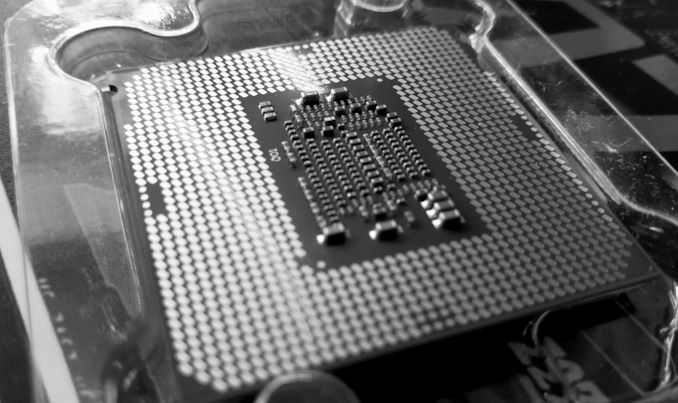 Comparing the two, the extra base frequency of the AMD processor (3.8 GHz vs 2.9 GHz) along with the better microarchitecture is likely to see some benefits when doing things other than gaming. Beyond performance, the AMD processor comes with full PCIe 4.0 support, and there seems to be a good array of mid-priced motherboards now on offer. If buying completely new, I'd have to argue that the AMD chip is the better offering.
The $1000 Gaming PC
AMD Ryzen 5 3600X ($209)
Intel Core i5-10400 ($177)
In an interesting twist, our $1000 buyers guide suggestion is the same as our $1500-$2000 suggestion. In previous months, we've suggested something like the Ryzen 5 3600 which back then was $175 – at $202 now it's so close to the 3600X that the 3600X gets the nod. It also means that the price range we usually go for, the $175 market, no longer exists for AMD – we would be looking at the Ryzen 7 2700X ($175), however at this time I would still rather suggest a Zen 2 CPU.
For these recommendations, yes at $209 the AMD chip is perhaps a bit expensive, especially if a GPU is likely to be half the budget of the build. The Intel chip in this context is more palatable with a slight saving over AMD. However, similar to the AMD situation, our Intel suggestion of the Core i5-10400 at $177 is still pretty sizable for this cost of build. If we were to look at what's cheaper from Intel, then the Core i5-9400 at $163 would be the next step below, however that CPU does not have hyperthreading.
In both the $1000 PC and $1500 PC suggestions, ultimately what is dictating our choices here is pricing – these two chips are sitting very pretty in their respective brackets. Those looking to spend more are going to be spending too much for too little, and those looking to spend less are going to lose a lot for moving down the price brackets.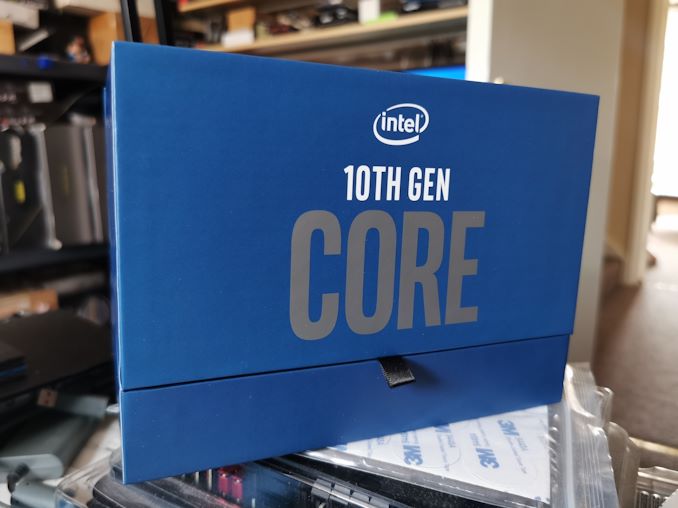 The $700 Gaming PC:
AMD Ryzen 3 3100 ($115)
Intel Core i3-9100F ($72)
In previous guides, the $700 PC has been the main realm for the popular Ryzen 5 1600 AF processor, which is a Ryzen 5 2600 by another name. The reason why this processor was popular was due to the performance for the price: six Zen cores with hyperthreading for $85. The reason why it no longer forms part of our recommendation here is because the 1600 AF is no longer available, and seems to have disappeared from the major retailers (or is only available at $160+). At that price point, the Ryzen 5 1600 AF was a great bargain, but now it isn't available, we have to look for a replacement. Unfortunately nothing really replaced it.

Usually we consider the $700 PC to still be a discrete GPU build, so our processor is usually under $100. AMD's offerings under $100 are slim – the Ryzen 3000G or the Ryzen 200GE, both around $70 for two Zen cores, are poor performers. Technically, AMD's MSRP for the Ryzen 3 3100 is $99, however this CPU has been quite rare in previous guides. This time around it is available, however at a bit higher cost – I've gone over the usual price limit at $115, but it still gets the user four Zen 2 cores as well as a near-silent AMD 65W cooler. The Ryzen 3 will also allow PCIe 4.0 use, DDR4-3200 support, and where possible, overclocking.
https://www.anandtech.com/show/15774/the-amd-ryzen-3-3300x-and-3100-cpu-review
The Intel option is a Core i3-9100F, which we've suggested at this price point before. Coming down slightly in price, from $74 to $72, makes it a more effective pricing option for users looking at a big GPU purchase as part of the build. The Intel CPU doesn't have hyperthreading like the AMD one, but it's that cost that makes it attractive. It turbos up to 4.2 GHz, but doesn't come with a suitable replacement cooler, and so there will be some $$ to spend in that region of the gaming PC.
The $500 Gaming PC
AMD Ryzen 3 Pro 4350G ($167*)
AMD Ryzen 3 3400G ($140)
Crossing down into the $500 system market and we really have gone into APU territory. At this price, users have the choice of an anemic CPU+GPU combo, or combining both into having a good solution with integrated graphics. The APU market is popular with pre-builds at this price, and for gaming, the only real option here is AMD. Intel's integrated graphics options for desktop doesn't come close.
For this recommendation, we have two AMD processors, depending on what you can find for sale.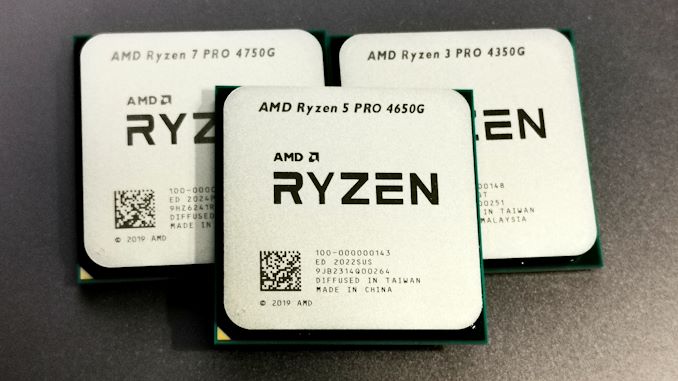 I'll start with the special processor, the Ryzen 3 Pro 4350G. We have purchased this processor for review, and it cost us $167 before tax. It comes with four cores, eight threads, up to 4.0 GHz turbo, and six of the improved Vega graphics cores running at 1700 MHz. This processor is using AMD's 'Renoir' silicon design, but pumped up for desktop use – we've tested Renoir, and it performs really well in both compute and games, so we're looking forward to testing this processor. The only downside for most users is that AMD made this processor a special part only for pre-built systems. If you are lucky, then you might be able to find it for sale on its own, like we did, however it will require searching retailers for 'OEM' parts. We are waiting for AMD to launch parts like this in the consumer market, which might change our recommendation, but if you can find it, the Ryzen 3 Pro 4350G on paper looks like a good purchase for a $500 PC.
For the users that cannot find the 4350G, or if it isn't sold in your region, then the alternative is to go for something that AMD does allow to be sold directly to end users. The Ryzen 5 3400G is AMD's most powerful consumer retail APU, with Zen+ cores and the previous generation Vega graphics, however what makes this less appealing is that the price for the APU has been highly variable. Anything from $125 up to $175 means that for this APU to be appealing, it has to be purchased at the right time. For a $500 machine, a Ryzen 5 3400G will allow the user to get some good memory, a nice SSD and motherboard, and hopefully a nice looking case and power supply.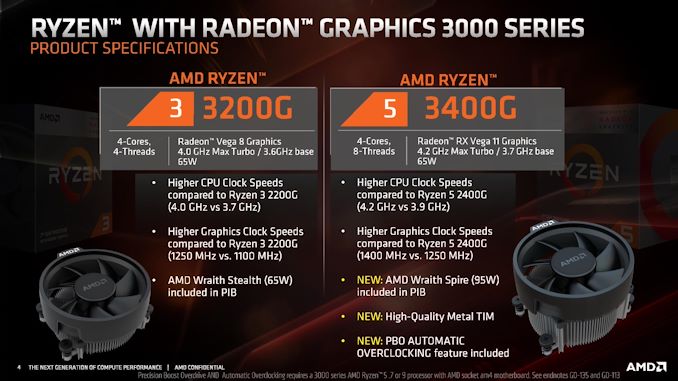 Both the 3400G and 4350G will also take a discrete graphics card should the opportunity presents itself. We will hopefully get some time to run our benchmarks on the Ryzen 3 Pro 4350G here soon, so watch out for that review.
The $300 Minimum Spec
Intel Pentium G4930 ($39) – But Only if you REALLY Need It
There's no way around it here – in order to afford the bare minimum on motherboard, case, DRAM, and storage, it doesn't leave much options for a CPU, with probably $50 left at most. In this category we either have a range of Intel dual cores to choose from, or dual-core Athlons for better graphics.
In our last proper recommendation, we suggested users should look at AMD's unlocked 45 W Athlon 3000G, being bundled with a 65 W cooler, was $49, making it very appealing. However this time around the cheapest we can find it is for $66. Because the Athlon 3000G is still based on last generation Zen cores, we're not sure what AMD plans to replace it with, – perhaps we can get an Athlon 4000G equivalent with Zen 2, however it isn't clear when that will be, what the exact specifications are, or how it would perform.
The only real option here, especially if $66 is too much, is from Intel. Intel offers the Celeron G4930 at $40, although this is a dual core CPU without hyperthreading and very low end graphics. It doesn't have AVX2, and it runs at a lower frequency to the 3000G. But at this time it really is the only processor under $60.
On The Horizon: Zen 3
In the last couple of quarters, we've had launches like Intel's Comet Lake desktop processors, AMD's Ryzen 3, and range of Z490 and B550 motherboards.
When looking to what will come out in the horizon long term, the waters are a little murky with no real exact confirmed details from either AMD or Intel. Phrases like 'Intel Rocket Lake' are somewhere out in the ether, however no concrete details are known at this point. However, before year end, AMD should be launching its new Zen 3 product line.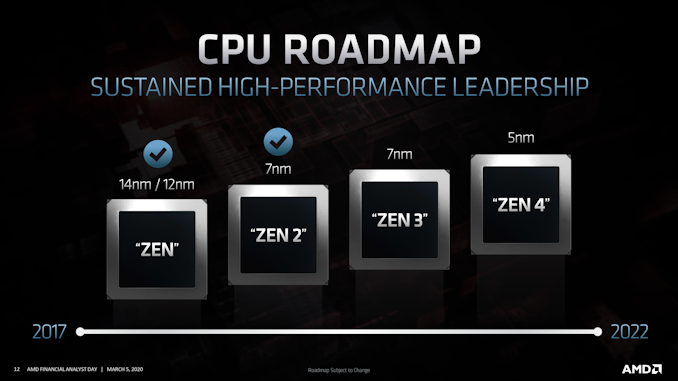 AMD has continually said since the start of the year that we will see Zen 3 hardware by the end of the year, but the company has not committed to what form that might take – desktop, HEDT, server, or something else. As we're moving closer to Q4, AMD has said at its Financial Analyst Day 2020 that both EPYC and Ryzen will hit the market in 2020. The only question is what will be first – EPYC or Ryzen?
The AnandTech CPU Coverage
Our big CPU reviews for the last 12 months have covered all the launches so far, and are well worth a read.