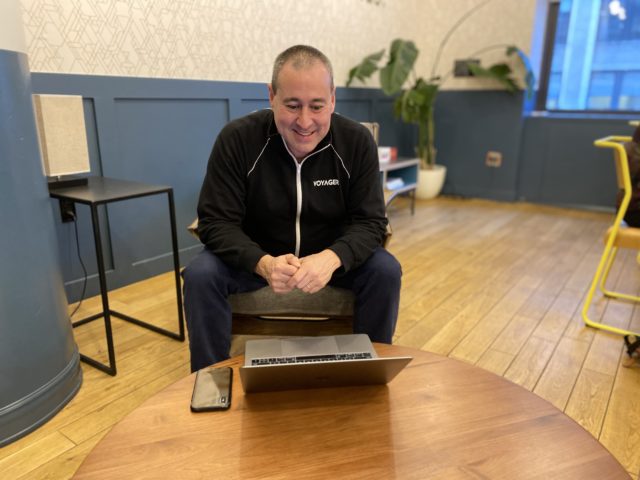 E-Crypto news was recently privileged to catch up with Steve Ehrlich and his team at Voyager. The cryptocurrency broker had recently released its earnings for the first time publicly. The details painted a picture of a healthy company that is set to create new standards.
The numbers show growth in Voyager's business. Voyager now has a total of 14 new cryptocurrency assets that clients can choose from. Stable coins were also featured strongly in the additions. 
Voyagers' revenue has also shown promise. Its three months ended revenue (unaudited) for March this year showed $282,078. Nine months ended revenue was $442,454. This was as opposed to March 2019 with $20,587. A summary study of Voyager's business model shows promise.
Voyager also acquired Circle's retail business. This shows that the management is expanding its coast when it comes to new business. The additions of 40,000 retail accounts will be a boost to Voyager's business in the future. 
 In the midst of all this, Steve Ehrlich had taken time off to speak with E-Crypto News on several issues that had us buzzing in-house. The Skype interview was frank. Steve was honest. He displayed an uncanny sixth sense of the cryptocurrency industry both on a local (US) level and a Global one.
Concerning the effect of the next round of the US Government stimulus on the economy and the cryptospace Steve said that
" I think actually its a boom for the cryptospace…another round of stimulus means more government funding. And that's across the globe I think. Although we specifically speak to the US".
He continued
" More funds into the economy really starts proving the crypto and the bitcoin point… it's anti-inflationary"
He also indicated that more Americans were actively investing in cryptocurrencies. Steve specifically spoke about recipients of the US government's $1,200 checks were investing in cryptocurrencies. He said
" We were seeing a lot of $1,200 checks come in as investments coming into cryptocurrency and specifically Bitcoin".

He forecasted that

"And another round or more money in a stimulus package will probably lead to that as well". 
Steve also reiterated that
"I think that this whole coronavirus stimulus is actually making the point for a global currency that is not regulated by a specific government's monetary policy".
He continued
"I think that another stimulus proves the point that Bitcoin is here to stay, cryptocurrency is here to stay and will be a boom for those who are adopting bitcoin".
Steve also alluded that a cryptocurrency set up for a global currency can work. 
" We have a small piece of the American population that has invested and is using cryptocurrency and Bitcoin". 
Steve indicated that the cryptocurrency markets have matured. He said that
"We've gone through that phase already that says that will it be here long-term".
Ehrlich described the March watershed moment when everybody thought that the cryptospace was going to zero. He said that 
"On March 12th when Bitcoin bottomed around $3,800″….That 

became the point where does crypto exist or not exist".
Steve was emphatic about the resilience of the cryptocurrency markets. He said that
"We clearly came way back from that".
Ehrlich spoke about how the markets are evolving at the moment. He alluded to the fact that the cryptocurrency markets are gaining momentum. Steve said
"That was the bottom…and I think that 's the proof that we are here to stay". 
As regards the switch over from fist currencies to cryptocurrencies, Steve indicated that a transition is underway. It may not happen as fast as many within the cryptospace may want it though. He said that
"And this transition although it may not be as quick as we all would like is happening…over time we will have this global currency…"
Concerning the circle acquisition and the impact on Voyager's business Steve was optimistic about it. Steve indicated that Voyager had integrated the Circle accounts at the end of March. He alluded to the fact that the Circle acquisition will have zero effect on the March quarter. For the June quarter, Steve said that
"They are now engaged and we are getting more and more customers engaged. He also said that the customers "really like a couple of features" on Voyager's platform and that they can "differentiate us from others". 
He spoke about the customers appreciate the fact that Voyager has 34 stable coins on its platform. The ability for users to "bring in crypto from other places" was also an added advantage. 
Ehrlich said that 
" Our numbers should also improve for the June quarter"
June also happens to be the year-end for Voyager. 
Steve continued
 " Our year-end numbers should far exceed what we did last year".
Steve also referred to the work done by Voyager's in-house research analyst. He emphatically said that
 "The Circle [acquisition] is going to have a major impact. It's one of the reasons we did it". 
Steve gave two reasons why the acquisition occurred. He first alluded to the numbers in terms of Circle's business. The second reason was the profile that the business gives Voyager. he said that the partnership " is really important to our brand name" and that it " will work very well for us".
Concerning the Circle's direction, Steve indicated that their focus was on their USDC stablecoin. he said
" We are happy to be partnering with them. We could bring a lot of functionality and ability to use [the] USDC coin as [a] payment mechanism across the globe".
Ehrlich continued
"It seems that's were they're going. To be really focused on being the World's leading stablecoin. To be used for payments and transactions". 
Steve indicated himself and the guys at Voyager are" happy to be partnered with them on that".
When it came to open finance, Steve indicated that Voyager had several plans. 
" One of the reasons we bought Ethos the wallet back in October is we believe in open finance and a decentralized finance[ial] system."
He continued
" We are working towards that. I think we all are. But from our perspective, the first part of getting decentralized is getting adoption right. I mean you can have a complete open finance system and there [are] protocols like the Algorand and other protocols that are [functional]. So people could write a lot of projects and build things on top of them". 
Steve stressed that " adoption matters first". This is before a complete decentralized financial system can be achieved. 
He also expressed hope that decentralization will happen. The only issue for him though was that adoption must happen first. 
He gave this example
" trying to get this fraternity brother of mine, someone who I went to school with who is 54-55 and saying "hey" you're going to buy and sell vs some 30 year old or any unknown person around the globe doesn't work". 
Ehrlich continued.
" You've got to get them to be interested and [to] understand how cryptocurrency and digital assets work first".
He also indicated that Voyager's goal is to build a decentralized and open financial system. Steve said that Voyager is "just in the early stages".
Voyager has also applied for the New York State Department of Financial Services' prestigious "Bitlicense". When asked about it and how the company intends to meet up with their standards Steve said that 
"We have a good relationship with the New York State Department of Financial Services. We are working towards meeting their requirements. We're excited about meeting their requirements. They aren't difficult but I believe that it is fair in how they perceive virtual currency and cryptocurrency and digital assets". 
He also indicated that Voyager has a team that is dedicated to working with the Department.   Ehrlich said that 
"We are hopeful that we can get our Bitlicense in the near future. He also alluded to the fact that the New York State Department of Financial Services is "tough". Steve said that "this is how they lay down the rules". 
As per governments and regulation, Steve said 
" Look, I think everybody and every country is looking at things differently. The US looks at things one way. [It] might be different from other places as you know. I think more regulation is going to come. I think that its a little slower than we would all like. I'm a proponent of more regulation. Just to weed out the bad actors that might be participating in the space. And give customers comfort that they are dealing with above-board and fully regulated entities and people".
He also indicated that he and his team are "long-term capital market entrepreneurs". Steve said that this isn't their "first venture into a new environment". Showing years of experience in an entrepreneurial approach to business. 
He referred to his experience in day trading. He said that "members of my team and myself built Lightspeed Financial in the day trading World".
Steve noted that slow regulation led to faster and deeper regulation and "direct access became the way that almost everybody and institutional traders trade".
While looking for more regulation, Steve indicated that the Coronavirus has slowed some of the regulation down. According to him, there are other things that " the governments are looking at and spending their time on". 
International regulation and getting Voyager's "product into international hands" is also a priority for Steve. 
When it comes to international expansion, Steve remained "hopeful". he said that " we're working towards that". He spoke of Voyagers' focus on certain markets saying "there are certain markets we want to hit". He indicated that his team was already working towards achieving the regulatory end of things and customer satisfaction as well. 
As per the Chinese and their acceptance and implementation of blockchain technology, Steve was a little cautious. He said
"Saying this in a really thoughtful way. It seems to be what they say."
Ehrlich continued
"What is actual I don't know. But it seems to me that they are head. At least ahead of our government in adopting digital assets, in cryptocurrency. But sometimes what they say and what they do may not actually equal".
Stablecoins have a major liquidity issue. Most of the markets that offer them have problems due to them being illiquid. Tether (USDT) seems to be the only stablecoin that has broken this jinx. When asked about steps that he and his organization have taken to ensure liquidity for his clients Steve responded. He said
" It's one of the reasons we partnered with Circle. Because they provide the conversion".
Steve explained why stablecoins work with Circle. he explained that Circle's stablecoins are backed by dollars. Ehrlich also said that the USDC is regulated by the New York State Department of Financial Services. He indicated that USDC operations are transparent. Steve said
"There is a full audit. We know that there is dollar for dollar. For each stablecoin, we know that there is a dollar of cash held in a bank that is regulated by the DFS".
Ehrlich also explained further about the New York State Department of Financial Services. He said the "DFS is really strict on how they do things" indicating that "there is a reason for it".
Steve said that he and his team believe in the USDC "becoming a much more popular and predominant stablecoin to be used for [the] US dollar. Steve alluded to shortcomings of some stablecoins saying that " we have all seen the issues related to Tether". He indicated that Tether will still remain the dominant stablecoin due to its market capitalization. 
Ehrlich also said that "everything takes time". He said that " we're really happy to be partnered with Circle. Because I think that they are bringing that regulatory framework to that stablecoin. That's needed for mass adoption".
Steve also referred to usability. he said that stablecoins have to be used as if they were US Dollars. This usage should cut across all kinds of establishments. 
Ehrlich spoke about the future.
He said that
" I do believe that as we come out of the virus which is going to take more time. In the US the use of greenbacks or dollars or what I call "dirty dollars" now will [diminish]. People are going to use more digital dollars now. I think that it opens the door for USDC to become the Stablecoin of choice among US folks to transact business".
Concerning Central Bank Digital Currencies (CBDCs) Steve was forthright. 
He said that
" I think that if our US Government were to partner with somebody to do a stablecoin or digital currency you'd see much more adoption in the space. I'm all for that. I think that we need to see that leader to really push the adoption here". 
Steve spoke on the several advantages of blockchain technology. He said that
"it is more efficient to move money through the blockchain and that it is more secure. You can actually get a transaction path easier. There's a lot of reasons why governments should go to a stablecoin path rather than printing dollars and having that throughout the world". 
Steve continued 
" Then again a lot of money is transmitted digitally. I think that on the blockchain using a stablecoin gives it a lot more transparency, security, and ability to audit. so I think that it's in the government's interest to go there".
Concerning privacy on blockchains, Steve said that " I think that there are ways to do it. 90% of blockchain transactions don't actually go on the blockchain. They stay within an ecosystem. But somebody has that information".
Ehrlich continued 
"I think that there will be ways that people will not have every transaction of theirs show up on the blockchain. And it depends on ecosystems and how things are done. But I'm not overly worried on that piece because there are security and privacy measures that can be put in place as adoption comes".
International compliance can be an issue. Getting compliance right can be so complex that such issues often require outside help. Steve indicated that an internal team was handling Voyager's international compliance issues. He said 
" That's what's taking us quite a bit of time. To launch internationally is making sure that we could work within the rules of many governments, not one. So, it's one of the things that we take seriously. [The question] is how do we enter countries and do things in a way that matches their regulatory environments".
Ehrlich added
"It's the core of what we do. We're not cowboys. we are trying to do things the right way. Within the rules and frameworks in place at this point in time". 
Steve gave insights into where he thinks his company will be in five years. He was forthright about this he said that 
"We plan on being the leader in agency brokerage and a digital financial services company. What I mean by that is taking all the products that we have traditionally seen in online brokers and bringing it back into this digital world. Whether it's Margin or shorting or whether its debit cards or credit cards or lending. We're going to put that whole platform together. I was there in e-trade in 1999 when really the only thing e-trade had was trading and some cash management. Where you could earn interest in mutual funds or what they called free credits. And that business grew quite a bit from there".
Mr. Ehrlich continued and said that E-trade added a bank, mortgages, and lending. He said he thinks that Voyager could do the same thing in the digital asset space. Technically speaking, " it's a different infrastructure from what the different traditional online brokers are used to". 
Steve continued
" We understand that. We're Capital Markets [oriented] at our core. And believe that within the next five years we will be the leader in the digital financial services space".
As per the increase in the adoption of cryptocurrencies especially in developing countries, Steve said that 
" It's all about education right? I think [that] we've got to get people to understand the core reasons why they should own Bitcoin and cryptocurrencies. And we came out with something recently. That we call our seven totems of why everybody should own Bitcoin. And quickly it's reduced to just a few words. It's independent, its transparent, it's anti-inflationary, its people-powered, it's secure, it's efficient".
Ehrlich continued
 "Because of those six things, it's prime for mass adoption. We've got to educate people as to why they should be here". 
For Voyager and his team, Steve said that "we're not there yet. He alluded to the fact that Voyager is looking at the core US markets and international expansion. Regulatory environments also play a role in the markets that Voyager is currently considering.
Steve also pointed out that the volatility of cryptocurrencies is way better than the "30% inflation" in some countries. 
On a final note, Steve's three wishes for the cryptospace were 
"Darn it Genie put me back ten years ago and let me buy my first Bitcoin. I was late into the game!".

" I want to see merchants around the World accept Bitcoin and Stablecoins and other crypto[currencies] as forms of payment". We need to get that into the POS systems so people could make it as easy to use as [possible].

"Getting every traditional equity, stock, real estate all on the blockchain all to be digitalized". 
He continued
"I believe that everything should be fungible. People's money is their money". 
Steve then said
"I tend to say this example quite often. Last May when Uber when public Oscar Salazar happened to be sitting in my office. We were going over a few things. The day it went public on the New York Stock Exchange I believe it was a Friday maybe the first or second Friday in May in 2019. And Uber was now like 10% right out of the get-go. it was the same weekend that Bitcoin started a 30%-40% increase in price. And if you owned Uber [stock] and you wanted to sell it and take that cash and go buy Bitcoin it would have taken you five days maybe longer to go buy so you will have missed the runup".
Steve alluded to the time that it takes to get money from the brokers. This includes the ACH time and the time that it takes to deposit money to buy the cryptocurrencies. he came up with a proposed solution:
"Either all the investments go on the blockchain because it eliminates the time on settlement". 
He said that settlement can become immediate on the blockchain. Another solution Ehrlich proposed was to make the equities fungible so that people can use cryptocurrencies to buy them.
Our Editorial Position 
We have taken the time to get Steve Ehrlich to talk about Voyager so that many people will see the need for cryptocurrency adoption. At E-Crypto News we are sure that there is a point where mass adoption of cryptocurrencies will occur. While we aren't promoting Voyager's services we believe that it is companies like Voyager who believe in going through regulatory processes that will rule the cryptospace when that time comes.