Dogecoin (DOGE) is an ideal example of what is achievable if crypto has strong community support. Analysts and experts believe that Dogecoin will increase in value provided the crypto market movement continues heading upwards.
In general, many sources predict that Dogecoin will go up significantly in five years reaching around $0.0126 which is almost 400% uptrend. Starting as an internet meme, Dogecoin shows how a simple joke may turn into a $433 million market cap franchise as of August 13, 2020.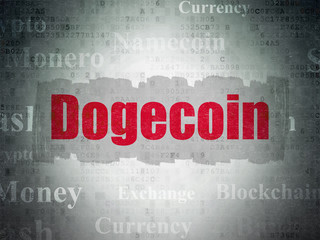 DOGE was designed using the codebase of Litecoin (LTC) and its development was meant to provide an alternative to bitcoin. It was meant to be an approachable and friendly cryptocurrency. But, its most unique feature is its mascot. The developers adopted a 'fun' approach towards its development.
Development
The token was just a little changed when it was developed as a fork of Litecoin. Nonetheless, new blocks within the DOGE blockchain are created faster than in LTC; 1 minute against 2.5 minutes in LTC. Interestingly, Dogecoin's mining difficulty is adjusted every block found and the involved reward is fixed.
                                             DOGE vs LTC transaction chart
A unique change was initiated in the brand and it turned out to be a driving force behind its popularity. Its fun image-enabled it to gain a lot of attention and popularity on different social media platforms. Eventually, it became famous even outside the blockchain communities.
For three years, the coin was famous but lacked active trading activities. Thus, there were no abrupt or frequent price movements. Multiple charity programs and a hospitable community enabled this coin to gain the trust of the community.
Its user base grew with the help of various social media platforms including Reddit. The market cap exploded to heights that not even the most bullish experts could have anticipated.
DOGE price dropped considerably and its market cap also plunged. But, it is still among the top 40 coins on the market. Analysts say that its general ROI is around 600% from the first day of its creation. Despite many bearish projections in the past, it remains popular even with Tesla CEO, Elon Musk.
Users often exchange the cryptocurrency due to its long existence and its development off of the Litecoin design.
Dogecoin (DOGE) Price analysis
2018 was a majorly bearish year for DOGE. Just like the general crypto market, its price dwindled due to the loss of the public's attention and the persistent crypto winter. For all of 2018 and most of 2019, the Dogecoin price was on a downside trend although it tried to surge several times during that bear market.
Some analysts say that the long term forecast for DOGE is not very bright. But, with more communities coming up on different social media platforms like TikTok, there might be a future for the meme cryptocurrency after all. Dogecoin's price went up by 100% when The Wolf Of Bitcoins showed his mining farm in a video that went viral.
The coin follows the general crypto market trend in most cases. Interestingly, DOGE does not fall as fast as Bitcoin and its recovery rate is proven to be better than that of BTC. However, it somehow mirrors the Bitcoin price graph meaning that if Bitcoin surges, DOGE will follow and vice versa. Therefore, predicting its price becomes a daunting task especially for the long term.
Trend Analysis
In recent years, Dogecoin's popularity was stable. The term 'Dogecoin' got a spike in popularity in the search engines. The coin was very interesting for Google users in January 2018 and then again in June 2020. Throughout 2019 and in early 2020, interest was minimal until TikTok users started promoting the coin and Elon Musk tweeted about it.
Finally, our most-requested product is here! Rent your next #AirBnB with crypto!!!https://t.co/JAEUOmnGea#Bitcoin #Ethereum #Dash #Litecoin #Dogecoin pic.twitter.com/AOHmXUkCok

— Bitrefill (@bitrefill) March 27, 2019
"DOGE is widely owned and the community members seek to use their Dogecoins in everyday life. Recently added Bitrefill's AirBnB payment option is a good example."
In the past, DOGE was not responsive to media attention but that seems to have changed with the latest spike. Based on Google Trends, the cryptocurrency has a committed audience and it is most popular in Venezuela. As it is the case with Dash, DOGE became the go-to crypto in countries with struggling financial systems.
Pakistan, Bangladesh, Nigeria, and the Philippines are the other countries where Dogecoin has a huge following. That is a good sign which shows that the coin is gaining mass adoption gradually. But, as the price surges in the wake of different events, developers urge users not to succumb to FOMO but instead make sober investment decisions.
Be mindful of the intentions people have when they direct you to buy things. None of them are in the spot to be financially advising.

Make choices right for you, do not ride other peoples FOMO or manipulation.

Stay safe. Be smart.

❤️ #dogecoin

— Dogecoin (@dogecoin) July 8, 2020
Technical Analysis
Despite the low cost of one Dogecoin, the crypto is quite popular among its users. This fact can help the price to remain stable and not plunge any time soon. WalletInvestor predicts a positive trend in the future which makes DOGE a potentially good idea for investing. In 2020, the rate might surge to reach $0.00368 paving the way for the coin to surge to $0.0184 by 2025.
Another source, CryptoGround, alleges that Dogecoin is a profitable investment for the longterm. It predicts that the cryptocurrency will reach $0.0141 by 2025. On their part, DigitalCoinPrice source says that DOGE will reach $0.00552 by the end of 2020 before rising towards $0.01136 by 2025.
Elon Musk believes that there is so much space for DOGE to grow and he was quoted saying that the coin will soon head to the moon. In general, many sources predict that Dogecoin will go up significantly in five years reaching around $0.0126 which is almost 400% uptrend.
Other technical analyses indicate that DOGE might reach $0.2 by 2030. Nevertheless, these predictions majorly depend on the general market situation and mainly on the Bitcoin price.