Bitcoin (BTC) has so far solved some of its biggest challenges. In its early days, the cryptocurrency had two key problems. Notably, its survival depended on them. After resolving these issues, analysts believe that the question should not be: will bitcoin reach $100K but instead when will it hit $100K.
It is possible to see bitcoin reach $100K. For the crypto to hit $100,000, it must have a market cap of $2.1 trillion which is about 20% the market cap of gold currently. Some analysts say that for the feat to happen, constant buying demand from retail investors should exist. One analyst said:
"At 100K per BTC, the market has to absorb a miner supply of $90 Million daily. Assuming that there are 10 million people worldwide buying BTC regularly. It would cost them each $9 daily to sustain those price levels. I've met people who spend more than $9 on coffee."

Data suggests that most of the bitcoin hodlers have not sold all through the last three all-time highs of the cryptocurrency.
"60% of BTC has not moved for more than 2 years. Even if that were to be true, the longtime supply of BTC will eventually equal the mining (new) supply."
The current data from Coinmarketcap indicates that Bitcoin has a market cap of around $205.8 billion trading at $11,159.
Based on speculation and economic theory, there is a lot of issues to address the possibility of Bitcoin reaching six figures. To bring it into perspective, the long-standing economic theories and economists' doubts play a key role in determining BTC price.
But, deeply-rooted market variables, forecasts, and global adoption are all bound to influence a change in the value of bitcoin in one way or the other.
Crypto Enthusiasts' Projection
Many crypto enthusiasts have long forecasted the probability of Bitcoin reaching $100K. Evidence of that can be noted from renowned individuals like John McAfee and the Co-Founder and Partner of Morgan Creek Digital, Anthony Pompliano. Pompliano said:
"…I still think Bitcoin will hit $100,000 by the end of December 2021. Fixed supply. Increasing demand. Time will tell."
In late 2019, Ethereum Co-Founder, Charles Hoskinson, tweeted:
Bitcoin's price is going down? Remember everyone, after the FUD, news trading and manipulation clears out, we still have a global movement that's going to change the world. We will see 10k btc again and welcome 100k. Crypto is unstoppable. Crypto is the future pic.twitter.com/9vlgH4S7u2

— Charles Hoskinson (@IOHK_Charles) November 22, 2019
The most recent actionable insight was rendered via Paul Tudor Jones' "The Great Monetary Inflation." He acquired bitcoin as a hedge against inflation amid the current COVID-19 health crisis.
Economic Theories And Models
While bitcoin enthusiasts rely on speculation in the cryptocurrency news, participants and investors formulate their assumptions upon tangible data acquired from macroeconomic theories and projection models.
Projection models like the M2 capitalization theory and the Bitcoin S2F Model forecast considerably high valuation for Bitcoin. Quantitative easing has been done by central banks around the world to combat financial ramifications.
In the case of the Federal Reserve, it has been printing USD at an exponential rate since 1970. The effect of that printing is inflation with prices of goods and services surging to meet this money supply. A healthy economy needs depreciation in prices but that is not the case especially with the huge stimulus packages aiming to fight the aftermath of this pandemic.
The core point of the M2 Capitalization Theory suggests that if the Federal Reserve continues printing dollars at exponential scales; the US dollar price per bitcoin will continue rising exponentially. Hence, it is possible to see bitcoin reach $100K.
Bitcoin Stock-to-Flow (S2F) Cross Asset Model
The Bitcoin S2F model ratio was designed by @100trillionUSD who measures the effect of scarcity on Bitcoin price using the current market circulation and production rate. In 2019, he suggested through Modeling Bitcoin Value with Scarcity:
"The predicted market value for bitcoin after May 2020 halving is $1trn, which translates in a bitcoin price of $55,000. That is quite spectacular. I guess time will tell, and we will probably know one or two years after the halving, in 2020 or 2021. A great out of sample test of this hypothesis and model."
Although it may have some flaws, this theory shows that many proponents are convinced that BTC price will continue surging in the coming years.
Economists Weigh In on Bitcoin Reaching $100K
When asked whether he expects to see bitcoin reach $100K, Kenneth Rogoff, an economist and Harvard University professor, said:
"I think bitcoin will be worth a tiny fraction of what it is now if we're headed out 10 years from now … I would see $100 as being a lot more likely than $100,000 ten years from now. Basically, if you take away the possibility of money laundering and tax evasion, its actual uses as a transaction vehicle are very small."
If speculations about Bitcoin's future applications are the driving force behind its volatility, then the valuation of the crypto, in general, is crippled due to diminished cash flow.
Bitcoin Adoption
Mainstream adoption of bitcoin is one variable piece of the puzzle that can propel the crypto towards $100,000. If mass adoption happens, the general economic theory of supply and demand will automatically increase in price.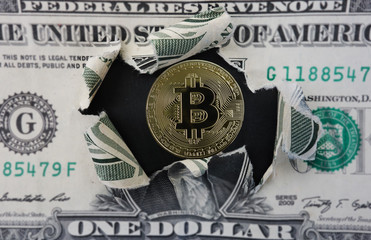 Through an increase in demand comes value appreciation. Since the supply of Bitcoin is limited, that should further strengthen the ideology that an increase in BTC demand will increase the price of Bitcoin.
Based on the M2 capitalization theory and the principles of demand and supply, there is a possibility to see bitcoin reach $100K. But, it is impossible to determine the value of Bitcoin years from now. Nevertheless, history has taught us that anything is possible.