Created By Startups In 2022
The VC firm previously invested in Nginx (acquired by F5 Networks for $670M), MariaDB, and N8N, all of which are open source companies
Luxembourg, Feb. 01, 2023 (GLOBE NEWSWIRE) — Runa Capital, an international venture capital firm that's a serial investor in enterprise software startups, today presents key findings of its Open Source software report and names the top products in 2022.
Launched in 2020, ROSS became the first open-source startup index worldwide. Ever since, it has highlighted the fastest-growing, or top-trending, software startups with public repositories on GitHub. This ranking shows which Open Source software products are on top of developers' minds.
This year, the Luxembourg-based firm shares insights on the startups featured in the report since its launch:
The report is a good predictor of new VC rounds: 40% of startups featured since 2020 have raised funding and received more than $1.4 billion in capital.
There are clear country leaders where local open-source startups tend to secure VC funding: the US, the UK, Germany, and France.
58% of the startups featured have headquarters located outside of the US.
JavaScript, Python, and Java are the most popular languages at GitHub, but the current wave of open-source startups prefers Python, TypeScript, Go, and Rust.
MIT open-source license is the most popular choice at GitHub, but startups tend to use protective licenses like Apache and AGPLv3.
The key findings from the 2022 report are presented below:
The top 5 fastest-growing open-source startups in 2022 are Builder.io, Novu, refine, Safing, and Nhost.
The featured startups raised 22 funding rounds in 2022, amounting to more than $169 million.
The top 50 fastest-growing open-source startups of 2022 come from 17 countries; there are 81 founders, of whom only 4% are female.
Before launching their startups, Google and IBM featured most prominently on founders' previous work experience in 2022.
For education, the top two universities for founders are non-US: France's EPITECH; and the University of Waterloo in Canada.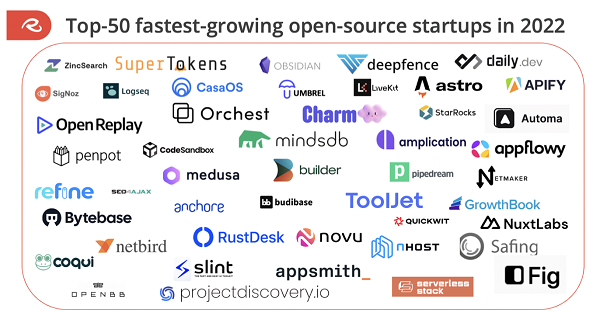 "We at Runa actively invest in Open-Source software startups and consider an active developer community instrumental for open-source businesses," says Konstantin Vinogradov, a London-based General Partner at Runa Capital, who developed the index and curates it every quarter. "The report is our commitment to giving back to the global open-source community."
The ROSS index is transparent, measurable, and entirely focused on startups. It tracks more than 160,000 repos and typically highlights startups every quarter.
About Runa Capital
Founded in 2010, Runa Capital is an international venture capital firm headquartered in Luxembourg that invests in enterprise software, deep tech (open-source software, machine learning, and quantum computing), and software solutions revolutionizing regulated markets like finance, education, and healthcare.
From 2010 to 2022, Runa Capital raised over $500M and invested in more than 100 companies in Europe and North America, including Nginx (acquired by F5 Networks for $700 million), MariaDB, Zopa, Brainly, DrChrono, Smava, and Mambu. The firm's founding partners have built several global software companies, including Acronis (valued at more than $3.5 billion after a round with Blackrock), Parallels (acquired by Corel), Odin (acquired by Ingram Micro), and Acumatica (acquired by private equity fund EQT Partners).
For more information, please visit https://runacap.com