It is not a secret that the entire world has a fever, blockchain technology fever. However, it is not the only infectious substance spreading around the world currently. The Coronavirus crisis loomed large over the conference in the United Kingdom on March 5.
London has already sold out of hand sanitizers, and some of the biggest names in the blockchain world were elbow-tapping and fist-bumping at the London Blockchain Week to avoid any form of hand contact.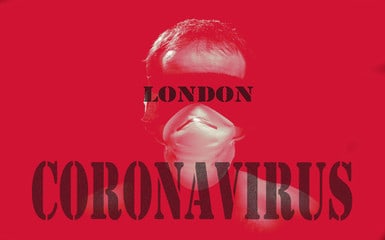 Although this summit is all about enhancing blockchain applications and user cases, coronavirus seemed to have taken over the meeting. Most of the speakers were also affected by travel bans and self-isolations.
Nevertheless, the organizers of this summit are choosing to look on the positive side of the grim situation. Organizer Dr. Jane Thomason started the event by admitting that coronavirus has a significant impact on the event:
'We've had a lot of dropouts; a lot of our international speakers haven't been able to make it. No one knows what's going on, but you need to wash your hands a lot and don't sneeze on anyone!"
Blockchain is revolutionizing finance and online reality
Jamie Burke, who is the founder and CEO of Outlier Ventures, opened the meetings by tickling the audience about the fact that they had made it to the event:
"I wondered who'd be stupid enough to come to a conference now. I didn't have a choice!"
Burke said that he is convinced that blockchain has the potential to create and bring about Web 3.0. He is almost sure that blockchain will bring about a new phase in which advanced machine learning will eventually change how the internet operates.
He also said that blockchain technology could change the way that most predatory platforms use data, mostly without consent. Sovereign software will undoubtedly restore the world and Web 3.0 could develop into a:
"Cambrian explosion of machine learning in which users would experience a new internet framework where it was possible to bring your data"
Burke does not think that the world will have to wait for long before seeing these changes. He added:
"Sovereign identity will be the thing this year to catalyze web 3.0"
The industry must reach greater heights
It would be expected that a blockchain conference would be filled with excessive boosterism, but the London Blockchain summit features some criticisms as well. Although the crypto media may suggest that nothing can stand in the way of blockchain technology, some critics at this conference remained cautious about the amount of impact that blockchain and crypto will have in the near term.
Joanne Thornton, Parim Solutions Pty Managing Director, stated that although there is a lot of progress that has been made, there is still a long way to go before the institutional investors get involved in a significant manner:
"Wholesale investors require regulatory certainty and a high degree of liquidity. There isn't sufficient liquidity, and a lot of evolution is required for the majority of wholesale investors to be involved in that space."
The Managing Director of State Street, Swen Werner, reiterated Thornton's remarks about the absence of a strong and definite regulatory framework and insufficient liquidity. Viktor Ficher, Rockaway Capital managing partner, also said:
"Liquidity is still the endgame that we are trying to reach. The biggest point is the lack of good assets to invest in."
DeFi needs extra time and work
Decentralized finance or DeFi is rapidly becoming a buzzword in the crypto and blockchain world in 2020. However, speakers at the London Blockchain Summit were split over the issue.
The founder and principal of Dunsmoor Law, P.C, Jonathan Dunsmoor, asked the attendees how many of them had a digital wallet. He said that almost half of those in attendance did not have these wallets meaning that more work must be done for DeFi to become a mainstream reality.
Dunsmoor acted as the villain in this conference, where he also said that cryptocurrencies are, for now, an unsuitable basis for DeFi since they are highly volatile. His provocative statements drew a lot of criticism from the crowd.
The COO of Luxembourg-based Tokeny, Daniel Coheur, criticized the term 'DeFi.' He said that the direction this nascent industry was taking was toxic for growth and development:
"I think we should stop talking about DeFi. What we do is centralized finance on a decentralized network. What we must avoid is fragmentation. This market will never grow if we start building silos. We need something standardized because it is killing the market. We need critical mass."
The Chief Risk Officer at Koine, Francesco Roda, added:
"There are so many different initiatives taking place. Interoperability is the key element for adoption. We should have critical mass on one particular standard."
Currently, it appears as the conference will continue despite the looming Coronavirus threat. As the world takes more precautions trying to curb the spread of the deadly virus, it seems those attending the London Blockchain Summit are not deterred from what brought them to the event.