Blockchain Technology and the Mortgage Industry
Hearing the words "blockchain" and "mortgages" in the same sentence may conjure up images of buying homes or properties with bitcoin, the sought-after cryptocurrency that was created following the 2009 housing crash.
But while the blockchain distributed ledger technology is indeed best known for its role in distributing, decentralizing, and tracking said cryptocurrency, it is much more versatile of a tool than it's given credit for.
This type of technology can actually be a helpful tool in the mortgage process — but perhaps not in the ways that you'd think. You will probably not be buying a house with bitcoin — at least not in this case.
Blockchain comes into play because the traditional process of obtaining a mortgage and purchasing a property is filled with trouble spots — which, to be fair, should be expected given the number of hands that are involved in each step along the way.
There are attorneys drafting legal documents, title companies preparing title searches, and underwriters weighing the risks of the loan, making the mortgage process a drawn-out, sometimes strenuous process for the buyer.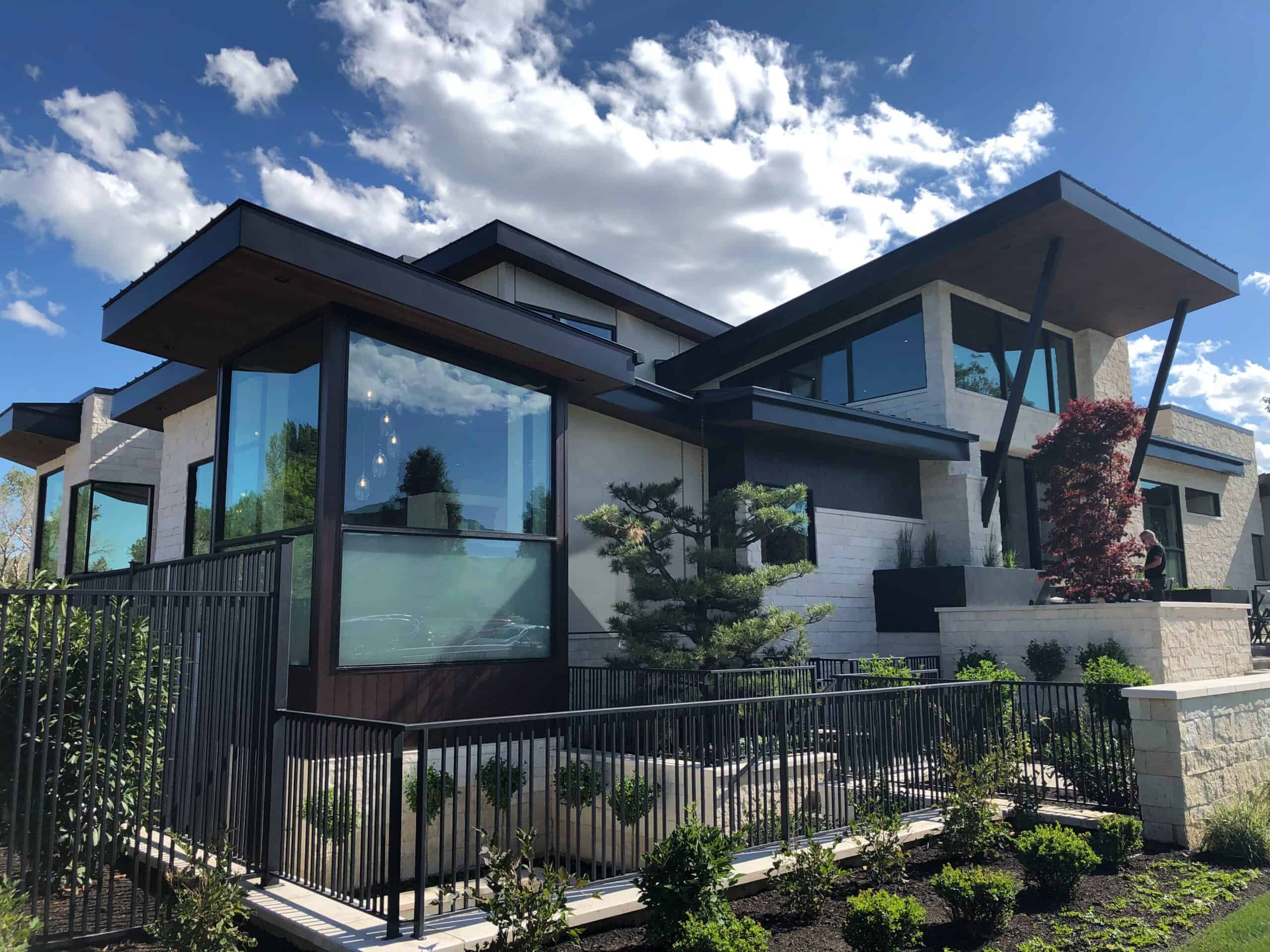 Well, blockchain technology could help fix that. This type of technology is often described as a type of business process improvement software, and that's exactly what it could do for the mortgage process: improve it.
Let's take a look at how using blockchain technology could help streamline and improve the mortgage process while reducing the time and cost that comes with financing a home.
How blockchain could improve the mortgage process
There's a clear need to improve transparency, traceability, and recordkeeping during the mortgage process — and as an open, distributed ledger, blockchain could help to provide that.
After all, this type of technology has been used in other capacities to streamline processes and provide accurate, real-time records by using a growing list of blocks (records) that are linked using cryptography to record transactions in a verifiable and permanent way.
The transactions that occur with blockchain are recorded across many nodes (computers) so that the blocks in the chain cannot be altered after they're created without altering all of the subsequent blocks or nodes. This, in turn, provides a secure record of the transactions and makes it incredibly difficult to tamper with any information.
Creating this secure chain of information will help to shore up issues with document transfers among parties or reduce mortgage fraud. According to a PWC report from 2016 on using blockchain to improve the mortgage process, "Blockchain technology may radically alter the process through which consumers buy a home, as well as the way financial institutions handle mortgages.
Specifically, the technology could remove cost and friction from the process, create transaction records that are infallible and incorruptible, and facilitate near-instantaneous settlement."
Using blockchain technology in mortgages could also help improve a number of other parts of the lending and home purchase process, including:
Streamlined recordkeeping and document tracking
When a buyer applies for a mortgage, there are a number of parties — brokers, credit agencies, bank personnel, and other third-party agents — that will need access to the applicant's personal information and financial documents to help decide whether the loan should be approved.
The most common method of sharing these documents usually involves an email or fax requesting access by one party to another. The document transfer can take a few days and requires a signature to track that they were received.
This manual document tracking process is not only laborious but opens the door to lost or misplaced documents due to human error. Using blockchain technology could help resolve any tracking issues and streamline the passage of records from one party to another using digital IDs along with automatic tracking and updating.
Here's how that would work. Because blockchain technology is decentralized, which means that rather than one party maintaining the documents, each party has access to the same documents and can access them as needed — without a delay or complicated handoff process.
And, unlike the process that occurs with physical paperwork, the blockchain ledger does not need to be maintained by anyone to remain current. The updates are automatically recorded and downloaded as they occur, which gives each party access to the same real-time information — thereby closing any potential gap left by human recordkeeping and tracking.
Reduce opportunities for mortgage fraud
Blockchain technology could also help cut down on or eliminate any potential mortgage fraud issues. Real estate transactions are ripe with scammers looking to make a quick buck, and the traditional paperwork process allows room for fraudulent documents to be introduced by these scammers.
Blockchain, on the other hand, makes it much more difficult to file fake paperwork or tamper with financial documents because the data is encrypted in the blockchain, making this information is much more secure — and in turn, less likely to be tampered with in a bid to commit fraud.
Take, for example, this case of real estate investors stealing titles to Southern California homes and then selling the properties to unsuspecting buyers before the true owners could put a stop to the sale. In this case, the scammers used licensed professionals to notarize fraudulent trust deeds.
They would then record the fraudulent grant deeds at county recorder's offices so the deeds appeared legitimate. The county recorders had no way to validate the validity of the notarized documents, so the scammers were able to commit millions of dollars worth of mortgage fraud before being caught.
These types of fraud are relatively easy to perpetrate, but the incorporation of blockchain would help curtail the use of fraudulent documents to perpetrate these scams by putting protocols in place to verify submissions.
Plus, if there is a concern raised about document tampering during the process, it's easy to track and provide indisputable real estate data about the origins of the information to prove otherwise.
While mortgage fraud could, of course, still occur, it would be much more difficult to pull off using blockchain, as the individual "blocks" that make up the blockchain are incredibly difficult to change or tamper with.
Smart contracts
Blockchain technology could also be used to create and support smart contracts during the mortgage process. Smart contracts are self-executing contracts that contain the terms of an agreement written directly into the lines of the code and they work automatically without human intervention.
These contracts are verified by electronic signatures from all parties, and changes would only execute when something specific happens, meaning that the contracts would be created automatically and in real-time — and with the inclusions or exclusions necessary for that transaction.
For example, you can set up conditions within the code to automate a return of earnest money if a contract falls through, or for when and how to transfer money for the down payment.
If all conditions are met, the transaction is automatically completed, and both parties will know when certain milestones are met during the process — like the instant a down payment is made by the buyer.
These smart contracts could work for other situations too. For example, a smart contract would work well in cases where loans are being sold into mortgage-backed security pools for investors to buy into.
Some loans can't be used for this purpose, and the blockchain would automatically exclude the loans that fall outside the conditions for inclusion based on what is written into the code.
Lower costs
A large part of why closing costs are so high is that there are costs associated with each party involved in the real estate transaction.
Using middle-men to assess loan eligibility, draw up legal documentation, update ownership or provide property valuations can add a significant amount of money to the closing costs — with third-parties adding as much as 1% to 2% of the entire property value to the final tally.
Using blockchain could cut down or eliminate that third-party intermediary, which would cut out some of those extra fees, making the transaction cheaper for the buyer. According to analysts at Moody, the total annual cost-savings consumers would see as a result of blockchain-based application processes could be as high as $1.7 billion.
Plus, smart contracts would help streamline, validate, and record the mortgage and property transactions without the need for expensive legal council and banks to manually create them, further reducing the overall costs for the buyers.
Shorter processing times
Traditional mortgage applications are paper-intensive and, on average, can take between 45 and 60 days to complete. The average mortgage application is about 500 pages, according to one report by PWC, and is reviewed or added to by tons of different intermediaries: attorneys, appraisers, brokers, agents, underwriters, and the like.
But transactions are always quicker when you cut out the middle man, of which there are many in the mortgage process.
Recording mortgage agreements on the blockchain does just that while making it possible for lenders and buyers to interact directly. It also cuts out the massive piles of physical paperwork, replacing it with a single source of information that both parties can easily access instead.
And, with no intermediary to manage the transaction, and no piles of paperwork to pass back and forth to the different parties involved in the process, the time frame in which things can happen is sped up — at times significantly.
Using blockchain to remove intermediaries and physical paperwork can make the processing for certain steps in the mortgage process virtually instantaneous, greatly reducing the time that it takes to complete the mortgage process.
Blockchain could also make it easier to close on the home on your own timeline because the parties involved in the transaction don't need to meet in person to complete it. Using blockchain effectively means that you can close on the home from anywhere and at any time — securely and quickly.
This would not only cut down on time spent haggling over a closing date, but could also cut down on the headache that comes with sitting across from the other party during closing.
This article was written by Angelica Leicht for Interest.com edited by Brent Dixon