Clickfunnels is the easiest method to acquire customers and make a ton of money that I know of. It is a unique tool designed to turn potential consumers into customers.  As an entrepreneur or business owner, there are times when you might have heard that:
"If you build it, they will come…"
Then, you went to school, got your degree, created courses, and started the business. You do all that hoping that if you offer the best product or service, people will come knocking.
You wait for the potential customers to come, but unfortunately, they never 'just' come. During the current COVID-19 times, especially, as the situation gets worse. Learning a skill like Clickfunnels could be the difference between thriving and homelessness.
Have you set up something great, but have no idea on how to get your dream customers to find you? Or maybe you have a site or a funnel set up, and you are hoping that some traffic will come to you, but you fear that your business might not have a solid foundation.
If you have all these worries and fears, do not worry, Russell Brunson is here to solve all these issues and offer some ingenious ideas in his new book titled 'Traffic Secrets.'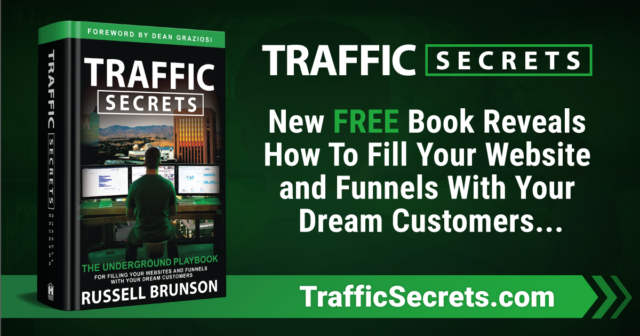 Inside Traffic Secrets
Inside Traffic Secrets, Brunson shares major secrets to help online entrepreneurs and businesses get more traffic into their funnels.
Dream Customer
The first step is to identify precisely who your 'Dream Customer' is and come up with what they have on their mind to know exactly how well to serve them. Then find where the customer is hiding online to enable you to find them and pull them into your funnel.
Brunson then promises to offer secrets on how to get the potential customers to pay attention to your story to ensure that they take up your offer ahead of your competition. You will learn two ways how you can get your message in front of your Dream Customers to enable you to turn them into your traffic, letting you message them repeatedly for FREE.
Moreover, Russell promises to teach how to get the best traffic while avoiding backlash from Google, and other social media platforms, or any algorithm changes that arise along the way.
The invisible second funnel that only a few know about is mentioned in this book. Just 19% of the sales might happen the first time you get your customers to go through your funnel.
The other 81% is determined by getting partners to promote your products for you. Thus, you should work on getting them to return your calls, respond to emails that you send and give them offers that make them interested in submitting their traffic to you almost for free.
Fill Your Funnel
The new book by Russell teaches how to get TONS of FREE traffic from other people's established platforms directly into your funnel.
Through this strategy, you eliminate crazy 'roller-coaster' traffic and achieve more consistency while simultaneously sending many visitors to fill your funnel. That is the same strategy used for the ultra-fast growth of the ClickFunnels platform.
Interestingly, you will learn how to implement a quick 3-5 minute daily strategy to enable you to exploit large pockets of your potential customers on social media who are yet to follow you. Additionally, you will discover the patterns that make them follow and engage with you regularly.
Russell's book teaches how to use the most prominent global social party to funnel dream customers into your world while also leveraging Google to get your customers to find you as opposed to you chasing after them. The marketing expert teaches the 6-steps that he uses to set up engaging and compelling content that serves his audience throughout their lives.
The book is a blueprint that reviews all new traffic opportunities enabling you to weather the storm and getting in front of all traffic trends. If you implement what you learn from the book, you can create a powerful strategy that supports all the social media assets that you need to succeed every week. Hence, you can quickly customize it into unique content to fit every social platform.
Growth Hacking
The 'hub' style landing page urges PR agencies to push traffic to it enabling your audience to learn more about you, your products, your company, and how you can help solve their challenges.
The Traffic Secrets book teaches three strategies for exploiting other people's distribution channels. That lets you market your products directly into brand new audience streams.
To succeed while using ClickFunnels, you will need to learn how to implement a 5-step game plan for creating a group of marketers who spend money to advertise and promote all of your products for you. You need to pay them when they make a sale and the book will teach you how to do it.
Anyone who wants to become a successful online marketer needs to learn the 7 phases of a funnel that change cold traffic into their funnel. Russell is ready to teach you how to turn the traffic into hot qualified buyers selling themselves on the solutions that you offer before you even introduce yourself to them
Traffic Secrets helps you learn from various rapid-growth tech companies through implementing three small 'growth hacking' adjustments. These are the 'little hinges that swing big doors' with regards to scaling up companies through marketing using funnels.
Free 30 day summit
Russell Brunson organized a 30-day summit that starts this week. Several months ago, he sent a brief email to cover over 100 of his 'Two Comma Club' award winners. Inside the email was one question, it read:
"You suddenly lose EVERYTHING in your business (your money, your prominent name, your list, your affiliates and JV partners, all of it)…You have bills piled high, and people harassing you for money over the phone.
All you have is a roof over your head, a phone line, an internet connection, and a ClickFunnels account for only ONE MONTH.
Other than your vast marketing experience, you're back to being a newbie…What EXACTLY would you do, from Day 1 to Day 30, to save yourself?"
Every Two Comma Club expert had a different answer, and they projected a different strategy for the ONE MONTH summit. During the summit, each of the 30 speakers will answer questions in detail. They will also lay out their step-by-step ACTION PLAN for how they would get their business rolling from scratch in 30 days.
Thus, anyone with no list, no authority, no income, and no affiliates or partners can sign up. The summit is pre-engineered for everyone interested to succeed from scratch.