Prize Pot Hits 7 ETH Within Hours of Release
Round One of the Revival of the Classic Ethereum Game is Now Underway
BOSTON, MA, Feb. 28, 2023 (GLOBE NEWSWIRE) — Doing a reboot can be hard, even if you bring together all the necessary parts, if you can't capture the magic of the original, the project can still fall flatter than Netflix's Arrested Development. However, following the launch of its game dApp, FOMO3D: Arbitrum seems to have stuck the landing and hit the ground running.
The project, which launched on February 21st with the token, PoWSH4D (P4D), has settled at a marketcap of $450k after a week, but has been quickly gaining traction among the Arbitrum community after being listed by CoinMarketCap and CoinGecko. The listings came hot on the heels of the launch of the first round of FOMO3D, the project's on-chain game that now boasts a pot of 7.5 ETH, worth roughly $12k USD.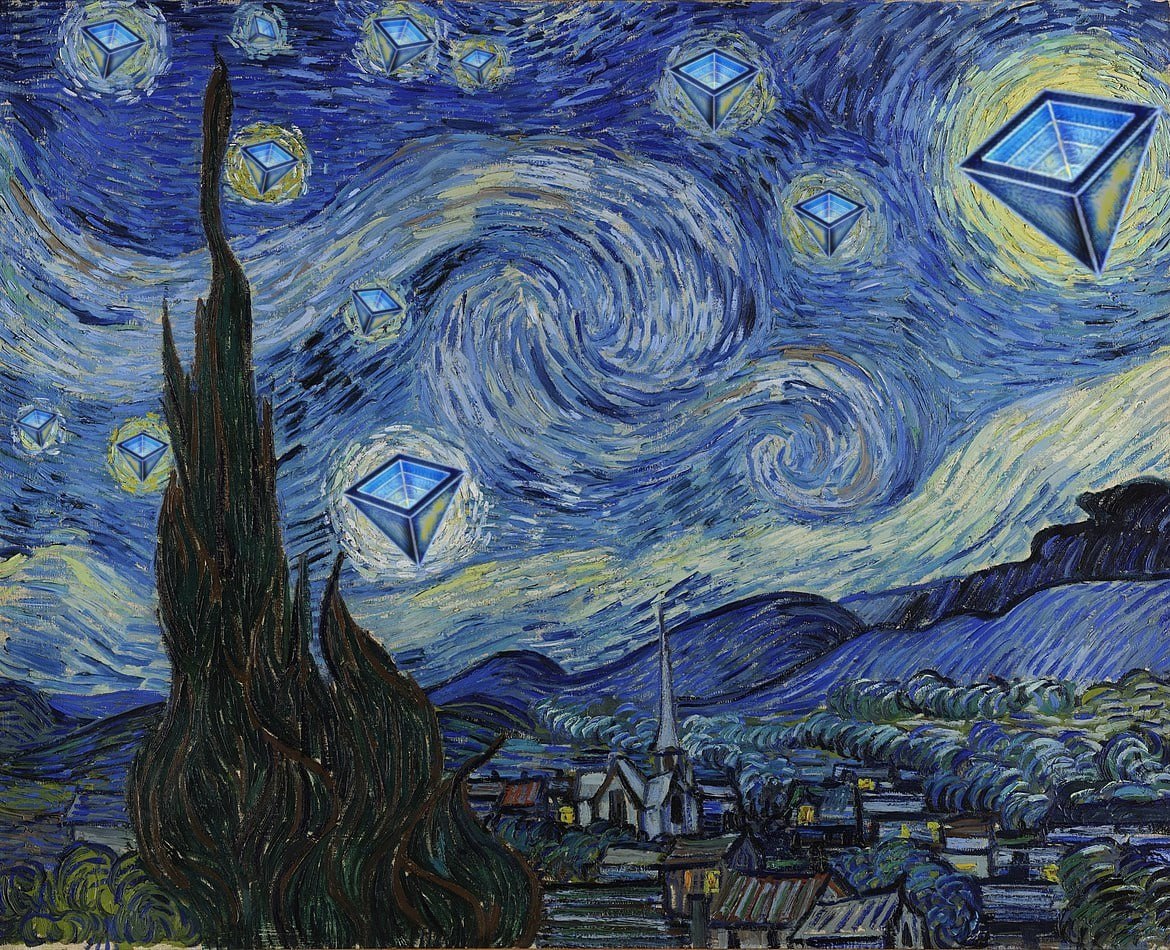 So how does the game work? In a nutshell, it's like a game of reverse hot potato: the pot is connected to a 24 hour timer and when the clock hits zero the pot gets distributed to the last person to buy a key. To play, users connect their wallet to the dApp, pick a team (a concept better explained in the project's documents), purchase keys, and try to be the last person to buy a key when the timer hits zero. However, for each key purchased, 30 seconds are added to the countdown timer, giving just enough time for an attentive opponent to buy a key and swipe the pot from under the would-be winner. Also, to add to the difficulty, with each subsequent key purchase, the cost per key increases slightly, filling up the pot faster and fueling further FOMO as the clock ticks down to zero.
For now, with the cost of a key sitting at 0.00012 ETH ($0.19 USD), the pot is practically anyone's to win, but that could soon change. In addition to being listed by CMC and CG, the team has announced another important development: a collaborative partnership with game-fi project Party Dice, a decentralized casino protocol on Arbitrum that aims to be the standard for blockchain gaming across all networks.
"We're really excited to be partnering with Party Dice/Risky.lol," explained a spokesman for FOMO3D: Arbitrum.  "Their idea to create trustless, player-owned casino protocols as the industry standard is something I think we can all get behind, and we can't wait to reveal what kinds of products we're developing with them."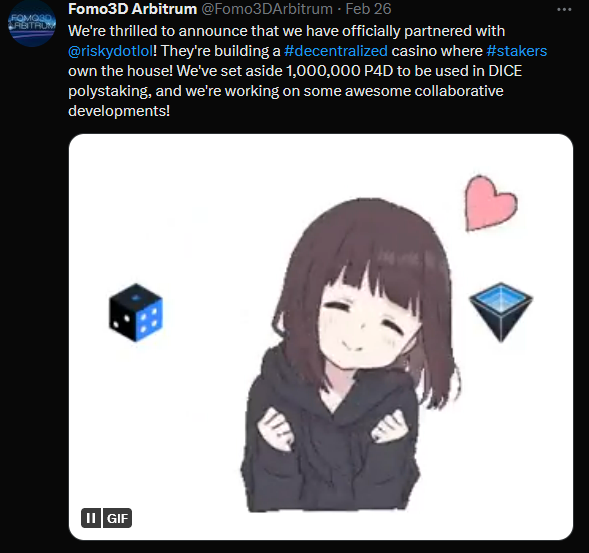 In addition, the next few days the team will be going forward with an aggressive marketing strategy to reach every corner of the crypto world, including traditional forms of advertising, referral and meme contests for holders to expand outreach and partnerships with influencers within the DeFi space. "The key to creating FOMO is making sure people know there's something they might be missing out on," the spokesman grinned, "once it escapes orbit, who knows where it could go." FOMO3D Game dApp: https://dapp.fomo3darb.com/
P4D CA: 0xEFc43Cf79f406D62960e34d3a62c729a0EEbEC4bhttps://dexscreener.com/arbitrum/0xf4037ae51505d3c1f8f03f2916cd52136f0968b3P4D Swap: https://swap.fomo3darb.com/Twitter: https://twitter.com/fomo3darbitrumDocs: https://docs.fomo3darb.com/Medium: https://medium.com/@arbitrum3d/fomo3d-arbitrum-has-arrived-86d4011142fdTelegram: https://t.me/fomo3darbitrum
P4D Chart: