Bitcoin's hashrate has spiked to 129 EH/s, the highest level it has ever been, whereas market dominance for the king of crypto has fallen below 60%
As of writing, Bitcoin's network security is at its highest level ever. This is because the hashrate (overall computational power that keeps the network secure) has hit a new all-time high, peaking at 129.1 EH/s.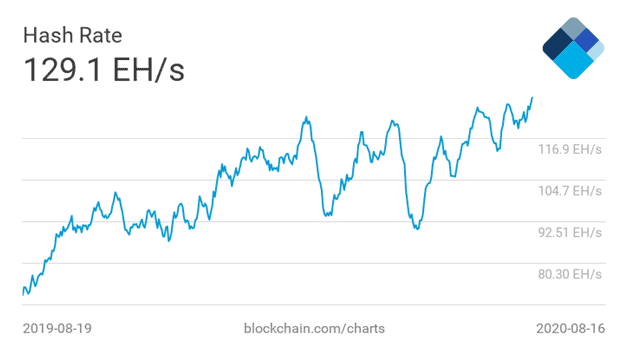 The latest surge in hashrate adds to the fundamental strength of the Bitcoin network. The metric dropped to 120 EH/s earlier this month when BTC/USD broke above $11,000 and tested resistance at $12,000 (so far this has only happened on three occasions).
Because of the increased miner activity, the total computational power on the top cryptocurrency's network is now up 76% since August 2019, adding to the overall health of the blockchain.
In other words, the market is positive about Bitcoin, something that could be a catalyst for further upsides in price.
While hashrate has increased significantly, CoinMetrics suggests that the network is also primed for a positive adjustment in mining difficulty to take it to a new high. Bitcoin is expected to see its mining difficulty increase by 3.98%, which will consequently mean that miners will have to use a little more power to process a block.
The current difficulty level is 16.95 T, with this expected to rise to 17.62 T in about six days.
Bitcoin dominance drops to 58.4%
Bitcoin's dominance in the market has seen further decline, with a rally among major altcoins cutting the overall market cap dominance for the top cryptocurrency to 58.4%. According to data from market aggregator CoinMarketCap, Bitcoin has a market cap of $218 billion, with the overall cryptocurrency market cap currently standing at $373 billion.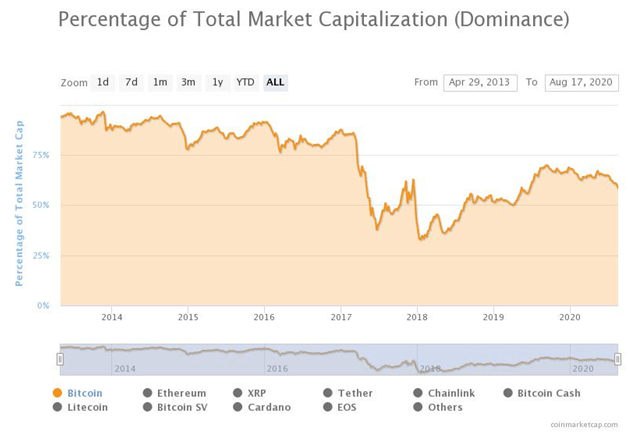 BTC/USD rose to $11,994 before reversing to trade around $11,800 as of writing. This hasi caused market dominance to remain below 60%, which is its lowest level since June 2019.
Bitcoin's failure to sustain gains above $12,000 means the price of the benchmark cryptocurrency saw a negative candle at yesterday's weekly candle close.